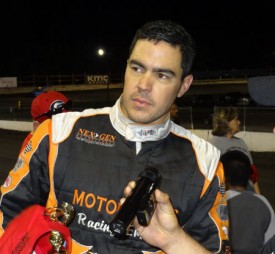 By Richard Golardi (Hoseheads.com)
Danny Martin Jr. is going pavement racing. Pavement late model racing, that is. But he's not giving up dirt sprint car racing quite yet. In fact, he was at Bubba Raceway Park in Ocala last Friday and was a front runner once again, eventually finishing in second place in the sprint car feature race. His two late model races, both at Desoto Speedway, were part of a program involving the Top Gun Sprint series title sponsor, Eagle Jet International and Rick Gabor. It was announced at the Eagle Jet Top Gun awards banquet in January that Danny Martin Jr., as the 2014 Top Gun Champion, would be invited to the Phase1 Motorsports race shop in New Smyrna Beach. He would go there to prepare for a test and practice session with their car, a 2014 Ford Super Late Model. After completing the practice day, then he would get the chanceto race the car at a later date for a one race deal.
Danny subsequently signed with Phase 1 Motorsports as a Development Driver for the NASCAR Xfinity Series team JD Motorsports. During this process, Rick Gabor played a big part in getting the deal done. He is President of the largest airline First Officer training company in the world, Eagle Jet International in Miami. When Gabor got pneumonia and was very ill earlier this year, it looked like his illness might keep him away from the track and lessen his involvement. I have learned that Gabor has since recovered from his illness, and is doing better physically. After testing the late model once at New Smyrna Speedway in late 2014, Martin has raced in two late model races on May 23rd and June 13th. He had finishes of 14th place and 7th place in those two races at Desoto Speedway.
The late model races have occurred when Danny had a Saturday night off from dirt track racing. "It's totally different. I'm struggling a little bit in turns three and four trying to get the car to turn," Danny admitted just prior to the first race in May. "We've been working on it. The crew – I'm probably not giving them the best feedback. So they're doing the best to work with me, and I'm doing the best to work with them. They're doing an excellent job and we're having fun. I'm very thankful for the opportunity," Martin said, thanking Rick Gabor and Doug Elliott, the Phase 1 Motorsports CEO, for giving him the late model ride.
Danny was uncertain about the date of his next late model race, but was certain to be seen in the #24 Doug Shaw owned dirt sprint car in Florida, and possibly some Georgia USCS races too. His sprint car feature win total for the year is seven wins, putting him close to the top five in nationwide open wheel race wins. He has won the Eagle Jet Top Gun Sprint Series driver championship for the past two years. In one year of relentless dominance on dirt in 2011, Danny Martin Jr. earned three driver championships, and won an amazing 16 of 18 races entered, for a .889 winning percentage. He raced to championships in the Top Gun Sprint Car Series, the Top Gun Sprint Cars BRP Series (Bubba Raceway Park), and Volusia Speedway Sprints. He also faced down charges of cheating from other competitors (his motor was torn down, and no infractions were found), and in October lost his seat in the car that he had driven to dominance for most of that year.
Danny was also a father again earlier this year. He daughter Paisley was born in January. Early in the year, he was somewhat frustrated when the race wins were not coming, and then getting a new car ready, his daughter's birth, and helping his car owner move were demanding his time. "It's been a rough year so far. Hopefully we'll get things turned around," he said early in the year. In short order, the race wins came. He also knew he must be ready when the call came that his car was ready at the Phase 1 Motorsports shop. In addition, "I'm trying to help her a little bit at night when I can, and then go to work, and then go work on the race car at night, and come home and make dinner," Danny said, in describing his everyday duties at home and work.
Racing on pavement is not new for Danny, as he raced in some USCS pavement sprint car races, and also TBARA pavement races. "Pavement late models are a whole different animal. It's big and heavy. We tested really well though, and I get along real well with the crew." The original plans were to run 8 to 12 late model races during the year, but that was before Rick Gabor's illness. "They want me to do a three-year deal with them. The first year, we'll just run 8 to 12 shows local to get some seat time. And then they want to go up into the Carolinas and run some of the bigger shows if we do well." So you must have had some pretty good lap times from that test if they wanted to sign you to a three year deal? "Yeah, we were right there with everybody else. The car owner just really seems to like me, and he thinks we'll do OK," Danny said.
Danny has spoken to the team about turning some laps in one of the team's Xfinity Series short track cars, but that opportunity was missed during February Speedweeks. The team was busy with Landon Cassill's entry in the Xfinity Series race at Daytona that week. "It just didn't come about. I know the car owner (Johnny Davis) – he's busy." Danny hopes to race the late model car as much as possible this year in Florida. "Run that, and then try to run as much 360 stuff as we can. When we're not doing that, we'll run Top Gun." Rick Gabor has been following the series, since his company is the title sponsor for the Top Gun Series. He knows Danny Martin Jr., and he knows his prowess on the track in open wheel racing. It's easy to understand why he's ready to take Danny to the next level in his racing career.