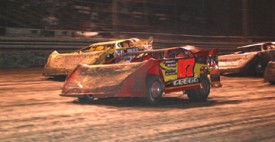 Mother Nature finally gave Volusia Speedway a break on Friday Night, however it looked like there would still be no racing at the Worlds Fastest Half Mile as the power failed just as the hot lap sessions were coming to a close, Clay Electric needed to be called in to trip a transformer so the power problem could be repaired and after a 2 1/2 hour delay, the power was restored and after consulting the drivers, track operator Ken Sands said lets get this show in, the first heat race kicked off at 10:15 and the final checker flag fell at 11:50, a tribute to Sands' Volusia staff and to the drivers who elected to stick out the delay & thanks to the fans who were very patient and understood and were not disappointed with some exciting racing.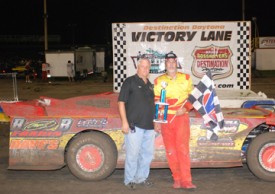 Bunnell Florida's David Clegg was not to be denied his 2nd win of the 2011 season, Clegg took the lead from Kenny Monahan on lap 10 and cruised home for the win on the lightning fast oval, Clegg would hold off current point leader Jacksonville's Donnie Chappel, Christian Augspurger, Kenny Monahan and Stantron Mills.
In the Modified Division it was Tampa's Jeff Mathews collecting another win, Mathews took the lead from Jared Allison on lap 8 and held off Allison for the balance of the 20 lap event, Garret Stewart would take third over Joe Belkey who started 16th on the field, with Dale Murray rounding out the top 5.
Paul Shead took the lead from his pole starting spot in Sportsman action and looked like he would easily run away with the win, however with 2 laps to go a yellow would come out and put current point leader Blaise Hetznecker right on the rear bumper of the Deland Florida hot shoe, Hetznecker got along side of Shead coming out of turn 4 for the checker but the Holly Hills youngster just couldn't muster enough power to get by Shead and Shead won by inches at the finish line, Hetznecker protected his points lead with the second place finish over Shane Williams, Marc Kinley and Chris Day.
In the Street Stocks it was Mike Tovet taking the lead from Chuck McHone on lap 3 and claiming the win over point leader Philip Brown, Robert Sirmons, Chuck McHone and Jeremy Cline.
RECAP- LATE MODELS: David Clegg, Donnie Chappel, Christian Augspurger, Kenny Monahan, Stanton Mills, Larry Anderson, Hamp Conley, Bug Rose, Joe Kump, Bobby Richardson, Darrell Padgett, Andy Schell, Mike Warren
MODIFIEDS: Jeff Mathews, Jared Allison, Garrett Stewart, Joe Belkey, Dale Murray, Scott Mooers, Lonnie Wagner Jr., Dalton Lanich, Steve Mooers, Larrry Burkins, Chuck Gustafson, Mike McGaley, Charlie Phillips, Buzzie Reutimann, Rob Underwood, Kyle Bronson, Larry Mott
SPORTSMAN: Paul Shead, Blaise Hetznecker, Shane Williams, Marc Kinley, Chris Day, Mike Ponce, Collin Wright, Steve Shead, Heinz Haas, Davey Cline, Blake Spencer, Kyle Chappell
STREET STOCKS: Mike Tovet, Phillip Brown, Robert Sirmons, Chuck McHone, Jeremy Cline, Mick Kulak, Walt Kahrs, James Smith, Kenny Hall Jr.
ROWDY SHOWS THEM THE WAY IN SATURDAY VOLUSIA ACTION –
Saturday Aug 20, 2011 Barberville, Florida
Denica "Rowdy" Hetznecker had a night most racers dream of, 2 features and 2 wins. In the Sparkle and Shine Car Wash 4 Cylinder main event, Sammy Dale shot from his pole starting spot and was cruising along until Mark Comitale put some pressure on him, Comitale and Dale battled for the first 13 laps of the 20 lap main event, all along "Rowdy" Denica Hetznecker was watching from third position, Dale and Comitale at many times were side by side, Hetznecker in a bold move took to the high side of the track and went around both Dale and Comitale on lap 14 after she figured she had followed them long enough, the young Holly Hill resident then pulled away form the rest of the field and took home the very popular win. Comitale got around Dale for second, with Dale finishing third over Jonathan Green and Mike Budka.
Well "Rowdy" was not done for the night as she entered the enduro and easily cruised home for the win over Davey Wolf, Dalton Strehle, Robert Graham and Art Souther. A Sweep on the night for Denica – Congratulations!!!
In Thunder Stock action it looked like D J Nobles was going to take the win, however current points leader Tom Hughes had other thoughts and pressured Nobles until lap 13 when he went to the high side and around Nobles for the lead, Noblee would drop out 2 laps later with a flat tire. Hughes would then have to contend with Brian Shrunk as he tried everything he had to take the lead from Hughes, but it was not to be and Hughes claimed the win over Shrunk, Chris Shea, Alan Lane and Ron Adams.
The Demo Derby was won by Bobby Neal "Ricky Bobby"
SUMMARY: 4 CYLINDERS: Denica Hetznecker, Mark Comitale, Sammy Dale, Jonathan Green, Mike Budka, Casey Feaster, Reid Christianson, Daniel Wolf, Jamie Hughes, RJ Glaser, Rick Picard
THUNDER STOCKS: Tom "Richie" Hughes, Brian Shrunk, Chris Shea, Alan Lane, Ron Adams, D J Nobles, Justin Dean, Dalton Strehle, Jim Nichols, Donnie Birdwell, Eddie Lentz
ENDURO: Denica Hetznecker, Davey Wolf, Dalton Strehle, Robert Graham, Art Souther
DEMO: Bobby Neal