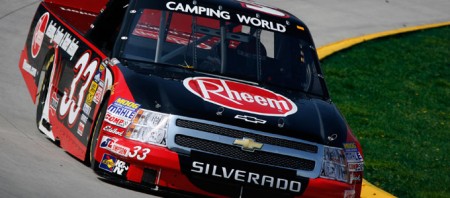 No. 33 Ruud Chevrolet News and Notes
• Ruud on board… Cale Gale will debut a new paint scheme on the No. 33 Chevrolet this weekend at Atlanta Motor Speedway to showcase Ruud–a division of Rheem. Known for their reliability, which will be showcased on the truck with the tagline "Rely on Ruud," Ruud produces products in the heating, cooling, and water heating categories. Gale will also pilot the No. 33 Ruud Chevrolet later this season at Texas Motor Speedway and Phoenix International Raceway.
• First time in a Truck at Atlanta… Cale Gale will compete in the NASCAR Camping World Truck Series (NCWTS) at Atlanta Motor Speedway for the first time in his career on Friday, August 31st. Gale has one previous NASCAR Nationwide Series (NNS) start at the 1.5-mile oval in March 2008 when he started in the 15th position and crossed the finish line in 20th place.
• Racing in Rheem's Backyard… Gale will have the chance to showcase his skills in the backyard of his longtime sponsor, Rheem, on Friday night at Atlanta Motor Speedway. The Jeff Foxworthy's Grit Chips 200 will be held just 40 miles from Rheem's Global Headquarters in Atlanta, Ga.
• Gale Scores First Career NCWTS Pole at Bristol… Gale scored his first career NCWTS Keystone Light Pole award on Wednesday, August 22, in the UNOH 200 at Bristol (Tenn.) Motor Speedway. It was Gale's first pole in his 23 career NCWTS races, and his first pole and eighth top-10 start of the 2012 season. Gale previously sat on the pole in the Nationwide Series at Bristol Motor Speedway in August 2008.
• Meet Cale Gale…Cale Gale, driver of the No. 33 Ruud Chevrolet Silverado, will make an appearance with his Eddie Sharp Racing (ESR) teammates Justin Lofton and Max Gresham on Friday afternoon at the Chevy Stage. Located in the midway, fans are invited to meet the ESR driver lineup at 2 p.m. ET. The drivers will participate in a brief Q&A session before signing autographs and taking photos with fans. Gale will make another stop later in the day at the Coca-Cola Stage, also located in the fan midway. Gale will join fans at 4 p.m. ET to answer questions and discuss racing the Ruud Chevrolet in his sponsor's hometown.
• Battling for Points… With just nine races remaining in the 2012 NCWTS' season, Gale is currently ranked inside the top 15 of both the championship driver and owner point standings. Gale, who has scored three top-10 finishes this season, is ranked 13th in driver points and 15th in owner points. Currently second in the Rookie of the Year points, Gale is chasing down leader Ty Dillon.
• Follow Cale… Follow Cale Gale, driver of the No. 33 Ruud Chevrolet Silverado, on twitter @CaleGale and Facebook (facebook.com/CaleGale), and check out CaleGale.com for the latest news and updates.
• Get the Inside Scoop… Follow Eddie Sharp Racing on Twitter or become a fan on Facebook to get real-time updates and behind-the-scenes information: @TeamESR or facebook.com/teamesr.
• Watch and Listen…The battle for the championship continues this weekend as competitors of the NASCAR Camping World Truck Series take on Atlanta Motor Speedway on Friday, August 31. In a busy one-day show, SPEED will bring the action to the fans with a broadcast of final practice (1 p.m. ET) and qualifying (4:30 p.m. ET) on Friday afternoon. Live coverage of the Jeff Foxworthy's Grit Chips 200 will be aired on SPEED, MRN & SiriusXM NASCAR Radio, channel 90, beginning at 7:30 p.m. ET.
From the Driver's Seat
Cale Gale Quotes… On racing at Atlanta Motor Speedway: "I'm really looking forward to getting to Atlanta Motor Speedway with the Ruud Chevrolet this weekend. It's been four years since I've raced at Atlanta. It's a rough 1.5-mile track, but it has a lot of character and is a fun place to race with several lanes to run. We're racing chassis No. 048; it has a brand new body on it since we raced it at Kentucky Speedway. The Ruud team is going to have a solid run this weekend and keep our momentum moving forward the best we can for the rest of the season."
On having the support of Rheem: "One of the reasons why I'm excited for this weekend's race at Atlanta Motor Speedway is because it will finally give me the chance to race our Chevrolet in Rheem's home town. I haven't had the privilege of driving a Rheem truck at their home track yet, and to finally have that chance will make Friday night extra special for me. We're bringing out the Ruud paint scheme and a new truck, but just to have one of Rheem's brands on our Chevrolet is a big deal this weekend. I can't thank everyone at Rheem enough for all their support this year; to have the opportunity to race a full season and compete for the Rookie of the Year title means a lot to me."
From the Pit Box
Jerry Baxter Quotes… On getting ready to race at Atlanta Motor Speedway: "We're really looking forward to getting on track with the Ruud Chevrolet this weekend at Atlanta Motor Speedway. We're taking chassis No. 048; it's the same truck that we raced at Kentucky. Since that race, we put a new RCR body on the chassis and took it to the wind tunnel. Getting the Ruud truck to drive well during practice and in the race is key–just like Kentucky, the track gets really free at night. Tire management and fuel mileage will be also important factors for the Ruud team."