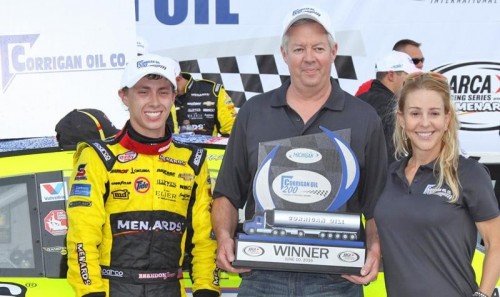 BROOKLYN, Mich. (June 10, 2016) – Brandon Jones took advantage of his own really fast No. 8 Menards-Valvoline Chevrolet and Kyle Weatherman's empty gas tank to win the 35th running of the Corrigan Oil 200 Friday afternoon at Michigan Int'l Speedway.
Late-race leader Weatherman gambled on fuel but ran well short when his No. 58 St. Charles Glass Ford ran dry four laps from the finish. From there, Jones cruised under the checkered flag more than six seconds ahead of his closest rival Chase Briscoe.
"I really wasn't too worried about the 58," Jones said. "I really didn't know their game plan or what fuel cycle they were on, but I was definitely confident in our game plan. We had an awesome Menards-Valvoline Chevy all week. This is my first time being here at Michigan…pretty cool to get a win in ARCA's backyard."
It was Jones' third career ARCA Racing Series presented by Menards victory and first for his team – Ranier Racing with MDM.
Briscoe's second-place finish in the No. 77 Big Tine Ford padded his point lead after eight events.
"Great points day," Briscoe said. "Obviously you want to win but big picture-wise we're in a good place. Hopefully, we can take what we learned today and use it to our advantage at the next one. This is our best finish so far, but we want to win one for sure."
Jones' teammate Kyle Benjamin led one lap and finished third in the No. 28 FEVR Chevrolet.
"We had a really good car," Benjamin said. "I'm proud of all the guys…we'll get it better next time. This series is about getting experience and I feel like we did that today. I'd like to thank FEVR for coming on board this season. We'll try and get 'em next time."
With an empty tank, Weatherman lost two laps getting back to pit road, relegating the Wentzville, Missouri driver to 12th in the final running order.
"We knew we were way tight on fuel, but gambled it anyway," Weatherman said. "That's what you have to do sometimes to win. I'm really proud of all our guys…they battled through some issues and gave us a shot at the win."
Briscoe led the first 30 laps from the outside front row starting position and pulled away by more than a second early on before Jones began to reel him in. Jones got to within a length of the leader before the first caution waved on lap 28. Both Briscoe and Jones came down pit road for service; however, Jones beat Briscoe off to take the lead.
Back under green, Jones and Briscoe continued to race for the lead and swapped the top spot on lap 37. Jones took it right back to lead the 38th lap. In clean air, Jones began to show his strength and pulled away.
"Our car was really tight behind the 77," Jones added. "But once we got out of dirty air, it really freed the car up and we were able to drive off. General Tire brought another great tire today. There's not much fall-off and it's got really good grip. The composite body car was awesome. It gets a little tight behind other cars but that's not uncommon. It's definitely the way to go for sure. I'm so glad to be back in victory lane. We won in our first two ARCA starts, but it's been a while."
Jones only gave up the lead once more when he and Briscoe pitted under green for gas on the 79th lap. That handed the lead to Weatherman who chose to stay out. Weatherman led 17 laps up through lap 96 before he ran out of gas.
Travis Braden finished fourth in the No. 01 West Virginia University Chevrolet, the only steel bodied car to finish in the top-10. Matt Tifft, in the No. 15 Cometic Gasket Toyota, finished fifth, the last car on the lead lap. Brady Boswell, AJ Fike, Matt Kurzejewski, Dalton Sargeant and Shane Lee completed the top-10, respectively.
Just two cautions for minor incidents slowed the race for 15 laps.
The ARCA Racing Series presented by Menards heads next to Madison Int'l Speedway for the Montgomery Ward Father's Day 200 next Sunday, June 19, live on the American Sports Network.
ARCA Contact: Don Radebaugh
dradebaugh@arcaracing.com
ARCA Racing Series presented by Menards
Michigan Int'l Speedway
Official Results, Corrigan Oil 200 (6-10-16)
| | | | | |
| --- | --- | --- | --- | --- |
| FIN | NO | DRIVER/HOMETOWN | LAPS | STATUS |
| 1 | 8 | Brandon Jones/Atlanta GA | 100 | Running |
| 2 | 77 | Chase Briscoe/Mitchell IN | 100 | Running |
| 3 | 28 | Kyle Benjamin/Easley SC | 100 | Running |
| 4 | 01 | Travis Braden/Wheeling WV | 100 | Running |
| 5 | 15 | Matt Tifft/Hinckley OH | 100 | Running |
| 6 | 98 | Brady Boswell/Watkinsville GA | 99 | Running |
| 7 | 27 | A.J. Fike/Galesburg IL | 99 | Running |
| 8 | 52 | Matt Kurzejewski/Mansfield PA | 99 | Running |
| 9 | 55 | Dalton Sargeant/Boca Raton FL | 99 | Running |
| 10 | 32 | Shane Lee/Newton NC | 99 | Running |
| 11 | 2 | Sarah Cornett Ching/Summerland BC | 99 | Running |
| 12 | 58 | Kyle Weatherman/Wentzville MO | 98 | Running |
| 13 | 51 | Chad Finley/DeWitt MI | 96 | Running |
| 14 | 9 | Thomas Praytor/Mobile AL | 95 | Running |
| 15 | 08 | Nick Higdon/Big Clifty KY | 94 | Running |
| 16 | 20 | Tom Berte/New Berlin WI | 92 | Running |
| 17 | 64 | Morgen Baird/Jackson MI | 90 | Running |
| 18 | 38 | Sheldon Creed/Alpine CA | 87 | Out |
| 19 | 48 | Brad Smith/Shelby Township MI | 86 | Running |
| 20 | 6 | Josh Williams/Port Charlotte FL | 69 | Out |
| 21 | 25 | Tom Hessert/Cherry Hill NJ | 58 | Out |
| 22 | 34 | Michael Basham/Henryville IN | 44 | Out |
| 23 | 22 | Myatt Snider/Charlotte NC | 38 | Out |
| 24 | 19 | David Sear/LaJolla CA | 38 | Out |
| 25 | 14 | Dustin Knowles/Moody AL | 26 | Out |
| 26 | 10 | Dick Doheny/Ballston Spa NY | 17 | Out |
| 27 | 0 | Richard Hauck/Howell MI | 13 | Out |
| 28 | 65 | Jeffery MacZink/Brownstown MI | 10 | Out |
| 29 | 36 | Michael Lira/Port Orange FL | 7 | Out |
| 30 | 23 | Chris Bailey Jr./South Park PA | 4 | Out |
| 31 | 06 | Con Nicolopoulos/Columbus MI | 3 | Out |
| 32 | 00 | Wayne Peterson/Pulaski TN | 2 | Out |
| | 42 | Bo LeMastus/Louisville KY | DNS | |
| | 69 | Will Kimmel/Sellersburg IN | DNS | |