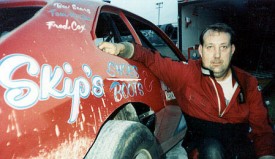 Although his driving days have ended, car owner Bobby Sears is still a weekly
fixture at New Smyrna Speedway.  Sears will turn 71 later this year and he
shows no signs of slowing down as his race team has already scored several
wins in both the Super Late Model and Pro Late Model divisions with new driver
Brad May.
Sears is doing it all without any sponsorship whatsoever so far this season
and he says it makes it tough being competitive.  "Building, maintaining,
repairing the race cars and engines… that's what I do and I do all of it
pretty much myself," says Sears.  "Tires are where I could use the help.  If I
could get a sponsor willing to put up $1247 per month, I could put a new set
of tires once a month on both cars and it would help greatly, first of all in
being able to race, and secondly keeping up with the competition each week."
he says.
Actually, the competition would rather see Sears' machines on old
tires since May has won two of the four Super Late Model races held at New
Smyrna this year and four times as of mid-June in the Pro Late Models.
Sears began his racing career at New Smyrna in 1983 driving a Volkswagen in
the Mini Stock class.  At the time, Sears operated a repair shop in Maitland
called "The Old Volks Home."  Try as he might, the VW had trouble competing
against the faster Ford Pintos back in the day, so midway in the 1984 season
Sears purchased a Pinto from Jerry and Stan Eads after Stan moved up to the
Late Model class.  Sears went on to win his first of many point championships
at New Smyrna in 1984 then went on to dominate the Mini Stock class for
several years.  He built a second Pinto so he could use one at New Smyrna and
the other exclusively at Orlando SpeedWorld.  During one season in the early
1990's when Clyde Hart operated his tracks "52 weeks year," Sears won over 60
features between both speed plants.  His competition were no slouches either
and included the likes of Gene Van Alstine, Richard Newton, Jerry Symons,
Jimmy "T" Trevarthen, and a host of others.
In 1994, Sears moved to racing in the Limited Late Models and continued
winning features and track titles until he finally retired from driving for
good in 2002.  Not one to actually "retire," Sears began fielding Late Models
as an owner and in over 13 years has only had three drivers behind the wheel
of his machines.
Michael Williams ran Sears' car the first year he was an
owner before Williams went to the potent South 40 Race Team that he helped
manage as well as drive for.  At that point, Sears decided to give young
driver Rich Clouser a shot at driving a Late Model after Clouser had been
dominating the Bomber/Super Stock classes for several years.
The team of Sears and Clouser clicked almost immediately and they went on to
win numerous races and several championships along the way.  But even the best
of partnerships can dissolve eventually and that happened late last year when
Sears and Clouser decided to part ways as Clouser was becoming more involved
with supporting the racing efforts of his two children while cutting back on
his own racing.
Sears looked around and found a driver that had shown flashes of brilliance
over the years but had never really gotten the chance to be in a good ride
full time.  Brad May took over the Sears cars and the new partnership was fast
from the beginning.  "I knew where Bobby was coming from," says May.  "I did
my best running my own cars without much sponsorship, so I know how hard it is
and to be immensely successful like Bobby and try to do it on your own." he
says.
Sears, a long time mechanic, both self-employed and later with Fields BMW,
still works at Fields on the drive line greeting customers and test driving
cars to check for problems so the mechanics have a heads-up on what problems
exist with the vehicle.  At the track, Sears is assisted by his son Danny who
just turned 50 and occasionally at the bigger races by his youngest son,
47-year old Steve.
At 37, May has been racing since he was seven years old.  Starting in Quarter
Midgets, May raced the small cars until he reached the maximum age for Quarter
Midget racing at 16.  During his time in those machines, May won a number of
championships at Central Florida tracks plus two National titles.  In 1995,
May skipped the lower classes and moved right into running Limited Late Models
at New Smyrna.  Although he never had the funds to race for a season-long
points championship, he did win the World Series of Asphalt Stock Car Racing
Limited Late Model titles in 1996, 1997 and 1999.  May and his wife Carrie
live in Oviedo and have a seven-year-old son Carson.  May and his father
operate May Construction Company.
May and his best friend Patrick Thomas, who himself is having quite a year in
the Sportsman class at New Smyrna, have been racing together since the days of
the Quarter Midgets and continue to support each other at the race track.
They never have raced much against each other as each has usually been running
a different class than the other.  "That's probably a good thing," laughs May.
For the first time since they started their racing careers, both May and
Thomas won on the same night a few weeks back, then duplicated the feat about
a month later.
So, if you are looking to get the name of your business on the side of some
fast race cars and see it gracing victory lane on many nights, you just might
want to give Bobby Sears a call.  "I don't know what I'd do if I didn't have a
car to bring to the track… I hope it never comes to that," says Mr. bobby
Sears.