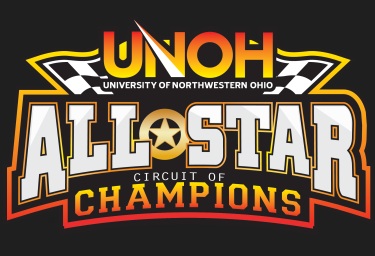 ATTICA, Ohio (3-31-13) By Brian Liskai – Saturday was a good day to be a
Blaney.  Early on Saturday, Dave "The Buckeye Bullet" Blaney – a regular with the
NASCAR Sprint Cup series – scored the win at Port Royal Speedway in
Pennsylvania. Not to be outdone, his brother, Dale "The Low Rider" Blaney
held off a late race challenge from Sheldon Haudenschild to score his 94th
career University of Northwestern Ohio All Star Circuit of Champions
victory to open the track's 25th anniversary season on HD
Supply/Construction Equipment and Supply Spring Nationals.
"I heard Dale got the win at the Port….he needs to race with us more to get
his confidence up….but I don't know if that will be a good thing. He could
be a pain to all of us if that happens," joked Dale Blaney beside his
Ti22/GF1 backed machine in victory lane
"Cap (Henry) was strong like he has been here the last few times we've run
at Attica. But George (Fisher) and Troy (Psurny) gave me a good car…I love
racing here…the track is always great," added Blaney.
"Boy Sheldon just keeps getting better and better. During that red George
told me I'd better get going or I was going to get my butt kicked. He made
some little adjustments to the car and it was fantastic," continued Blaney,
who now is just four wins away from tying Kenny Jacobs for the UNOH All
Stars' all time win lead.
Four time and defending UNOH All Star champion Tim Shaffer and Blaney, a
three time series champion and current point leader lead the field the
green. After a lap was complete Brady Bacon would spin with the running
order Blaney, Henry, Caleb Helms, Shaffer and Randy Hannagan. On the
restart Henry, the quick qualifier of the night, would rocket past Blaney
as Hannagan would drive past Shaffer into fourth.
As Henry prepared to hit the back of the field, Blaney closed with Helms
comfortably in third as Hannagan and Shaffer battled four fourth with Danny
Smith and Haudenschild in tow. By lap 15, Henry, who nearly took the win at
his local track during the Ohio Sprint Speedweek event in 2012, was in
heavy lapped traffic, but was picking his way through patiently as Blaney
looked for a chance to pounce. At the halfway mark Blaney was now on
Henry's rear bumper with Helms facing a challenge from Haudenschild. Henry
and Blaney raced side by side over the next two laps as they tried to
negotiate traffic. On lap 23 Blaney would use the lapped machine of Duane
Zablocki as a pick and drove around Henry for the lead. Henry tried to make
a move in turn two, but he and Zablocki would spin, bringing out the
caution.
The restart order was now Blaney, Helms, Haudenschild, Hannagan, Shaffer
and Smith. When the green reappeared, Haudenschild wasted little time
disposing of Helms and was closing quickly on Blaney when the caution flew
on lap 29 for a Jamie Barnes spin. Now with a clear track, Blaney would
drive to the bottom on the restart and pulled away slightly from
Haudenschild as Hannagan moved into third, bringing Shaffer into fourth
with eight laps to go. On the next circuit, Travis Philo would make contact
with another car, collapsing the front of his car, and with no where to go,
Henry would tag him, flipping on the front stretch. The Bellevue, Ohio
driver was okay, but it was another frustrating ending at his home track.
After the open red, the restart order had Blaney over Haudenschild, with a
lapped machine in third followed by Hannagan, Shaffer, Helms, Smith, Cole
Duncan and 20th place starter Brandon Martin. Again when the green flew,
Blaney drove away on the bottom. With just two laps to go, the battle was
for third as Hannagan and Shaffer raced side by side. Now all eyes were on
16th place starter and defending Attica champion Craig Mintz who came alive
the last five laps, racing into fifth.
As the checkered flew Blaney claimed his fifth Spring Nationals victory in
the last seven years. It was his 17th career win at Attica as he sits fifth
in the track's all-time win list. Haudenschild would score his best ever
All Star finish with a runner-up performance while Hannagan, Shaffer and
Mintz would round out the top five.
"That was a lot of fun. We nearly got a win here late last year before we
got tore up. I have to thank my mom and dad and sister for all their
support and Ripper for all the hard work tonight," said Haudenschild beside
his Triple X/Wintermyer Auto Salvage backed machine. "I didn't want to see
that red…when you give Dale and George a chance to work on that car, it's
hard to beat them. It just took awhile for the car to get going on
restarts. But, I'm really happy with the run….it's a great way to start the
year."
For Hannagan and his new ride – the Shane Wade Amati Racing Marion
Underground Construction team – it was also a great start to the season.
"We couldn't ask for a better start to the season. We were good all night
and the car got better at the end. I'm really excited for what this team
can do," said Hannagan.
The UNOH All Stars will take on the tough Pennsylvania Posse on April 26 at
the legendary Williams Grove Speedway and April 27 at Port Royal Speedway.
For more information go to www.allstarsprint.com
Attica Raceway Park  – 3/30/2013
UNOH Night
All Star Circuit of Champions (32 Cars)
[#]-Starting Position
Qualifying – Kistler Engines
1. 54-Cap Henry, 12.705; 2. 35-Stuart Brubaker, 12.908; 3. 2-Dale Blaney,
12.942; 4. 66-Randy Hannagan, 12.962; 5. 83-Tim Shaffer, 12.974; 6. 29-Cole
Duncan, 12.992; 7. 40-Caleb Helms, 12.996; 8. 99-Brady Bacon, 13.023; 9.
4-Danny Smith, 13.082; 10. 97-Phil Gressman, 13.083; 11. 93-Sheldon
Haudenschild, 13.103; 12. 2M-Dustin Daggett, 13.108; 13. 5R-Byron Reed,
13.141; 14. 9B-Jamie Barnes, 13.165; 15. 53-D.J. Foos, 13.219; 16. 45-Danny
Holtgraver, 13.259; 17. O9-Craig Mintz, 13.274; 18. 94-Jack Sodeman Jr.,
13.353; 19. O-Justin Henderson, 13.372; 20. 24H-Bryan Sebetto, 13.381; 21.
57X-Andrew Palker, 13.381; 22. 5T-Travis Philo, 13.403; 23. 9X-Brandon
Martin, 13.429; 24. 9Z-Duane Zablocki, 13.446; 25. 27P-Paige Polyak,
13.467; 26. 40G-Caleb Griffith, 13.483; 27. 7K-Chad Blonde, 13.493; 28.
55-Brad Bowman, 13.539; 29. 80-Trey Gustin, 13.581; 30. 46AU-Stuart
Williams, 13.630; 31. 16-Chris Andrews, 13.674; 32. 7-Troy Kigan, 99.999
Heat 1 – Kears Speed Shop (10 Laps – Top 5 finishers transfer to the
A-feature)
1. O9-Craig Mintz[2] ; 2. 54-Cap Henry[6] ; 3. 83-Tim Shaffer[5] ; 4.
4-Danny Smith[4] ; 5. 5R-Byron Reed[3] ; 6. 80-Trey Gustin[8] ; 7.
27P-Paige Polyak[7] ; 8. 57X-Andrew Palker[1]
Heat 2 – All Pro Aluminum Heads (10 Laps – Top 5 finishers transfer to the
A-feature)
1. 9B-Jamie Barnes[3] ; 2. 97-Phil Gressman[4] ; 3. 40G-Caleb Griffith[7] ;
4. 35-Stuart Brubaker[6] ; 5. 5T-Travis Philo[1] ; 6. 46AU-Stuart
Williams[8] ; 7. 29-Cole Duncan[5] ; 8. 94-Jack Sodeman Jr.[2]
Heat 3 – Dragon Race Fuel (10 Laps – Top 5 finishers transfer to the
A-feature)
1. O-Justin Henderson[2] ; 2. 93-Sheldon Haudenschild[4] ; 3. 2-Dale
Blaney[6] ; 4. 7K-Chad Blonde[7] ; 5. 40-Caleb Helms[5] ; 6. 16-Chris
Andrews[8] ; 7. 9X-Brandon Martin[1] ; 8. 53-D.J. Foos[3]
Heat 4 – Kinsler Fuel Injection (10 Laps – Top 5 finishers transfer to the
A-feature)
1. 24H-Bryan Sebetto[2] ; 2. 9Z-Duane Zablocki[1] ; 3. 66-Randy Hannagan[6]
; 4. 2M-Dustin Daggett[4] ; 5. 55-Brad Bowman[7] ; 6. 45-Danny
Holtgraver[3] ; 7. 99-Brady Bacon[5] ; 8. 7-Troy Kigan[8]
Dash – Outerwears Performance Products (6 Laps, finishing order determined
first 6 starting positions of A-feature
1. 83-Tim Shaffer[1] ; 2. 2-Dale Blaney[3] ; 3. 40-Caleb Helms[4] ; 4.
54-Cap Henry[5] ; 5. 35-Stuart Brubaker[2] ; 6. 66-Randy Hannagan[6]
B-Main – MSD Ignition (12 Laps – Top 4 finishers transfer to the A-feature)
1. 99-Brady Bacon[2] ; 2. 29-Cole Duncan[1] ; 3. 45-Danny Holtgraver[4] ;
4. 9X-Brandon Martin[7] ; 5. 27P-Paige Polyak[8] ; 6. 53-D.J. Foos[3] ; 7.
94-Jack Sodeman Jr.[5] ; 8. 16-Chris Andrews[11] ; 9. 46AU-Stuart
Williams[10] ; 10. 80-Trey Gustin[9] ; 11. 57X-Andrew Palker[6] ; 12.
7-Troy Kigan[12]
A-Main – University of Northwestern Ohio (40 Laps)
1. 2-Dale Blaney[2]; 2. 93-Sheldon Haudenschild[9]; 3. 66-Randy
Hannagan[6]; 4. 83-Tim Shaffer[1]; 5. O9-Craig Mintz[16]; 6. 4-Danny
Smith[7]; 7. 40-Caleb Helms[3]; 8. 9X-Brandon Martin[20]; 9. 7K-Chad
Blonde[23]; 10. 29-Cole Duncan[11]; 11. 24H-Bryan Sebetto[18]; 12. 5R-Byron
Reed[13]; 13. 40G-Caleb Griffith[22]; 14. O-Justin Henderson[17]; 15.
45-Danny Holtgraver[15]; 16. 35-Stuart Brubaker[5]; 17. 2M-Dustin
Daggett[10]; 18. 55-Brad Bowman[24]; 19. 99-Brady Bacon[12]; 20. 54-Cap
Henry[4]; 21. 5T-Travis Philo[19]; 22. 9Z-Duane Zablocki[21]; 23. 9B-Jamie
Barnes[14]; 24. 97-Phil Gressman[8]
Hard Charger: 7K-Chad Blonde[+14]