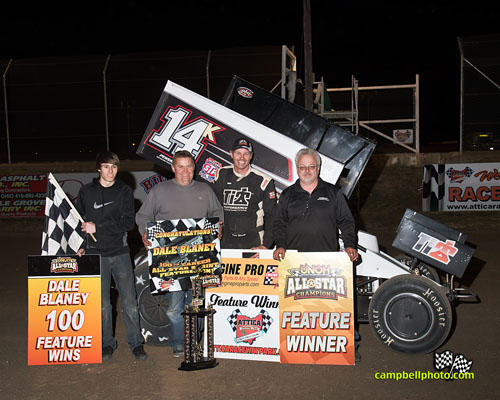 ATTICA, Ohio – Dale Blaney rewarded his new car owner with a $10,000 victorySaturday to open Attica Raceway Park's 2014 season. "The Low Rider" led all 40 laps of the HD Supply/Construction Equipment and Supply Spring Nationals to score his 100th career University of Northwestern Ohio All Star Circuit of Champions win.
It wasn't easy for Blaney, as reminiscent of the 2012 Spring Nationals when he and Craig Mintz put on an exciting show for the two nights, Mintz again challenged Blaney late. But, Blaney came alive the final seven circuits to score the win aboard his Tony Kennedy owned #14K. The victory is Blaney's 18thcareer win at Attica of which 14 have been UNOH All Star triumphs.
"Thanks to George (Fisher) he does all the work on this thing. I'm awful happy to get number 100 with Tony…our first win together. To make it 100 and to make it here at this race is pretty special. I love this place. Western Ohio has been very good to me," said Blaney beside his Ti22 Performance/Penske Shocks, Kennedy Cattle Company backed machine.
"We were really good on the short runs. I really wasn't that great after about 10 laps. I kind of got stuck behind Sebetto (Bryan) and he and Chris Bell were racing. I saw the 09 beside me in one and two and I knew where he was running at so I just picked the pace up a little bit and was really, really fortunate to go down into three and Chris Bell moved to the middle and it left me with the bottom and after that I was running like a scared dog. Craig (Mintz) runs really good here so to get that one is cool," added Blaney, a four-time and defending UNOH All Star champion.
"I think Dale was kind of just pacing himself. When he picked up the pace I didn't have anything for him. I burned everything up trying to catch him," said Mintz beside his Real Geese Decoys/Erie Shore Propane/KS Sales and Service backed #09. "That's why he has 100 victories because he got through that lapped traffic a little bit better than we did."
Four time UNOH All Star champion Tim Shaffer would continue his early season strong runs with a third place finish in the Bryan Grove #45.
"Hats off to Bryan Grove, James Chambers and everyone that's helping us. When you have everybody behind you 100 percent….it's showing. We missed it a little bit in the feature but we're in it every night," said Shaffer beside his Canton Erectors backed machine.
In the 40-lap UNOH All Star feature Blaney and Andrew Palker would bring the field to the green with Blaney gaining the advantage. Palker would run comfortably in second with Shaffer, Danny Holtgraver, Duane Zablocki and Mintz in tow. Mintz would move into fifth on lap five and would take fourth on lap 8 as the leaders raced into lapped traffic.
Blaney continued to lead unchallenged with Palker, Shaffer, Mintz, Holtgraver, Zablocki and Dean Jacobs in pursuit. Mintz grabbed third on lap 10 as the race's only caution flew for Brandon Wimmer who stopped on the track. With a clear track, Blaney would drive away from the field as Palker now had his hands full with Mintz. Mintz drove into the runner-up spot on lap 13 with Palker, Shaffer, Holtgraver, Jacobs and Chad Kemenah in tow.
The leaders would hit lapped traffic again on lap 19 allowing Mintz to close the gap on Blaney. Palker, Shaffer and Holtgraver were also battling hard for third with Shaffer gaining the position on lap 22. The only change in the top five over the next few laps saw Holtgraver and Jacobs get around Palker.
With seven laps to go, Blaney was in heavy lapped traffic and Mintz closed quickly. On lap 34 Mintz drove to Blaney's outside in turns one and two, but Blaney was able to hold him off and then picked up the pace to pull away for the win. Mintz, Shaffer, Holtgraver and Jacobs – who flipped hard in his heat race – would round out the top five.
Attica Raceway Park – 4/5/2014
ASCoC Sprints (36 Cars)
[#]-Starting Position
Qualifying – Kistler Engines
1. 40-Caleb Helms, 12.380; 2. 10H-Danny Holtgraver, 12.535; 3. 57X-Andrew Palker, 12.562; 4. 14K-Dale Blaney, 12.580; 5. 787-Dean Jacobs, 12.662; 6. O9-Craig Mintz, 12.663; 7. 60K-Jody Keegan, 12.678; 8. 45-Tim Shaffer, 12.696; 9. 9Z-Duane Zablocki, 12.697; 10. 63-Chad Kemenah, 12.716; 11. 77-Shane Stewart, 12.884; 12. 16-Chris Andrews, 12.985; 13. 22-Cole Duncan, 13.046; 14. 81-Lee Jacobs, 13.064; 15. 45L-Brian Lay, 13.068; 16. 24H-Brandon Wimmer, 13.105; 17. 55-Brad Bowman, 13.122; 18. 21-Dallas Hewitt, 13.133; 19. 4-Danny Smith, 13.138; 20. 40DD-Caleb Griffith, 13.199; 21. 53C-Christopher Bell, 13.231; 22. 5R-Byron Reed, 13.246; 23. 11X-Brandon Martin, 13.263; 24. 9W-Jac Haudenschild, 13.292; 25. 33M-Bryan Sebetto, 13.293; 26. 35-Stuart Brubaker, 13.317; 27. 80-Trey Gustin, 13.330; 28. 46AU-Stuart Williams, 13.408; 29. 83-Stevie Smith, 13.444; 30. 5T-Travis Philo, 13.471; 31. 93-Sheldon Haudenschild, 13.474; 32. 17-Scott Euler, 13.548; 33. 2-Nathan Skaggs, 13.570; 34. 53-D.J. Foos, 13.665; 35. O7X-Dain Naida, 13.699; 36. 7-Troy Kingan, 14.502
Heat 1 – Kear's Speed Shop (10 Laps – Top 5 finishers transfer to the A-feature)
1. 53C-Christopher Bell[1] ; 2. 55-Brad Bowman[2] ; 3. 22-Cole Duncan[3] ; 4. 33M-Bryan Sebetto[7] ; 5. 9Z-Duane Zablocki[4] ; 6. 2-Nathan Skaggs[9] ; 7. 83-Stevie Smith[8] ; 8. 787-Dean Jacobs[5] ; 9. 40-Caleb Helms[6]
Heat 2 – All Pro Aluminum Heads (10 Laps – Top 5 finishers transfer to the A-feature)
1. 81-Lee Jacobs[3] ; 2. 5R-Byron Reed[1] ; 3. 63-Chad Kemenah[4] ; 4. 10H-Danny Holtgraver[6] ; 5. O9-Craig Mintz[5] ; 6. 21-Dallas Hewitt[2] ; 7. 5T-Travis Philo[8] ; 8. 35-Stuart Brubaker[7] ; 9. 53-D.J. Foos[9]
Heat 3 – Dragon Race Fuel (10 Laps – Top 5 finishers transfer to the A-feature)
1. 4-Danny Smith[2] ; 2. 11X-Brandon Martin[1] ; 3. 45L-Brian Lay[3] ; 4. 77-Shane Stewart[4] ; 5. 57X-Andrew Palker[6] ; 6. 60K-Jody Keegan[5] ; 7. 93-Sheldon Haudenschild[8] ; 8. 80-Trey Gustin[7] ; 9. O7X-Dain Naida[9]
Heat 4 – Kinsler Fuel Injection (10 Laps – Top 5 finishers transfer to the A-feature)
1. 40DD-Caleb Griffith[2] ; 2. 45-Tim Shaffer[5] ; 3. 9W-Jac Haudenschild[1] ; 4. 16-Chris Andrews[4] ; 5. 14K-Dale Blaney[6] ; 6. 46AU-Stuart Williams[7] ; 7. 17-Scott Euler[8] ; 8. 7-Troy Kingan[9]
Dash – Outerwears Performance (6 Laps, finishing order determined first 6 starting positions of A-feature
1. 14K-Dale Blaney[2] ; 2. 57X-Andrew Palker[1] ; 3. 45-Tim Shaffer[4] ; 4. 10H-Danny Holtgraver[6] ; 5. O9-Craig Mintz[3] ; 6. 9Z-Duane Zablocki[5]
B-Main – MSD Ignition's. (12 Laps – Top 4 finishers transfer to the A-feature)
1. 787-Dean Jacobs[2] ; 2. 40-Caleb Helms[1] ; 3. 24H-Brandon Wimmer[4] ; 4. 60K-Jody Keegan[3] ; 5. 83-Stevie Smith[9] ; 6. 46AU-Stuart Williams[8] ; 7. 93-Sheldon Haudenschild[11] ; 8. 53-D.J. Foos[14] ; 9. 5T-Travis Philo[10] ; 10. 80-Trey Gustin[7] ; 11. O7X-Dain Naida[15] ; 12. 2-Nathan Skaggs[13] ; 13. 7-Troy Kingan[16] ; 14. 21-Dallas Hewitt[5] ; 15. 35-Stuart Brubaker[6] ; 16. 17-Scott Euler[12]
UNOH A-Main – (40 Laps)
1. 14K-Dale Blaney[1]; 2. O9-Craig Mintz[5]; 3. 45-Tim Shaffer[3]; 4. 10H-Danny Holtgraver[4]; 5. 787-Dean Jacobs[12]; 6. 77-Shane Stewart[8]; 7. 63-Chad Kemenah[7]; 8. 22-Cole Duncan[10]; 9. 40DD-Caleb Griffith[19]; 10. 16-Chris Andrews[9]; 11. 57X-Andrew Palker[2]; 12. 5R-Byron Reed[21]; 13. 9Z-Duane Zablocki[6]; 14. 45L-Brian Lay[15]; 15. 33M-Bryan Sebetto[24]; 16. 81-Lee Jacobs[14]; 17. 53C-Christopher Bell[20]; 18. 40-Caleb Helms[11]; 19. 11X-Brandon Martin[22]; 20. 9W-Jac Haudenschild[23]; 21. 4-Danny Smith[18]; 22. 60K-Jody Keegan[13]; 23. 55-Brad Bowman[17]; 24. 24H-Brandon Wimmer[16]
Hard Charger: 40DD-Caleb Griffith[+10]