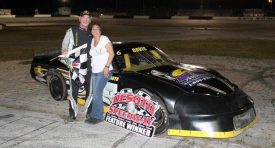 By SCOTT LOCKWOOD
Desoto Speedway
Dave Davis had to call in a favor to a fellow racer on Saturday after his car suffered a radiator failure during pre-race practice.
Once Jimmy Frazier brought in a spare radiator, Davis' car roared back to life and proved to be nearly untouchable. Davis drove from deep in the pack, took the lead early and drove on to his first win in the last several seasons
Davis went from fourth to second and then around early leader Marshall Parr at the completion of the sixth lap. He built up a lead of over half a lap on Rachelle Rudolph and Mike Kerrivan when Clint Holmes spun and brought out the caution just prior to the halfway point.
Kerrivan, who had been the fastest car on the track after getting through traffic prior to the caution, got by Rudolph for second just after the restart and began chipping away at Davis' lead when another caution flew for Josh Smith's blown engine on lap 30.
Davis got away from Kerrivan on the restart, but Kerrivan caught back up and was right on Davis' rear bumper when his car suddenly slowed with 10 laps to go. That allowed Davis, who hails from Bradenton, to drive on the victory.
"It's a great feeling to finally get back in victory lane," Davis said. "The day started off a little rough, but thanks to some fellow racers giving me a hand we got this thing back on track."
Rudolph and Parr rounded out the podium. Holmes rallied to finish fourth.
A strong field of 16 cars took the green flag for the 30-lap Strictly Stock feature. Kyle Case jumped from the outside pole and into the lead at the start and was joined at the front of the field by Fred Wilson and Darrell Taylor. Wilson was reeling in Case for the top spot when the red flag came out for Kyle Best's hard crash on lap 3. Best was uninjured.
Taylor jumped up to second on the restart and passed Case for the lead at the end of the seventh lap. As Taylor and Case pulled away from the rest of the field Steve Major, Bill Osborne and Wilson all staged a battle for third. Osborne and Wilson cleared Major and stayed in close proximity for the remainder of the event.
Taylor was able thread the needle through lapped traffic and went on to the win. Case finished second. Osborne and Wilson eventually cleared Major and spent the final lap of the race banging doors. Osborne was able to straighten his car out and finished third.
The Trophy Dash cars closed OT the evening with a rough-and-tumble race on the infield oval. Steve James grabbed the lead early before being overtaken by Micheal Meeks on the third lap. Meeks weaved his way through traffic and took the victory. Case finished second, and James Volk rounded out the top three.
In other action Saturday night, Darrin Ellis held off Sherry Best to win the Pure Stock feature.
Desoto Speedway will host a "Night of Destruction" next Saturday. Regular racing action is scheduled to return on May 6.
Strictly Stock
1. 4 Darrell Taylor, 2. 61 Kyle Case, 3. 80 Bill Osborne, 4. 18 Fred Wilson, 5. 6 Donnie Mosman, 6. 68 Steve James, 7. 37 James Volk, 8. 01 Doug Radley, 9. 42 Anne Osborne, 10. 8 Rodney Wingate, 11. 14 Michael Meeks, 12. 31 Gator Volk, 13. 55 Steve Major, 14. 37w Dustin Eskersen, 15. 45 Tony Meeks, 16. 310 Kyle Best DQ.
Pure Stock
1. 71 Darrin Ellis, 2. 3 Sherry Best, 3. 71B Charles Butterfield
Modified Mini
1. 6 Dave Davis, 2. 77 Rachelle Rudolph, 3. 60 Marshall Parr, 4. 38 Clint Holmes, 5. 2 Jimmy Wood, 6. 45 Mike Kerrivan, 7. 67 Josh Smith, 8. 9 Scott Bumgarner.
Trophy Dash
1. 14 Michel Mees, 2. 61 Kyle Case, 3. 37 James Volk, 4. 42 Roger Dufresne, 5. 68 Steve James, 6. 37w Dustin Eckersen, 7. 80 Jacob Wozniack, 8. 01 Doug Radley, 9. 31 Gator Volk, 10. 27 Austin Lykins.
Read more here: http://www.bradenton.com/sports/article144938084.html#storylink=cpy