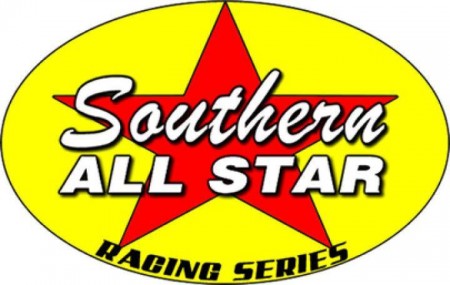 FAYETTEVILLE, TN—The Southern All Star Dirt Racing Series will make its final stop of the year Saturday night November 16th at the Cleveland Speedway in Cleveland, TN., for the 25th Annual Budweiser/Joe Lee Johnson Gobbler.  A 50 lap $5,000 to win $300 to start event.
Three time Southern All Star Champion Randy Weaver of Crossville, TN., is the defending winner of the Gobbler and will be one of the drivers to beat as he as picked up three wins with the series this year.  Current point's leader Riley of Ooltewah, TN., will also be on to watch to grab his first win of the season with the series along with the current Cruise With The Champions rookie of the yea r leader Bret Holmes of Munford, AL., as he will also be looking for his first win of the season.
Other drivers that are expected to be in attendance include Jason Hiett of Anniston, AL., Billy Ogle Jr of Knoxville, TN., Tommy Kerr of Knoxville, TN., William Thomas of Phenix City, AL., Jake Knowles of Tyrone, GA., Austin Smith Stacy Boles of Knoxville, TN., Bryan Hendrix of Knoxville, TN., Mark Vineyard of Knoxville, TN., Dylan Ames of Harvest, AL., David Payne of Murphy, NC., plus many more regional stars.
On Friday night November 15th there will be a open practice of the SAS Super Late Models along with qualifying for the Steel Heads & Crates along with qualifying heats for the A & B Hobby and Pony/Front Wheel Drive.  On Saturday night there will be feature events for the A & B Hobby, Pony Front Wheels Drives, Last Chance Qualifiers for the Steel Head & Crate divisions and a full SAS Super Late Model program with qualifying, PPM B Mains, and the Budweiser/Joe Lee Johnson Memorial 50.
Pit will open at 2 pm each day with drivers meeting set for 6:00 pm and hot laps to follow. Friday admission is $5 for grandstands & $15 for pits with Saturday's prices set at $20 grandstands and $30 pits.
Further information on the Southern All Stars Dirt Racing Series can be obtained by calling General Manager Lynn Acklin at (256) 924-4546 or you can log on to the official series website at www.sasdirt.com . Also, LIKE the Southern All Stars Dirt Racing Series on Facebook or be a FOLLOWER on Twitter @SASDIRT.
Current Southern All Star Racing Series Top Ten Point Standings (after 10/26/2013) 1. Riley Hickman-1,672 (Chattanooga, TN) 2. Bret Holmes-1,490 (Munford, AL) 3. Jason Hiett- 1,176 (Oxford, AL) 4. Mark Rosner- 1,116 (Rockford, AL) 5. Mike Weeks- 1,044 (Friendsville, TN) 6. Billy Ogle, Jr.- 948 (Knoxville, TN) 7. Ray Cook- 930 (Brasstown, NC) 8. Randy Weaver- 860 (Crossville, TN) 9. William Thomas -844 (Phenix City, AL) 10. Jonathan Davenport (Blairsville, GA)- 650
Current Cruise With The Champions/DirtonDirt.com Rookie of the Year Point Standings (after 10/26/2013) 1. Bret Holmes (Munford, AL)- 528 2. Mark Rosner (Rockford, TN)- 398 3. Jason Hiett (Oxford, AL)-359
Southern All Star Racing Series 2013 Event Winners:
#1-Jared Landers-Batesville, AR (Cherokee Speedway) March 3 #2-Randy Weaver-Crossville, TN (Cleveland Speedway) March 9 #3-Jonathan Davenport-Blairsville, GA (East Alabama Motor Speedway) March 16 #4-Jonathan Davenport-Blairsville, GA (Smoky Mountain Speedway) March 23 #5-Billy Ogle Jr.-Knoxville, TN (Tazewell Speedway) April 6 #6-Steve Casebolt- Richmond, IN (Cleveland Speedway) May 18
#7- Chris Madden-Gray Court, SC (Volunteer Speedway) June 14
#8- Chris Madden-Gray Court, SC (Smoky Mountain Speedway) June 15
#9- Randy Weaver- Crossville, TN (Talladega Short Track) June 22
#10- Ray Cook- Brasstown, NC (Cleveland Speedway) July 13
#11- Chris Wall- Springfield, LA (Magnolia Motor Speedway) July 20
#12- William Thomas- Phenix City, AL (Talladega Short Track) July 27
#13- Billy Ogle, Jr.- Knoxville, TN (Volunteer Speedway) August 3
#14- Casey Barrow (Albany Motor Speedway) August 9
#15- Ray Cook- Brasstown, NC (Needmore Speedway) August 10
#16- Billy Ogle, Jr.- Knoxville, TN (Tazewell Speedway) September 1
#17- Josh Putnam- Florence, AL (Green Valley Speedway) September 7
#18- Chris Madden- Gray Court, SC (East Alabama Motor Speedway) September 28
#19- Shane Clanton- Zebulon, GA (East Alabama Motor Speedway) September 29
#20- Randy Weaver- Crossville, TN (Talladega Short Track) October 19
#21- Mike Marlar- Winfield, TN (Smoky Mountain Speedway) October 26
Upcoming Southern All Star Racing Series Events:
November 16 (Saturday)- Cleveland Speedway/Cleveland, TN- $5,000 to win (25th Annual Gobbler 50) November 17 (Sunday)- Cherokee Speedway/Gaffney, SC- $10,000 to win (23rd Annual Blue/Gray 100)
2013 Southern All Stars Dirt Racing Series Sponsors:
*Hoosier Racing Tire "The Official Race Tire" of the Southern All Star Racing Series *Patriot Sports "The Official Merchandise Vendor" of the Southern All Star Racing Series *Sunoco Race Fuel "The Official Racing Fuel" of the Southern All Star Racing Series
2013 Southern All Star Racing Series Supporters Include: AR Bodies, Brodix Cylinder Heads, Cruise with the Champions, DirtonDirt.com, H3 Performance Graphics, Integra Racing Shocks, Intercomp Racing Systems, JT Kerr Racing Equipment, MSR Mafia Web Design and Service, PPM Racing Products, RockAuto.com, Schaeffer's Racing Oil by Ed Lowe, The Joie of Seating, WhitePerformance.com