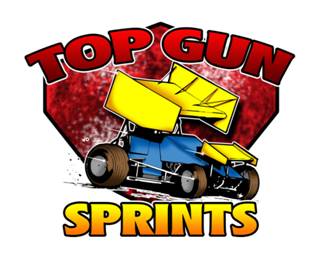 The Top Gun Sprints made their third visit of 2011 to Bubba Raceway Park on Saturday September 24, 2011. There were 17 cars at the track to give fans two heat races and a 25 lap feature race.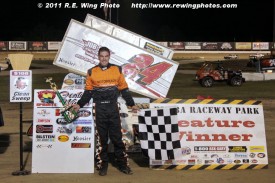 Danny Martin in the 24 car had the pole with Tim Grubaugh in the 42 on the outside for the start of the SHOCKDYNO heat race. On the start Danny got the lead and the win. The 02 of Gene Lasker had the pole for the BROWN & MILLER heat race, with Sport Allen in the 81 car on the outside. It was the 02 that made the better start and took the second heat win. 
The 3A of A J Maddox had the pole for the start of the HOOSIER TIRE feature race event, with the 81 of Sport Allen alongside. After a parade lap, the race went to green and it was Sport Allen in the 81 car that took the lead. Then on lap 11 caution out for the 3A of A J Maddox, car would not stay in gear, also Sport Allen came to infield for broke rear end. On the restart is was the 24 of Danny Martin leading with the 02 of Gene Lasker in 2nd. Lap 20 caution came out for the 42 of Tim Grubaugh for front axle damage. On the restart it was Danny Martin out front and never looked backed and took the checkered flag, followed by Gene Lasker  in the 02 car, Robbie Smith in the 6S car, Matt Kurtz in the 92 car and Mark Ruel Jr. in the 83 car rounding out the top 5. 
The staff and racers of the Top Gun Sprints would like to thank everyone for their support and hope to see you at East Bay Raceway Park October 8, 2011. Congratulation goes out to Robbie Smith for winning the KSE Hardcharger Award. Congratulation also goes to Danny Martin for winning the BARFEILD Clean Sweep Award of $100 (that's winning the heat race and feature).    
Bubba Raceway Park, September 24, 2011
ShockDyno  Heat #1
 1)      24 Danny Martin (Sarasota, FL)
2)      92 Matt Kurtz (Jacksonville, FL)
3)      3A A J Maddox (Brandon, FL)
4)      43 Terry Witherspoon (Jacksonville, FL)
5)      55 Kerry Gilbert (Dover, FL)
6)      41 Stephen Darvalics (Venice, FL)
7)      42 Tim Grubaugh (Ocala, FL)
8)      1* Tim George (Venice, FL)
9)      15JR Geoff Styner (Cape Coral, FL)
Brown & Miller  Heat #2
1)      02 Gene Lasker (Tampa, FL)
2)      81 Sport Allen (Pinellas Park, FL)
3)      38 Tony Agin (Ft. Myers, FL)
4)      6S Robbie Smith (Tampa, FL)
5)      83 Mark Ruel Jr. (Jacksonville, FL)
6)      34 Darren Orth (Jacksonville, FL)
7)      0 Jimmy Ballew Jr. (Riverview, FL)
8)      59 Danny Statter (Deltona, FL) DNS
Hoosier Tire  Feature
1) 24 Danny Martin; 2) 02 Gene Lasker; 3) 6S Robbie Smith; 4) 92 Matt Kurtz; 5) 83 Mark Ruel Jr.; 6) 34 Darren Orth; 7) 41 Stephen Darvalics; 8) 55 Kerry Gilbert; 9) 43 Terry Witherspoon; 10) 1* Tim George; 11) 42 Tim Grubaugh; 12) 38 Tony Agin; 13) 0 Jimmy Ballew Jr.; 14) 3A A J Maddox; 15) 81 Sport Allen; 16) 59 Danny Statter; 17) 15JR Geoff Styner