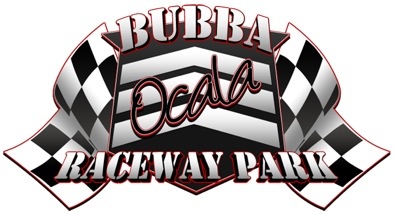 Jim Rouse, Ocala, FL- The Bubba Army Sprint Cars opened up a new era of racing as the powerful 360s were brought out to headline a night of racing that included the Scorpion Racing Products UMP DirtCar Modifieds, Bubba Army Hobby Stocks, and 1-800-ASK GARY Thunder Stocks.
The Bubba Army Hobby Stocks started things off, and after Hunter Gustafson took a heat win for the 3rd consecutive night and Dennis Williams joined him, with Wally Schneider leading lap 1 after inheriting the pole when Alvin Adkison spun in front of the field and gathered Hunter Gustafson and Devin Walker- both youngsters drove away but neither finished the race. Schneider got caught out on a restart for Gustafson's final spin and William Edwards jumped to the top of the pylon. Edwards and Heath Walker then put on a show for the first 10 laps as they went back-and-forth for the lead before Edwards made the winning pass on Walker at the halfway point.
Edwards took the checkers for his 1st win on the dirt at Bubba Raceway Park as a Walker finished 2nd for the 3rd consecutive night; this time, however, it was Devin's father Heath as the bridesmaid. Schneider finished 3rd with Sean Monoghan once more 4th and Rebecca Paugh an impressive 5th.
The Scorpion Racing Products UMP DirtCar Modifieds opened up more madness as "The Wellsville Wheelman" Paul Snyder joined Mr. Larry Mott as Heat winners. For those counting, it was a first win for Mott and meant that, for a moment, he was the points leader and set the record for the oldest points leader in the Modern Era. Scott Mooers, however, got the last laugh as he used his 2nd-place starting spot to lead the 1st few laps before Buzzie Reutimann stole it from "The Osteen Assassin." Snyder's car broke on lap 4 and Mooers spun 2 laps later which left the running order as Reutimann, Ronnie Soltis from the back, and Mott. As the race wound down Adam Harvey brought out 2 cautions that allowed Mooers to take a shot at the leaders; the shot backfired as Mooers spun on the penultimate lap and it knocked him down to 5th overall. Reutimann took the win to break Mott's 90-minute old record as Oldest Points Leader while Soltis finished a solid 2nd. Mr. Mott finished 3rd and sits just 3 points out of the points lead while Scott Kurtzner finished 4th and Scott Mooers finished in a what-could've-been 5th.
The inaugural Bubba Army Sprint Car race opened up with heat race winner Greg Leonard leading the 1st 4 laps before the other heat race winner, Matt Kurtz, stole the show. Just 3 laps later Shawn Cornell and Robbie Smith ended up with torn-up race cars after a wild crash that started when Cornell had problems and collected Smith in the melee- both drivers were okay. Kurtz then pulled away and won an easy race but found out in Coors Light Winner's Circle that his right rear tire had been punctured- he, however, had punctured the hopes of the other drivers. Sport Allen finished 2nd in his return to the 3/8 mile and Terry Witherspoon finished a solid 3rd. Dennis Misuraca and Mike Tharp rounded out the top 5.
The target was on Harold Erickson's back early on in the 1-800-ASK GARY Thunder Stocks as he led from pole but was involved in a lap 4 caution with Jonathan Appleby who had won his heat earlier. Official review deemed that Appleby had caused the contact and gave Erickson the lead back over Brandon Elwood and James Erickson. On the restart Tony Campbell found himself with a shot at the lead but gave it up when he, and Harold Erickson, spun in turn 4- Campbell was sent to the tail while Erickson retained the lead. From there it was caution-free but Brandon Elwood took the lead and cruised to his first career dirt track win- a complete sweep as he also won his heat. James Erickson finished 2nd, Appleby rebounded from the tail to finish 3rd with Harold Erickson and William Gillam the top 5.
Next week is Night of a Thousands and will have the Bubba Army Late Models, 1-800-ASK GARY Thunder Stocks, Rent-N-Roll Gladiators, and the Florida Mini Sprints Association. We'll also have an Easter Egg Hunt for the kids. For more information please visit www.bubbaracewaypark.com or call us at 352-622-9400!
Bubba Raceway Park Results (3/23/13)
Bubba Army Sprint Cars
1- 92 Matt Kurtz
2- 88 Sport Allen
3- 43 Terry Witherspoon
4- 3 Dennis Misuraca
5- J1 Mike Tharp
6- 83A Bob Auld
7- 3A AJ Maddox
8- 52 Mark Broughman
9- 3 Greg Leonard
10- 6S Robbie Smith
11- 111 Andy Cobb
12- 21 Shawn Cornell
SCR- G6 Brandon Grubaugh
SCR- 82 Danny Martin, Jr.
Scorpion Racing Products UMP DirtCar Modifieds
1- 00 Buzzie Reutimann
2- 61 Ronnie Soltis
3- Z06 Larry Mott
4- 1K Scott Kurtzner
5- 10 Scott Mooers
6- 7H Charlie Howard, Jr.
7- 75 Charlie O'Neill
8- 21 Adam Harvey
9- 1G Garland Spangler
10- 54 Paul Snyder
Bubba Army Hobby Stocks
1- 14 William Edwards
2- 55 Heath Walker
3- 57 Wally Schneider
4- 51 Sean Monoghan
5- 23 Rebecca Paugh
6- 77 Matt Kramer
7- 24 Dennis Williams
8- 15 Hunter Gustafson
9- 54 Alvin Adkison
10- 55JR Devin Walker
SCR- 12 Donnie Ashford
1-800-ASK GARY Thunder Stocks
1- 28 Brandon Elwood
2- 16 James Erickson
3- 69A Jonathan Appleby
4- 66 Harold Erickson
5- 13 William Gillam
6- 6 Tony Campbell
7- 33 Melvin Fockler
8- 73 Brandon Tillander
9- 54 John Florkowski
10- 85 Chuck Cessna
11- 3H Buddy Pope
12- 49 DJ Horiski
SCR- 20 Eric Davis