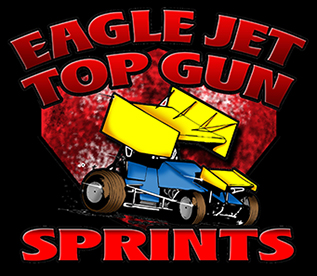 Eagle Jet Top Gun Sprints after being rained out on March 29th, will try once again to race at Volusia Speedway Park, Saturday, April 19th. This will be the first of five races scheduled at the high speed ½ mile clay oval.
Shane Kreidler is leading the points after three events by six points over Gene Lasker, with Mark Ruel Jr. trailing by ten points in third place. Ken Laureno is fourth, Brandon Grubaugh in fifth, Danny Martin Jr. is in sixth place, followed by Kyle Pitts, Tony Agin, Rich Alexander Geoff Styner, A J Maddox, Sport Allen, Matt Kurtz, Tanner Witherspoon, David Slawiak, Johnny Alexander, Sean Clark, Darren Orth and Rex Howe. Other drivers expected to be making their first appearance this season with the series are Shawn Murray, Stephen Darvalics, Jimmy Ballew and Brett O'Donnell.
Joining the Eagle Jet Top Gun sprints will be VSP Mini Sprints, Hobby Stocks, Gladiators and V-8 Thunderstocks for an action dilled night of high speed racing.
The pits will open at 4:00 PM; Grandstands will open at 5:00 PM with racing at 7:30 PM.