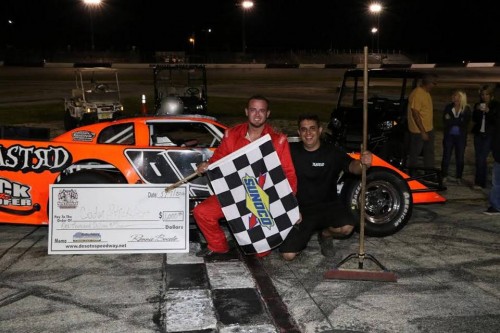 Cody Stickler has made Desoto Speedway his personal playground in J.D. Byrider Open Wheel Modified action so far in 2016.
No one could touch Stickler in Saturday night's Auburndale-Desoto Modified twin 50-lap doubleheader. The Pinellas County driver set fast time in qualifying and led every lap on his way to dominant wins in both feature races.
Sticker got the wholeshot from the outside pole in the first 50-lap race to take the lead from Josh Todd at the start. In the first couple of laps, Doug Moff was caught in two separate spins and was eliminated when he hit the wall coming out of turn two in the second incident.
Stickler and Todd pulled away from third place Brad Bowman on the restart and were comfortably ahead of the rest of the pack when Chad Rutherford spun just in front of the leaders in turn three to bring out the yellow just before the halfway point. (more…)