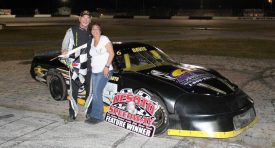 By SCOTT LOCKWOOD
Desoto Speedway
Dave Davis had to call in a favor to a fellow racer on Saturday after his car suffered a radiator failure during pre-race practice.
Once Jimmy Frazier brought in a spare radiator, Davis' car roared back to life and proved to be nearly untouchable. Davis drove from deep in the pack, took the lead early and drove on to his first win in the last several seasons
Davis went from fourth to second and then around early leader Marshall Parr at the completion of the sixth lap. He built up a lead of over half a lap on Rachelle Rudolph and Mike Kerrivan when Clint Holmes spun and brought out the caution just prior to the halfway point.