Returns to Summit Racing Equipment Modified Nationals Victory Lane for the First Time Since July 5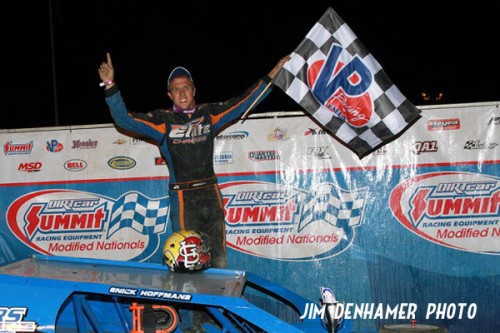 WAUSEON, Ohio – July 15, 2016 – Nick Hoffman had some work to do in the opener of the first ever DIRT Summit Racing Equipment Modified Nationals double-header at Oakshade Raceway on Friday night as had to battle past a hard-charging Brian Ruhlman and Cory Daugherty to score his series-leading fifth win of the tour.
The current points leader started back in the field but made easy work of several of his competitors. Cory Daugherty put up a several lap fight but Hoffman battled around. Then he started to reel in Ruhlman as Ruhlman closed in on the tail of the field.
Through traffic, Ruhlman opened a lane on the bottom for Hoffman to get around. Ruhlman tried to run him back down but Hoffman held him off. Through the closing laps and a late restart, Hoffman continued to be the class of the field.
"That was a huge stepping stone toward this deal," said Hoffman, of Mooresville, N.C., about his pursuit of the DIRTcar Modified Nationals championship "After last night, I thought we had a really good piece and then made the wrong adjustments before the feature and just got our butt kicked. We were really good tonight. Ruhlman ran me hard in the feature but I knew I had the perfect racecar for this type of condition. We've just got to get another one tomorrow, keep everything in one piece and see what we can do." (more…)