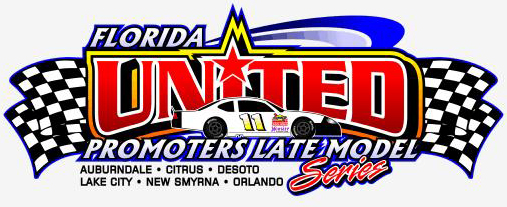 6-15-12 – The Florida United Promoters Late Model series returns to the Auburndale Speedway Saturday night June 23rd for a 100 lap event sponsored by Regal Kia & Chevrolet of Lakeland. The event will pay $3000 to win and track owner Rex Guy has added money to make it $400 to start !
After a great race at Citrus County Speedway Steve Dorer heads into the event as the point leader by 11 points over Anthony Campi. Jese Dutilly is just 2 points back of Campi in third, Jake Perkins and Jonathon Guy round out the top five in points. Daniel Webster, Anthony Sergi, Kevin Macy, Brian Finney and Cody Lane make up the rest of the top ten.
The final race before a two month break, for the hot and rainy summer time, assures it to be an exciting one. There will be an open practice on Friday night June 22nd from 5-10 p.m. The pit gates will open Saturday the 23rd at noon, front gates open at 5 p.m., qualifying at 6 and racing will begin at 7 p.m.
Go to www.floridaunitedpromoterslatemodelseries.com for more info or to www.auburndaleracing.com .
Dont miss the best paying, most exciting Late Model race on June 23rd at the track that is tough and is know as "The Dale". See you there !!!!!