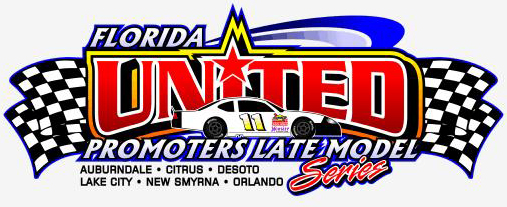 3-26-12 – The Florida Promoters Late Model series heads to New Smyrna Speedway Saturday April 7th for race three on the series. After a couple short track tangles they move the half mile speed plant that has hosted many top Late Model events in its storied history. Steve Dorer opened the season with a convincing win at the Desoto Super Speedway in race one. Then young Harvard student Patrick Staropoli flew in to grab a big win at Auburndale in race two.  Anthony Campi has strung together two top five finishes and leads the points coming to race three. Dorer sits second just one point back with youngster Jake Perkins third just 13 markers back. Jonathon Guy and Jesse Dutilly round out the top five in points. Those drivers along with Daniel Webster, Brian Finney, Justin Larson, Travis Cope, Anthony Sergi, Tim Russell, David Rogers and more will battle for 100 laps.
Also on the card that night will be the Sportsman, Pro-Trucks, Super-stocks and strictly-stocks. Pit gate will open at 9 a.m.with Tech opening at 10 a.m. Tire selection will be from 10:15 – 11:15 a.m. with practice beginning at 1 p.m. Qualifying is set to begin at 5 p.m. with an autograph session scheduled for 6:30 p.m. Racing will kick off at 7:30 with the Sportsman going 25 laps, then the Late Models get it on for 100 laps, followed by the Super-stocks 25 laps, Pro-Trucks 25 laps and winding up the evening of racing the Strictly-stocks bang it out for 25 laps.
For more information go to www.floridaunitedpromoterslatemodelseries.com or www.newsmyrnaspeedway.org. Come on out and watch some great Late Model racing Saturday night April 7th at the New Smyrna Speedway !