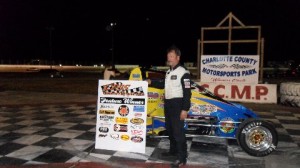 The Checked Flag Sprint Series (CFSS) at Charlotte County Motorsports Park on Saturday March 13.
Ric Voisey in the 69 car had the pole for the start of the BILSTEIN first heat race.19 of Keith Butler took the lead on lap two and held onto the lead and took the first heat race win. The pole position for the start of the LEAF second heat went to Robbie Hackett in the 21A. Bryan Riddle in 11 took the initial race lead for 3 laps when Scotty Adema in the 67 took the lead and went on to win the heat.
SAFETY SOLUTIONS feature race line up, Bryan Riddle in the 11 had the pole and Frankie Hurst in the 6 was on the outside. As the green flag dropped it was Bryan Riddle who made the best start and took the early race lead, on lap 3 Jimmy Alvis Jr. in the 21 took the lead. It looked like it was going to be a caution free race until lap 14 the 20 car of Amanda Ferguson spun. She was refired then on lap 18 the 31 of Channing Conley spun and he was refired.
Lap 19 the 51 of Mark Gimmler made contact with someone; he brought out the caution he was refired. Lap 21 the 31 of Channing Conley spun again on the restart Keith Butler in the 19 car was making a pass on the 21 of Jimmy Alvis Jr. when they got together as they where coming to a stop under flag stand also collecting the 29 of Gary Gimmler the only car to restart was the 21 of Alvis Jr.
The race went back to green with Scotty Adema in the 67 in the lead, but only three laps later the 66 of Jimmy Alvis Sr. took the lead, the last caution flag came out when Mickey Kempgens in the 19T car spun he was refired. On the finish Jimmy Alvis Sr. was the winner with Scotty Adema with 2nd, Mark Gimmler with 3rd, David Slawiak with 4th, and Amanda Ferguson with 5th.
The staff and racers of the CFSS would like to thank everyone for their support and hope to see you all at the next race. April 10, 2010
Checkered Flag Sprint Series
Charlotte County Motorsports Park, March 13, 2010
Heat #1 Bilstein
1) 19 Keith Butler (Riverview, FL)
2) 66 Jimmy Alvis Sr. (Tampa, FL)
3) 51 Mark Gimmler (Palm Beach Gardens, FL)
4) 20 Amanda Ferguson (Montverde, FL)
5) 6 Frankie Hurst (Odessa,FL)21 Jimmy Alvis (Seffner, FL)
6) 31 Channing Conley (Leesburg, FL)
7) 69 Ric Voisey (Wesley Chapel,FL)
8) 6X Skeeter Faulconer (Lutz, FL)
Heat #2 Leaf
1) 67 Scott Adema (Ft. Myers, FL)
2) 29 Gary Gimmler (Palm Beach Gardens, FL)
3) 21 Jimmy Alvis (Seffner, FL)
4) 19T Mickey Kempgens (Dade City, FL)
5) 79 David Slawiak (Brandon, FL)
6) 11 Bryan Riddle (Seffner,FL)
7) 32 Steve Barvolics (Venice, FL)
8) 21A Robbie Hackett (Riverveiw, FL)
Feature Safety Solutions
1) 66 Jimmy Alvis Sr.; 2) 67 Scotty Adema; 3) 51 Mark Gimmler; 4) 79 David Slawiak; 5) 20 Amanda Ferguson; 6) 19T Mickey Kempgens; 7) 11 Bryan Riddle; 8) 21A Robbie Hackett; 9) 32 Steve Barvolics; 10) 21 Jimmy Alvis Jr.; 11) 19 Keith Butler; 12) 29 Gary Gimmler; 13) 6 Frankie Hurst; 14) 31 Channing Conley; 15) 6X Skeeter Faulconer; 16) 69 Ric Voisey