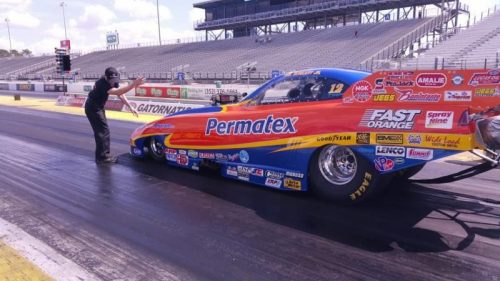 MARSTONS MILLS, Massachusetts (March 15, 2017) – Given the way the 2017 season began, the Follow A Dream/Permatex Top Alcohol Funny Car team has already gone through a season's worth of adversity – and it's full steam ahead from here.
Early last week en route to Gainesville Raceway in north central Florida, the team's transporter broke down, forcing it to be towed about 50 miles to the track so that repairs could be made.
"The racetrack was great to let us get in after hours," team owner Jay Blake said. "We appreciated that very much."
Then, driver Phil Burkart was flying from New York to Florida when the airplane he was on experienced engine failure and had to make an emergency landing in Tennessee.
After Burkart made it to the drag strip, the race pack installed during the offseason on the team's 2015 Chevrolet Camaro inexplicably broke, forcing team crew chief/tuner Anthony Terenzio to run the car without one of the most important things needed in drag racing: computer data.
"That was pure torture for Anthony," Blake said. "Still, Anthony did a great job. He did it by feel, going in blind, really, and doing it the old fashioned way. "Anthony, Phil and everybody worked great together. We did it the old school way." ↓ Read the rest of this entry…