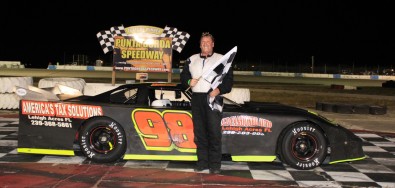 The Punta Gorda Speedway put on a great night of racing action for the great fans that continue to support the track. Even a visit from NBC 2, to find out what the future is for the speedway and the see the many supporters it has.
T.Q Midgets took to the track first and ran for twenty five laps with young Chris Gimmler holding off the cars from start to finish. Mike Belusar tried to get by Gimmler several times even putting the cross over move on him once but washed up the track and Gimmler took back the lead when they crossed the lined. When the checkers flew it was Chris Gimmler first, Mike Belusar second and Jimmy Wilkens III was third.
Pro 4 car came out and and Skyler Null had the first couple laps scored as the leader and was fast right from the start. Lap five, Paul Richards Jr battled Null to take over first but Null hung on and was digging hard to stay right with Richards till something broke on the 87 machine and Null had to retire to the pits. With the field lined back up, not sure who was caught sleeping but Jessica Ostrovskis was wide awake and jumped to the inside and passed the field and took over the lead and went on to win her first race. Paul Richards Jr settled for second place while Ryan Collver was third.
The nights program was running way ahead of schedule until the Street Stock came out for twenty five laps and all the drivers were fighting hard for position on every lap. Lots of cautions and pit stops and flat tires and spins lap after lap that had the fans excited. Dan Scott of Naples was the leader through all this while being chase by Jimmy Meiser of Lehigh lap after lap. Every restart, Scott and Mieser pushed and rubbed and it was Scott that got the lead unitl the five to go. Tempers were flared during the entire race with drivers rubbing and spinning each other out and not sure hope many flat tires Ander Jackson had to pit for. Five laps to go and Miser pushed back and took the lead and Scott was chasing him but when the checkers came out it was Meiser that made his first trip to the winners circle. Dan Scott had to settle for second and Richard Nelson battled his way up to third.
After a brief intermission, and speedway owner giving away a bike to some lucky child, it was introductions on the front stretch for the Late Model Sportsman. With Gary McFall sitting on the pole, speedway owner Kevin Williams offered him and any driver that wanted to start in the rear and win the race they would get a three hundred dollar bonus. Gary McFall, Aaron Williamson and young Michael Atwell took the challenge which change the front two starting spots. James Dubose sat on the pole now with Greg Gorniak outside and the race was on. This race also had fans on the edge of their seat as there were three cautions just on the first lap with everyone trying to win on the first lap. Good hard racing, three wide, rubbing and bumping but James Dubose would only lead the first lap and it was Danny Brown that took the lead once the race got started. The cars ran only five more laps when coming out of turn four they were three wide, cars touched and everyone went spinning. The worst of the cars was the 68 machine of Gary McFall that spun and plowed into the front stretch wall, he hit so hard that a bar was jammed into the wall that hard to be removed before they could restart the race. McFall was fine but the hopes of that bonus money was gone as his car had to be put on the flat bed and removed from the track. With all the cautions and wrecks, the race was cut to twenty five laps and it was Danny Brown still in the lead while Aaron Williamson did everything he could to get the lead and get the bonus. Brown was able to hold Williamson off to make his first trip to the winners circle while Williamson setteld for second and Greg Gorniak battled back to bring home a third place finish.
Road Warriors were the last race of the night and they were no different than the other races of the night. Justin Teston of Lehigh led the first five laps till Jeremy Daring made some moves and muscled his way up to the lead. Daring did everything he could to stay in the lead while being pressure by Chris Scott and then Jason Miller and Rick Reed. When all the battling for position was done and the checkers came out, it was Jason Miller that came home first, Chris Scott second and a good run by Chris Loney to come home third.
Punta Gprda Speedway will be closed the next two weeks for speedweeks.
Feb 16th and Feb 23rd
visit our web site ofter for any new updates and racing action.
PUNTA GORDA SPEEDWAY RESULTS
2/09/2013
Late Model Sportsman
1. 98 Danny Brown Lehigh
2. 13 Aaron Williamson Lakeland
3. 6 Greg Gorniak Homestead
4. 82 Josh Calvert Port Charlotte
5. 09 Donnie Ollie Jr. Lehigh
6. 51 Michael Atwell Naples
7. 68w Mike Wilson Lakeland
8. 68 Gary McFall Venice
9. 67 James Dubose Arcadia
10. 47 Bill Vandevender Cape Coral D.N.S.
Street Stock
1. 88 Jimmy Meiser Cape Coral
2. 8 Dan Scott Naples
3. 80 Richard Nelson Port Charlotte
4. 91 Ander Jackson Punta Gorda
5. 7 Blaine Baer Port charlotte
6. 2 Bobby Fischer Naples
7. 47 Ryan Panccoast N. Ft. Myers
8. 57b Jim Brenner Sarasota
9. 3 Jeff Dufresne Bradenton
10. 33 Jim Middendorf Naples
11. 7s Rick Shellnut
12. 9 Shane Poling Port Charlotte
Road Warriors
1. 10 Jason Miller Lehigh Acres
2. 97 Chris Scott Nokomis
3. 33 Chris Loney Naples
4. 5 Jeremy Daring Lehigh Acres
5. 80 Richard Nelson Port Charlotte
6..96 Rob Vigilo Bradenton
7. 1 Rick Reed Punta Gorda
8. 77m Kevin Moore Fort Myers
9. 13 Justin Teston Lehigh
10. 77 James Dellea 3 rd . Port Charlotte
Pro 4
1. 91 Jessica Ostrovskis St. Pete
2. 61 Paul Richards Jr.Naples
3. 04 Ryan Collver Ft. Myers
4. 99 Johnny Mara Cape Coral
5. 26 Brian Hillyer North Port
6. 87 Skyler Null Fort Myers
7. 13 Alex Teston Lehigh
T. Q. Midgets
1. 51 Chris Gimmler Palm Beach Gardens
2. 63 Mike Beluser Punta Gorda
3. 11 Jimmy Wilkens 3 rd . Ft. Pierce
4. 30 Rob Kohler Naples
5. 17 Ray Smith Cape Coral D N S.