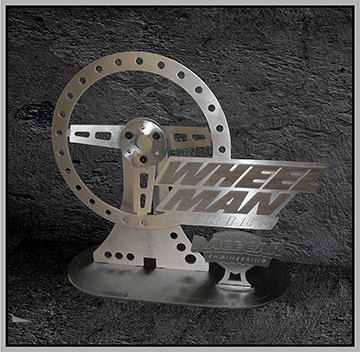 Lakeland, FL (November 1, 2016) Eighteen cars were on hand for round 5 of the Racecar Engineering Wheel Man Sportsman Series at Citrus County Speedway this past Saturday night. It was another strong performance by the current points leader Sean Bass, who once again powered his way to victory lane. Unfortunately for Bass, his car did not pass post-race technical inspection, and Bobby Mobley was awarded his 1st Wheel Man Sportsman win. The victory secured the #29 5 Star Services, Mobley Racing team the 2016 Citrus County Speedway Sportsman Track Championship as well. Brooke Storer had another strong run finishing 2nd and closing the once perceived insurmountable points lead between herself and Bass to a mere 11 points. In only his 2nd appearance in the Series, Jessie Henley once again finished strong crossing the stripe in 3rd, while Jason Rendell rebounded after a couple of tough runs to finish 4th and give him a tight 2-point lead over Alexa Anderson in a 3rd place points battle. Brent Cooper, who started 8th, was able to avoid trouble and run with the leaders all night, rounding out the top 5.
Anthony LaPoint put on an awesome show to win the FLF Hard Charger Award bringing his 21L car to a 6th place finish after starting 17th.
We want to thank Chad Pierce Motorsports, Racecar Engineering, Progressive Racing Engines and Citrus County Speedway for sponsoring the Race Tire Give-Away. The winners were Jesse Henley, Shawn Bailey, Rob Kuhn and Tom Zimmerman. Rick Maguire won the $25 product certificate from Allstar Performance.
Jason Rendell and Mike Veltman each picked up a $25 product certificate from Bassett Racing Wheel for their 4th and 8th place finish respectively. Shawn Bailey won the Phillips Racing Wire $50 product for his 10th place finish. Edward Allen received a $50 product certificate from Howe Racing for 12th and Craig Cuzzone was awarded the 2 pink utility jugs from Southern Racing Fuels for his 13th place finish.
We thank all the sponsors that supplied prizes and awards, and of course the staff and management at Citrus County Speedway for their professionalism and hospitality. We also thank the drivers and teams that were on hand for another spectacular event.
We will announce the next date for the Racecar Engineering Wheel Man Sportsman Series as soon as verified.

2016 Wheel Man Sportsman Series Points as of Oct. 29, 2016
| | | | | | | | | |
| --- | --- | --- | --- | --- | --- | --- | --- | --- |
| | | | | Entered | Top | Top | Feat | Total |
| Pos. | No. | Driver | | | 5 | 10 | Win | Pts |
| 1 | 28B | Sean Bass | | 5 | 4 | 4 | 3 | 99 |
| 2 | 9 | Brooke Storer | | 5 | 2 | 4 | | 88 |
| 3 | 157 | Jason Rendell | | 5 | 3 | 3 | | 74 |
| 4 | 21 | Alexa Anderson | | 5 | | 2 | | 72 |
| 5 | 29 | Bobby Mobley | | 4 | 2 | 3 | 1 | 66 |
| 6 | 199 | Brett Jenkins | | 3 | 1 | 3 | | 55 |
| 7 | 01 | Tom Zimmerman | | 5 | | 1 | | 47 |
| 8 | 67 | Colin Allman | | 2 | 2 | 2 | | 46 |
| 9 | 3 | Jessie Henley | | 2 | 2 | 2 | | 44 |
| 10 | 78 | Robert Kuhn | | 4 | | | | 40 |
| 11 | 03 | George Gorham | | 2 | 1 | 2 | 1 | 39 |
| 12 | 77 | Rick Haugh | | 2 | | 2 | | 37 |
| 13 | 97 | Brent Cooper | | 3 | 1 | 1 | | 37 |
| 14 | 01 | Tom Posavec | | 2 | | 2 | | 35 |
| 15 | 28 | Justin Monahan | | 3 | | | | 34 |
| 16 | 23 | Mike Smith | | 2 | 1 | 1 | | 30 |
| 17 | 18 | Shawn Bailey | | 3 | | 1 | | 30 |
| 18 | 23 | Ed Allen | | 3 | | | | 28 |
| 19 | 21L | Anthony Lapoint | | 2 | | 1 | | 28 |
| 20 | 111 | Joshua Borem | | 2 | | 1 | | 27 |
| 21 | 88 | Craig Cuzzone | | 3 | | | | 26 |
| 22 | 71 | Earl Beckner | | 2 | 1 | 1 | | 25 |
| 23 | 24 | Bruce Bennett | | 2 | 1 | 1 | | 25 |
| 24 | 407 | Jason Vail | | 1 | 1 | 1 | | 25 |
| 25 | 55 | Mike Bresnahan | | 1 | 1 | 1 | | 23 |
| 26 | 39 | Jeremy Gerstner | | 1 | 1 | 1 | | 22 |
| 27 | 172 | Joey Sims | | 2 | | | | 21 |
| 28 | 5 | Devin McCleod | | 1 | 1 | 1 | | 21 |
| 29 | 711 | Mike Veltman | | 2 | | 1 | | 20 |
| 30 | 1 | Steve Darvalics | | 1 | | 1 | | 19 |
| 31 | 9K | Kody Jett | | 1 | | 1 | | 19 |
| 32 | 16 | Tim Sozio | | 1 | | 1 | | 18 |
| 33 | 37k | Kenner Brown | | 2 | | 1 | | 18 |
| 34 | 21p | Tyler Porter | | 1 | | 1 | | 17 |
| 35 | 98 | Roger Welch | | 1 | | 1 | | 17 |
| 36 | 45 | Jeff Firestein | | 1 | | 1 | | 16 |
| 37 | 32s | Randy Scott | | 1 | | 1 | | 15 |
| 38 | 99 | Jamie Kennly | | 1 | | | | 14 |
| 39 | 25 | Timmy Todd | | 1 | | | | 13 |
| 40 | 47 | CJ Bowers | | 1 | | | | 12 |
| 41 | 56 | Brandon Morris | | 1 | | | | 12 |
| 42 | 32 | Shelton Bowers | | 1 | | | | 10 |
| 43 | 16 | Michael Stalnaker | | 1 | | | | 10 |
| 44 | 34 | Steven Fuller | | 1 | | | | 10 |
| 45 | 18 | Patrick Mennega | | 2 | | | | 10 |
| 46 | 19 | Chris Lewellen | | 1 | | | | 9 |
| 47 | 66 | Andy Nichols | | 2 | | | | 9 |
| 48 | 111x | Patrick Thomas | | 1 | | | | 9 |
| 49 | 47x | Kevin Healey | | 1 | | | | 8 |
| 50 | 119 | Rick Maguire | | 1 | | | | 8 |
| 51 | 00 | Austin Carr | | 1 | | | | 1 |
| 52 | 07 | Scott Garrity | | 1 | | | | 1 |