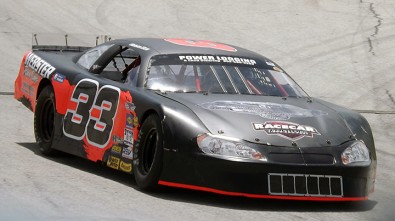 The Florida United Promoters Series after two months without a race, finally got one in at the tight 1/4 mile Auburndale Speedway on Saturdaynight with the running of the Regal Kia Chevy 100. With eighteen super late models on hand there was some good racing going on and Brooksville's Daniel Webster hung on for his first series win in any touring group. By the inversion of the redraw, Ft. Lauderdale's Patrick Starpoli started on the point with series regular Jessie Dutilly on the outside of the front row. Starpoli would set sail and lead the first twenty one laps before an ill handling car cost him the lead giving way to Webster. The always smooth young gun Webster took the lead and was never challenged, Dutilly and series points leader Wayne Anderson got close by had nothing for the #33 Webster's Race Cars Chevrolet. Following Webster across the strip were, Anderson, Dutilly, Jonathan Guy and Billy Bigley who both came from the rear to complete the top five.
The Legends 35 Lapper was won by Dakota Baggette who took over the lead after series points leader Cory Abbott had an engine expire while leading. Rounding out the top five were, Brandon Thompson, Teddy Lively, Joey Azzata, and David Gleason. The next event for the FUP Series is this Saturday June 29th with the running of the Triple 50's for Sportsman, OWM, & The Alan Jay Automotive Group Pro Trucks presented by C.A.R.S Racing for a Cause, Inc.. For more info follow us @ 
www.floridaunitedprompotersseries.com
#33 Daniel Webster
#84 Wayne Anderson
#30 Jesie Dutilly
#42 Jonathan Guy
#28 Billy Bigley Jr.
#97 Patrick Starpoli
#00 Anthony Cataldi
#128 Dylan Bigley
#142 Troy McNabb
#59 Jake Perkins
#4 Randy Anderson
#25 Eddie Hartin
#3 Brooke Storer
#88 Jimmy Castleberry
#85 Ricky Anderson
#23 Todd Brown
#50 Steve Gill
#28x T.J. Duke