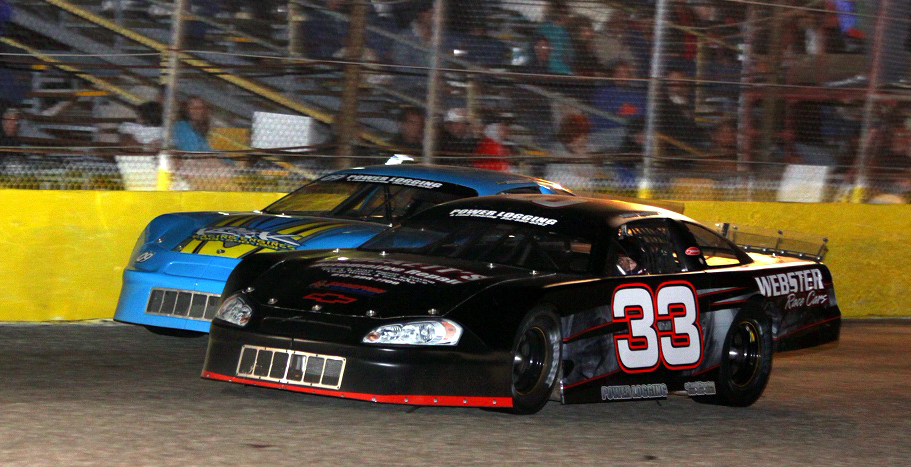 Daniel Webster began his racing career at our very own Citrus County Speedway. Since then, Daniel has gone on to become a force in Florida super late model racing. He along with his father Glen, now travel the state running any big race that their family owned and funded team can. Saturday night Daniel made his return to Citrus County Speedway. His last trip ended with an exciting 2nd place finish in the season ending 100 lap United Promoters late model series, just behind the always tough Herb Neumann Jr. Daniel would return with a new race car for this event, looking to take the checkered flag this time.
20 Super Late Models registered to compete for their 35 lap feature event. After the fan voted 6 row inversion, Cliff Bifaro (12) and T J Duke (28) would occupy the front row for the green. Bifaro would jump out to the early lead, but Duke would find his way by on the bottom, and move to the top spot on lap 4. Following Duke by was 4th starter Richie Smith (3) in a Glen Webster entry. Smith would go to work on Duke, and make an inside pass for the lead at lap 8. Lap 28 would see the nights longest caution, as Drew Brannon (82) would lose a engine, putting down oil around the speedway. Smith was out front and in complete control, and looked to be cruising to an unchallenged victory. But this caution bunched up the field, and gave the 2nd running Duke another shot at victory. Just behind Duke in 3rd were the hard charging cars of Scott Grossenbacher (09), and Daniel Webster (33) in 4th. Webster had methodically worked his way through the field from his 12th starting position, and again looked to have the fastest car on the speedway. With only 7 laps left, he looked to come up short of victory again, with the laps running out. Smith would lead the field to green on the restart, but Duke would make and inside move off of turn two right away. Both drivers would race door to door down the back stretch, before contact entering turn 3 sent Smith spinning, and the cautions flag flying. With no one taking blame for the contact, both Smith and Duke were sent to the rear of the field for the restart. This now left former track champion Grossenbacher in the drivers seat with only 7 laps left, but Webster was poised to pounce on the champ. Grossenbacher brought the field to green, and Webster went to work right away on the leader. Webster made his move on lap 32, and pulled even on the inside of Grossenbacher into turn one. Both drivers would race side by side until Webster would finally complete the winning pass as the pair came to take the white flag. Grossenbacher would then be left to battle with Dale Sanders (1) for the 2nd position. These two drivers would make contact entering the final corner, sending Grossenbacher for a spin. Webster would see the checkers in sight, but caution flew again just before the finish, testing him one more time. Grossenbacher would take blame for the incident, going to the rear, and giving Sanders back the 2nd position.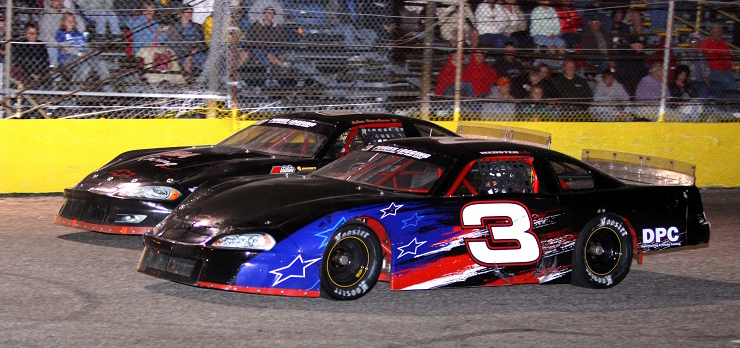 Webster would now face a one lap shoot out against one of the tracks most experienced drivers in Sanders. Webster would get a great restart, and go on to take his first feature win of the 2012 racing season. Sanders came home a strong 2nd in his best outing in over a year. Coming home in the 3rd position was Todd Brown in his beautiful No 23 machine. Brown commented in victory lane that his car was "junk" in practice, but he and his crew made some major changes before the feature, and in turned into very competitive machine. Heat race winners were Webster and John Gerstner (62)
The Mini Stock division saw a new name in victory lane as Shawn Jenkins (43) took over the lead from early race leader Jessey Mallory (50) on lap 12, and never looked back. Jenkins had to hold off a furious charge from last years champion Jeremy Sharrone (32) over the final 8 circuits, but proved to have the power under the hood to hold on to take the win. Sharrone followed Jenkins to the line in 2nd, just ahead of Shannon Kennedy (46) in 3rd.
The Street Stock division spent the entire feature chasing Bubba Martone (98), after he started on the front row of the 20 lap feature. Martone would never face a serious challenge, and go on to take his 1st victory of the 2012 racing season. Jason Garver (112) would battle with James Peters (5) on a late race restart for the 2nd position. Garver would just get by Peters in the final laps to take the 2nd position. Points leader Curtis Flanagan (3) would fall out of the event on lap 3 with a mechanical failure. Dora Thorne (48) was your heat race winner.
The Modified Mini Stock division saw Clint Foley (7) take another dominate victory. Foley looked to be on cruise control after taking the lead on lap 4, wining in convincing fashion. Jody Robbins (07) came home a distant 2nd over 3rd place finisher Phil Edwards (24). Foley was also your heat race winner.
Scott Bumgarner (9) showed up late to the track on Saturday night, and with no practice, took an apparent victory in the Hornet feature. Bumgarner was chased close by Matthew Street (151) to the line, just edging out Street at the checkers. All of Bumgarner's hard work was for not, as he was disqualified in post race inspection for having illegal spring rubbers in the rear of his car. This would hand the victory over to Street, with Daryl Veltman (55) coming home in the 2nd position. Saturday night featured two of the tracks biggest fans making their racing debuts in the tracks two rental racers. Wayne Palmateer (6) and Jack Nancekivell (1) are both from north of the border in Canada, and are also north of 70 years young. Both men wanted to check driving race cars off of their "bucket lists", which they more than accomplished Saturday night. Palmateer would race his way to a 3rd place finish at the checkers. Nancekivell was battling for the 3rd position early on, before being spun out  in the race by Street.
Citrus County Speedway will now shut down for a few weeks as the Citrus County Fair will be coming to town. Racing will resume on April 7th with a 50 lap Open Wheel Modified event, which is sure to attract all the top drivers in the state. Joining them on the race card will be the Sportsman, Pure Stocks, Mini Stocks, Hornets, and the DWARF cars. Once the speedway returns from the fair break on April 7th, we will have a new 6:30 start time. We hope this new start time will allow everyone plenty of time to get to the "action attraction" to catch a full night of racing. Please visit the speedway website at www.citruscountyspeedway.com for complete details.