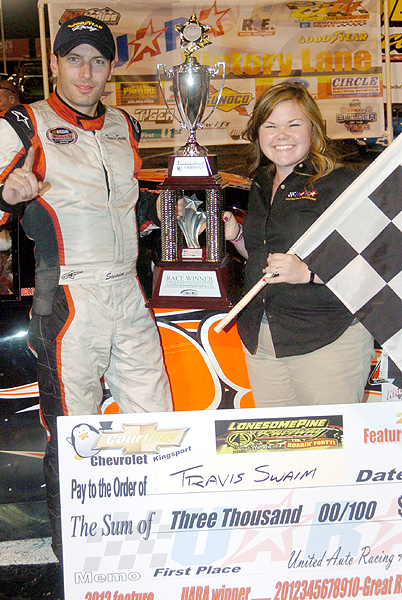 Rockingham, NC (10/22/12) –For the past eight months the United Auto Racing Association has opened their doors to allow drivers from all over the world to compete in their racing season. On November 3rd the series will wrap up their season and crown their 2012 Season Champion at Rockingham Speedway.
The 2012 season drivers ranged from young Australian drivers to experienced local track champions. Throughout the season, fans have been introduced to eleven young rookies who have exceeded expectations. Seven of those eleven rookies will finish in the top ten championship points.
Heading into the final event at Rockingham, recent Tri-County winner Travis Swaim leads Rookie Dillon Bassett by 71 points. Both drivers have never completed a full UARA race season until this year. Swaim has run with the series over the past couple of years, but never committed to running a full race season. His performance has championship qualities all over it. His record breaking Sunoco poles, not only added his name to the driver with the most poles in a season, but his times on the track have also broke records.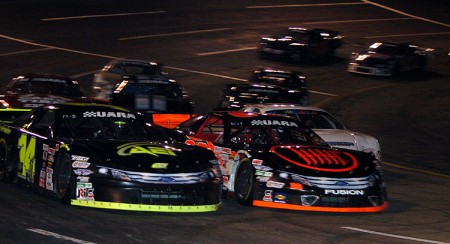 Even with Swaim's successful year, the championship is a not guarantee. Dillon Bassett has lived up to his nickname as "SparkPlug" as he maintains a dominant performance. Bassett has won two races and has battled his way from the back to the front during the majority of the events. During the last event at Tri-County, Bassett got caught up in a caution early and came back to have a top five finish. Both drivers have the talent and have worked hard throughout the season, but only one can be crowned Champion.
During the weekend of the Rockingham event on November 1st– 3rd, the UARA-STARS along with the K&N Sereis and the Frank Kimmel Street Stocks will crown their season Champions. The STARS will have an optional practice on Thursday, with qualifying on Friday, and the race on Saturday.
For more information on the UARA-STARS and the Champtionship weekend, visit them online at www.uara-stars.com or call (828) 692-3833. Fans are also encouraged to "like" them on Facebook under the United Auto Racing Association and follow them on Twitter @uarastars.