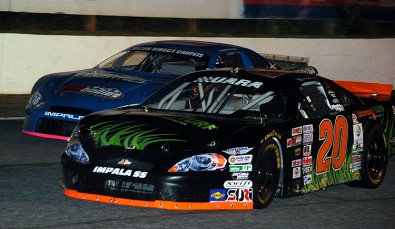 Hendersonville, NC (11/26/12) – Many first-time drivers come to the UARA series to gain experience and get equipped to move up the ranks to higher racing divisions. Jake Morris and Cory Joyce have not only done that very thing, but have overcome many obstacles throughout their rookie season to finish seventh and eighth in the final Championship Points.
Seventh place point finisher Morris captured a top-10 finished at the Season Opener at Hickory, only to follow up with engine failure at Dillon. Two races into the season, Morris has already experienced his first roller coaster as a UARA driver. He redeemed himself at Rockingham, earning Circle and Xtreme Trophies Rookie of the Race title for his fifth place finish. Out of the 15 events that Morris competed in, he missed the top-15 only three times.
In addition to his Rookie of the Race award he won, two Tilton awards, plus a Joe Gibbs Driven Award and Swift Spring award.
"We've had strong cars everywhere we've been," says the Virginian Rookie. "If we weren't in the top-10, it's not because of my team, but of some sort of car issue, like engine problems or getting tangled up on the race track."
Morris truly showed his racing talents during the Banjo Matthews Memorial 150 at Hickory Speedway when he bounced back to an eighth place finish after his exciting attempt for three-wide racing. With the inside driver giving him no room, Morris' two right front tires left the ground and drove over the left side of Sean Rayhall. For this crowd shocker Morris won the Pigwire Most Electrifying Move of the Race Award.
Cory Joyce has also entertained the fans with his action-packed driving talent. He exceeded his expectations for the year with his eighth place Championship Points finish. Coming into the season, Joyce was looking for his rookie season to be a stepping stone in his racing career.  "I learned a lot about my car as a driver, a lot of control" says Joyce. "I learned how to adapt to a bad handling car as to a good one and learning to run at different tracks."
While most of our 2012 rookies have only dedicated their career to one track, each of them had to cope with the intensity of traveling. Not only did Joyce have to adjust to different tracks, but with different Crew Chiefs.
"I've had my fair share of crew chiefs this year," the Mooresville Rookie said. "We worked with a couple to see who we could grow with and seeing their different ways of setting up the car."
Even though Joyce and his team had to adjust to new crew chiefs and different types of set-ups, they still brought a solid performance to the track. Through-out his rookie season, Joyce had eight top-15 finishes, including his best UARA career finish of seventh place at Anderson and during the season finale at Rockingham.  He was awarded the Safety Kleen award three times, Joe Gibbs Driven Award twice, ARbodies Hard Luck Award once WP Racing Shock Award once.
The next steps for these two drivers are still in the works. Cory is hoping to advance to some K&N or ARCA events, while Jake is hoping for another year in the UARA series to compete with his brother Josh Morris.
Fans can keep up the STARS during the off season by following them on Twitter, @uarastars, and "like" them on Facebook under the United Auto Racing Association.