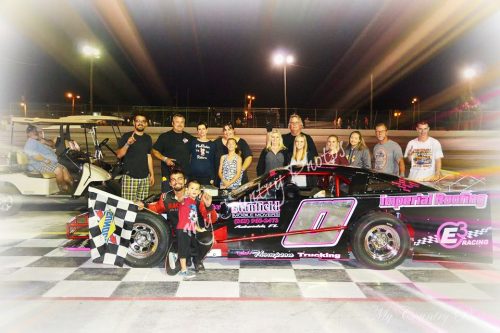 For the second time this season Auburndale Speedway hosted twin 50-lap events for the Sunshine State Challenge Series Open Wheel Modifieds and Street Stocks along with celebrating the Easter weekend with a huge Easter egg "bash" and prizes for the kids including bicycles and nearly 50 Easter baskets donated by the drivers, race teams/sponsors and fans.
Polk City's Josh Todd, who had a stellar 2016 season driving a Modified for Dick Anderson before Anderson sold the car late in the year, was back with his old team and they had a brand new #0 car on track for the first time.
Everything was working well for Todd as he was fastest in qualifying right out of the box turning a lap of 13.935 seconds to just nip veteran Herb Neuman by one-one-thousandth of a second as Neuman stopped the clocks at 13.936!  Bobby Blake of Eustis was third quick at 14.253.
Shawn Harper and Blake would bring the field down for the start with Neuman and Todd making up row two.  Harper led the opening three circuits before Neuman stormed past bringing Chad Rutherford and Todd along with him.
Rutherford spun in turn two to bring out the first caution on lap 11.  Neuman continued to set the pace as yellow flag number two came out for Tony Altiere's spin in turn two during lap 15.
Following the restart, Todd began to press Neuman and eventually made the pass for the top spot on lap 19.  John Coffman spun off turn two during lap 26 but no caution was needed as Todd was beginning to run away from the field.
Coffman spun in turn two on lap 37 just in front of leader Todd who had to take some quick evasive action as the third yellow of the race was displayed.
Harper, running in fifth, was the only driver willing to take a chance on the outside lane for the Auburndale Speedway-style restart and he lined up in second outside of Todd but found himself quickly backsliding as Todd and Neuman continued to hold court up front.
Coffman spun for a fourth time off turn four on the 44th lap to slow the pace again as both Harper and SSCS Modified point leader L. B. Skaggs, driving a borrowed car for the night, moved up to the outside to restart second and fourth.  Harper again had a handful on the slick outside groove and spun around in turn two to bring out the final caution on lap 47.  This time it would be Jeff Firestine and Skaggs trying the outside lane but it was to no avail as Todd breezed to an easy win in his new car that basically had the "finishing touches" put on it the night before during open practice.
Neuman was very fast but had to play second fiddle on this night while "Steady" Eric Rudd lived up to his nickname with a solid run for third.  Blake also had a good run taking fourth with Harper rebounding for fifth.  Rounding out the top ten were Firestine, Coffman, Skaggs, Altiere and Rutherford.
Rudd's third place effort allowed him to move into the season point lead by 11 markers over Skaggs.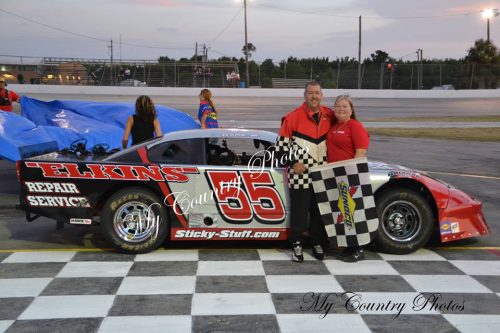 Street Stock time trials saw Kenny Gibson of Venice top the field with a lap of 14.638 seconds with Lakeland's Richard Elkins, Jr., out with a new car for the first time in quite awhile, second fastest at 14.681 and Punta Gorda driver Ander Jackson third quick at 14.937.
It would be Joey Bifaro and Gibson on the front row for the start and Bifaro surprised everyone by leading the early laps despite constant pressure from nearly the entire field.  Things got testy early on as James Nanney and Steven O'Steen tangled on the back stretch during the seventh lap to bring out the caution with both going to the rear for the restart.  The restart was crazy as Bifaro led lap eight, Gibson held point on lap nine, then Dennis Wilson inched ahead to lead lap ten before Elkins took over a lap later.  Meanwhile Bifaro slipped back to fourth spot in the order.
Jackson made his way to second and was heading up a fast quartet that included Gibson, Bifaro and Nanney.  Nanney got by Bifaro for fourth as Bifaro's car began to slow just before a rear wheel separated from his car going into turn one on lap 28.  Bifaro's car was towed from the track following a great early run.
Two laps after the restart, yellow was needed again as the rear bumper cover came off Nanney's machine in turn three.  This would be the final caution and from this point nobody had anything for Elkins as he led the remaining distance to take his first win here in just over three years, a victory he dedicated to his late father.  Jackson held off Gibson for second with Nanney fourth and Ross Francisco fifth.  Josh Lindsey, O'Steen, Bifaro, Wilson and Buddy Phillips, Jr. rounded out the finishers.
With point leader Danny Caylor not racing, Jackson took over the SSCS Street Stock point lead and now heads Gibson by 5 points headed into the next event.
For the first time this year Chris Narramore, Sr. did not win the Mini Stock feature… but his car did!  Narramore had not been feeling well all day so he decided to let V-8 Bomber regular David Purvis try his hand at the wheel of the potent #5K.  All Purvis did was lead every lap of both the heat and feature races, basically unchallenged all night.
Bruce Cozad came home second in the feature but was DQ'd in tech allowing Colt Cecil to claim the runner-up spot.  John Cummins, Jr. was third trailed by Fred Martin, Gordon Weaver, Danny Leet, Tony Davidson and Cozad.
Dustin Wilson inched by Keith Cantrill at the checkered flag to claim his fourth Scrambler win of the year in crowd-pleasing fashion.  Heat winner Cantrill was second by just the length of a bumper followed by William Kerns, Gilbert Corbin and Andy Travis.