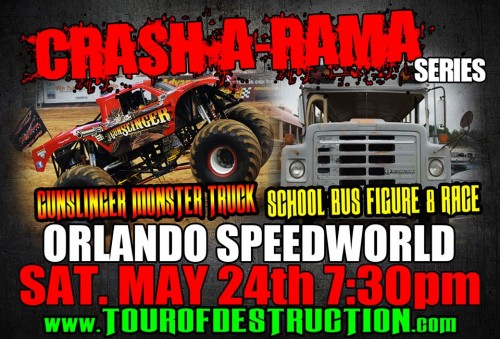 What started back around 1990 with a School Bus Demolition Derby promoted by then track owner Clyde Hart has now grown into Crash-A-Rama, a twice-a-year event at Orlando SpeedWorld that attracts top daredevil drivers from around the State of Florida and the latest version will take the green flag this Saturday night at the three-eighths mile oval east of Orlando. Crash-A-Rama has become so popular that it has left it's roots at Orlando SpeedWorld with several other dates scheduled for later in the year at other tracks in Florida as well as speedways in Georgia, Tennessee, North Carolina, South Carolina and Virginia before wrapping up it's season with the traditional day after thanksgiving event at SpeedWorld on November 28th.
This Saturday night, fans will be treated to a variety of wild events including the traditional School Bus Figure-8 race as well as an appearance by the world-famous monster truck "Gunslinger." Also on tap will be an RV Demolition Derby, Front Wheel Drive Demolition Derby, Flag Pole race, the "Gauntlet," Skid Car race, three car team Roller Derby race and a Boat/Camper Trailer race plus a few surprises along the way. Adult admission is $25 with kids aged 7-11 getting in for $10. All kids aged 6 and under will be admitted free of charge. Discounted tickets are available on-line by going to www.tourofdestruction.com. Grandstand gates will open Saturday evening at 5 pm with the events getting under way at 7:30 pm. Be sure to arrive early to get the best seats as a big crowd (as usual) is expected.
Stock car racing action returns to Orlando SpeedWorld on Friday night, May 30. In action will be the Open Wheel Modifieds, Pro Trucks, Legend Cars, Strictly Stocks, Four Cylinder Stocks and Bandoleros.