Outlaw Jason Johnson Takes the Night in Points Standings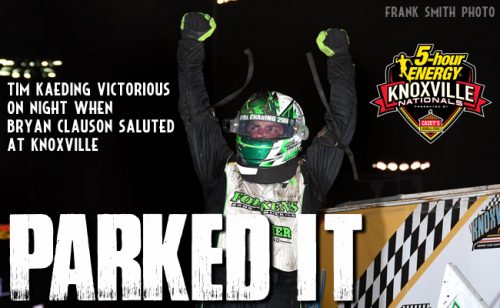 KNOXVILLE, Iowa – Aug. 11, 2016 – Night two of the 5-Hour Energy Knoxville Nationals presented by Casey's General Stores was more than a race to the finish on the A-Main; it was a race in time to beat the impending storms. And Tim Kaeding nailed it. "King of California" Kaeding took to Victory Lane just before severe thunderstorms storms descended on Knoxville.
"I've got to give this one to B.C.," said Kaeding, dedicating his win to Bryan Clauson. "Here's another one towards your 200. I grew up racing with his Dad. Just a great family and a hell of a racecar driver." It was an emotional night with Ricky Stenhouse Jr. leading the field under parade laps driving Bryan Clauson's 17W.
Thursday's 25-lap A-Main is Kaeding's third career Knoxville Nationals preliminary feature. "It's so unbelievable," said Kaeding. "We've struggled so bad here at Knoxville the last few years, especially in this 3[K] car. We had a win taken away last year, because we had a muffler that was tampered with more than anything. You know, we've been fast. We just haven't been as fast as we need to be, so for us to be able to come out tonight and win prelim night at Knoxville is a feat within itself."
With 20 World of Outlaws Craftsman@ Sprint Car Series victories under his belt, Kaeding charged from fourth position to second at the wave of the green, tailing Dale Blaney and finally passing him in Lap 8.
A later caution for Justin Henderson, then in third, cleared the field for Outlaw Jason Johnson and last year's Knoxville Nationals Night 2 winner Terry McCarl to pass Blaney and duke it out for second in the final laps. McCarl managed to take it for a moment in Lap 22, but couldn't hold it, and Johnson shot forward, looking to Kaeding just a little too late.
Coming out of Heat 1, where McCarl scored the fourth spot, the Price Chopper No. 7x had a quick engine change. "We were kind of in a hurry there, and I didn't get the car set up exactly the way I wanted to,"said McCarl. "I think we can definitely be a lot better come Saturday night."
Meanwhile, it was a good night for the Outlaws in Time Trials with Brad Sweet making quicktime at 15.465 seconds (and winning the Last Chance Showdown), followed by Outlaws Joey Saldana and David Gravel, former Outlaw Kerry Madsen, and Outlaw Jason Johnson, who later scored his second place spot in the A-Main.
"It's great confidence for my race team," said Johnson. "To be part of the World of Outlaws category you've got to defend your territory. Obviously we wanted to win, but I felt like we had a really good run."
Two Outlaws will lead the field to green on Saturday night, Daryn Pittman and Jason Johnson.
Going into Friday's 5-Hour Energy Knoxville Nationals, Daryn Pittman holds the lead in points standings with 485 points. Jason Johnson holds a close second with 481, followed by Kerry Madsen at 479, and Jamie Veal at 477. Donny Schatz and Chad Kemenah are tied for the fifth spot at 476.
The 56th 5-Hour Energy Knoxville Nationals presented by Casey's General Stores continues tomorrow night. To learn more or buy tickets, visit http://www.woosprint.com/knoxville-nationals.
2016 5-Hour Energy Knoxville Nationals Night 2 Notebook:
RACE NOTES: Tim Kaeding took the lead on lap eight from Dale Blaney and never looked back to earn the win on qualifying night two of the 5-Hour Energy Knoxville Nationals presented by Casey's General Stores. It was an emotional night with Ricky Stenhouse Jr. leading the field under parade laps driving Bryan Clauson's 17W. Jason Johnson finished second, with Terry McCarl rebounding from an engine change after his heat to finish third.
A Main – 1. Tim Kaeding (4); 2. Jason Johnson (7); 3. Terry McCarl (6); 4. Kerry Madsen (8); 5. Dale Blaney (1); 6. Brent Marks (11); 7. James McFadden (5); 8. Brad Sweet (21); 9. Mark Dobmeier (9); 10. Cap Henry (16); 11. David Gravel (22); 12. Jac Haudenschild (12); 13. Bill Balog (10); 14. Kyle Larson (23); 15. Dustin Selvage (13); 16. Brooke Tatnell (3); 17. Gary Taylor (24); 18. Clint Garner (17); 19. Chris Martin (18); 20. Jason Solwold (20); 21. Ryan Bunton (15); 22. Justin Henderson (2); 23. Rager Phillips (14); 24. RJ Johnson (19)
Qualifying – 1. 49, Brad Sweet, Grass Valley, CA (3), 15.465; 2. 83, Joey Saldana, Brownsburg, IN (56), 15.52; 3. 5, David Gravel, Watertown, CT (9), 15.527; 4. 1AUS, Kerry Madsen, St. Marys, NSW, Aust (30), 15.541; 5. 41, Jason Johnson, Eunice, LA (54), 15.595; 6. 1ST, Gary Taylor, Snohomish, WA (2), 15.626; 7. 57, Kyle Larson, Elk Grove, CA (21), 15.654; 8. 77X, Parker Price-Miller, Kokomo, IN (26), 15.656; 9. 23C, Tyler Courtney, Indianapolis, IN (1), 15.676; 10. 1Z, Lucas Wolfe, Mechanicsburg, PA (29), 15.678; 11. 7X, Terry McCarl, Altoona, IA (46), 15.68; 12. 3H, James McFadden, Ormeau, QLD, Aust. (59), 15.686; 13. 3K, Tim Kaeding, San Jose, CA (28), 15.693; 14. 99, Brady Bacon, Broken Arrow, OK (33), 15.695; 15. 55, Brooke Tatnell, Sans Souci, NSW, Aus (19), 15.705; 16. 11K, Kraig Kinser, Bloomington, IN (7), 15.715; 17. 71M, Dave Blaney, Concord, NC (39), 15.729; 18. 55L, Aaron Reutzel, Clute, TX (24), 15.74; 19. 2, Danny Lasoski, Dover, MO (31), 15.749; 20. 51S, Stevie Smith, Broken Arrow, OK (23), 15.763; 21. 1D, Justin Henderson, Sioux Falls, SD (11), 15.771; 22. 1H, Dale Blaney, Hartford, OH (25), 15.799; 23. 15H, Sam Hafertepe Jr., Sunnyvale, TX (43), 15.8; 24. 13JT, Mark Dobmeier, Grand Forks, ND (48), 15.8; 25. 17B, Bill Balog, Hartland, WI (38), 15.811; 26. 1XX, Don Droud Jr., Lincoln, NE (45), 15.811; 27. 23S, Trey Starks, Puyallup, WA (12), 15.831; 28. 19M, Brent Marks, Myerstown, PA (51), 15.841; 29. 22, Jac Haudenschild, Wooster, OH (44), 15.853; 30. 7D, Dustin Selvage, Indianola, IA (8), 15.857; 31. 10V, Rager Phillips, Pleasantville, IA (5), 15.87; 32. 6R, Ryan Bunton, Morton, IL (27), 15.873; 33. 21H, Cap Henry, Bellevue, OH (17), 15.877; 34. 1A, Jacob Allen, Hanover, PA (10), 15.916; 35. 4, Jon Agan, Knoxville, IA (47), 15.944; 36. 40, Clint Garner, Sioux Falls, SD (41), 15.957; 37. 44, Chris Martin, Ankeny, IA (15), 15.979; 38. 71A, RJ Johnson, Tampa, FL (37), 15.985; 39. 18JS, Jason Solwold, Mount Vernon, WA (50), 15.991; 40. 7M, Kaley Gharst, Decatur, IL (18), 16.043; 41. 88N, DJ Netto, Hanford, CA (34), 16.08; 42. W20, Greg Wilson, Benton Ridge, OH (42), 16.114; 43. 20N, Hunter Schuerenberg, Sikeston, MO (16), 16.135; 44. 00, Dane Lorenc, Lancaster, NY (4), 16.151; 45. 5H, Cory Eliason, Selma, CA (22), 16.176; 46. 5R, Byron Reed, Monclova, OH (35), 16.193; 47. 49X, Tim Shaffer, Aliquippa, PA (52), 16.227; 48. 7J, Joe Swanson, Etna Green, IN (20), 16.28; 49. 3, Billy Alley, Bennet, NE (58), 16.304; 50. 31B, Shane Golobic, Fremont, CA (53), 16.332; 51. 21T, Ray Allen Kulhanek, Magnolia, TX (36), 16.352; 52. 13V, Seth Brahmer, Norfolk, NE (14), 16.395; 53. 28AM, Brian Paulus, Mooresville, IN (40), 16.427; 54. 19, Bob Weuve, Newton, IA (55), 16.435; 55. 23, Jimmy Light, West Springfield, PA (57), 16.442; 56. 4K, Kody Kinser, Bloomington, IN (32), 16.487; 57. 13, Clyde Knipp, California, MO (60), 16.743; 58. 83C, Adam Cruea, Troy, OH (6), 16.757; 59. 15B, Bobby Mincer, Burlington, IA (49), 16.849; 60. 71B, Robert Bell, Colfax, IA (13), 17.37
Heat 1 – 1. Rager Phillips (2); 2. Clint Garner (1); 3. Justin Henderson (4); 4. Terry McCarl (6); 5. Brad Sweet (8); 6. Don Droud Jr. (3); 7. Gary Taylor (7); 8. Kraig Kinser (5); 9. DJ Netto (9); 10. Byron Reed (10)
Heat 2 – 1. Ryan Bunton (2); 2. Dale Blaney (4); 3. Chris Martin (1); 4. James McFadden (6); 5. Dave Blaney (5); 6. Joey Saldana (8); 7. Kyle Larson (7); 8. Trey Starks (3); 9. Tim Shaffer (10); 10. Greg Wilson (9)
Heat 3 – 1. Brent Marks (3); 2. RJ Johnson (1); 3. Tim Kaeding (6); 4. Cap Henry (2); 5. David Gravel (8); 6. Aaron Reutzel (5); 7. Sam Hafertepe Jr. (4); 8. Parker Price-Miller (7); 9. Joe Swanson (10); 10. Hunter Schuerenberg (9)
Heat 4 – 1. Jac Haudenschild (3); 2. Jason Solwold (1); 3. Mark Dobmeier (4); 4. Kerry Madsen (8); 5. Danny Lasoski (5); 6. Jacob Allen (2); 7. Brady Bacon (6); 8. Tyler Courtney (7); 9. Billy Alley (10); 10. Dane Lorenc (9)
Heat 5 – 1. Brooke Tatnell (6); 2. Bill Balog (4); 3. Dustin Selvage (3); 4. Jason Johnson (8); 5. Lucas Wolfe (7); 6. Kaley Gharst (1); 7. Stevie Smith (5); 8. Cory Eliason (9); 9. Jon Agan (2); 10. Shane Golobic (10)
C Main – 1. Jon Agan (1); 2. Tim Shaffer (7); 3. Greg Wilson (3); 4. DJ Netto (2); 5. Byron Reed (6); 6. Shane Golobic (10); 7. Brian Paulus (13); 8. Kody Kinser (16); 9. Seth Brahmer (12); 10. Bob Weuve (14); 11. Joe Swanson (8); 12. Bobby Mincer (19); 13. Clyde Knipp (17); 14. Jimmy Light (15); 15. Adam Cruea (18); 16. Hunter Schuerenberg (4); 17. Dane Lorenc (5); 18. Billy Alley (9); 19. Ray Allen Kulhanek (11); 20. Robert Bell (20)
Last Chance Showdown – 1. Brad Sweet (1); 2. David Gravel (3); 3. Kyle Larson (5); 4. Gary Taylor (4); 5. Danny Lasoski (13); 6. Joey Saldana (2); 7. Stevie Smith (14); 8. Tyler Courtney (7); 9. Aaron Reutzel (12); 10. Parker Price-Miller (6); 11. Trey Starks (17); 12. Jacob Allen (18); 13. Dave Blaney (11); 14. Tim Shaffer (22); 15. Greg Wilson (23); 16. Kraig Kinser (10); 17. Cory Eliason (20); 18. Kaley Gharst (19); 19. Brady Bacon (9); 20. DJ Netto (24); 21. Sam Hafertepe Jr. (15); 22. Lucas Wolfe (8); 23. Don Droud Jr. (16); 24. Jon Agan (21)