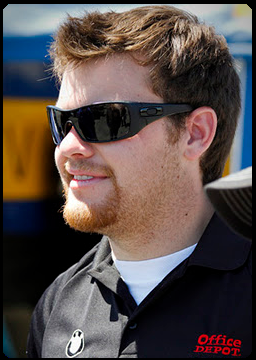 Altamonte Springs, FL/March 20, 2012 – P1Groupe represented driver Tim Bell gets set to ink a new chapter in his young racing career this coming weekend as he prepares for his Limited Late Model debut in Creation Cope Racing's Extreme Bidder Chevrolet Impala at Caraway Speedway. The Spring Classic 500 marks the opening of the 2012 season at Caraway Speedway, as well as Bell's first official start with Creation Cope Racing. Bell first became acquainted with Former Daytona 500 Champion Derrike Cope and his team last month at a testing session with the team in North Carolina. The consistency, adaptability, and ability to grow and learn in his first time behind the wheel of a stock car earned Bell this opportunity that will allow him to begin his road through the ranks of NASCAR. This is an exciting time for a now road course and oval track racer who has clearly turned the heads of many individuals within motorsports in only his second year of professional racing.
"This weekend will be a big milestone for me in my racing career in starting my first oval race. I'm really excited to try my hand in some door to door, rubbin's racin kind of race but at the same time I'm not sure what to expect. I know Team Owner Derrike Cope will be on the radio the whole time with me and will be giving me pointers from his years of experience. Until I finish my first lap I don't know what to expect, but I can't wait to get out there and see what I can do."
The festivities at Caraway Speedway will begin on Friday March 23rd with practice sessions for all classes including Tim Bell's Limited Late Model Class. On Saturday March 24th Bell will go through final practice as well as qualifying for his event. At 4:00 PM ET Bell will get behind the wheel of his Creation Cope Racing Extreme Bidder Chevrolet Impala Limited Late Model for the 2012 Spring Classic 500. Check www.carawayspeedway.com for results at the end of the event.
About Extreme Bidder:
Extreme Bidder allows its users to save up to 99 percent off the retail price of thousands of new, brand-name products, offering extreme discounts to top-of-the-line merchandise and real estate.  Users purchase bids, and the last person to bid on an item when the clock runs out wins, as long as they are the top bidder.  For more information or to register for an account, visit www.extremebidder.com.
About P1 Groupe:
P1 Groupe Inc. is a motorsports management company representing drivers and teams from around the world. P1 Groupe offers its high-speed clientele an array of options designed to allow a dedicated focus to the most important task at hand: winning races. Through marketing, management, branding and design, P1 Groupe provides quality solutions with speed and efficiency. For more information, visit www.p1groupe.com.
Additional information may be obtained at www.carawayspeedway.com, www.creationcope.com, www.timbellracing.com or www.p1groupe.com. Follow us on Twitter: @P1 Groupe