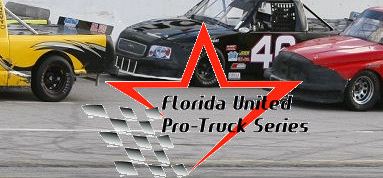 Orlando FL 11-26-12 – The Florida United Pro-Truck series is preparing to bring down the curtain on its inaugural season this Saturday Night at Auburndale Speedway.
The points battle is a two man battle as Gerald Campbell from Sebring FL. comes in to the finale with a mere 5 point lead over Debary FL. Driver Tim Sozio for the Championship. Both drivers have had some tough luck along the way but have really worked hard and battled through to recover for this chance at a championship.
The battle for third through tenth in the points is very close and can change quite a bit in this race. Joseph Mursuli is third at 150, with Jessica Murphy 140, Mica Williams 133 rounding out the top five. Jessica Green is just 1 point out of the top 5 with 132 followed by Danny Anderson with 129, Michael Lira 126, Dylan Martin 118, Brad Bowman 112 rounding out the top 10.
This weekend will settle the championship for the first year series, and the racing will be exciting. There will be a Friday night practice session from 5-9 p.m. $15 per person includes food as well. Saturday pits will open at 12 noon, tech and tires at 12:30 p.m. and a truck only practice from 2-3 before rotating practice and Truck qualifying at 6 p.m. Racing at 7 p.m. with 50 Laps of Pro-Truck racing along with a 50 Lap Mod Mini feature along with Streetstocks, Scramblers, Mini-cups and a 35 Lap V-8 Bomber feature events as well.
Come watch the finale for the Florida United Pro-Truck series at the Dale this Saturday night ! For more information go to www.fupts.com or www.auburndaleracing.net . Don't miss it be there !!