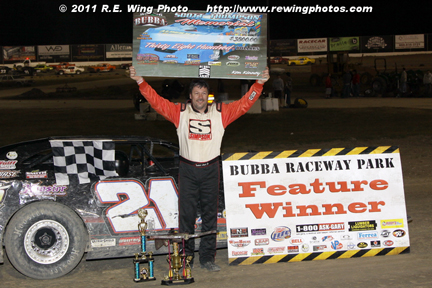 By- Jim Rouse, BRP Media
This year the Powell Memorial will be a 2 day event. Of course, the most prestigious race is more than just a race- it is a time to reflect on just how blessed we are. June 7, 1995 was a regular day. It was, until James Powell received the news many couldn't bare- the plane carrying Buddy and Elizabeth Powell, his parents; Loveda McNair, his aunt; CJ Powell, his uncle; and his twin daughters, Ashley and Nicole, had crashed. There were no survivors. The next year Paul Pitry, owner of what is now Bubba Raceway Park, honored those lost with a race we know as the Powell Memorial. Jeff Purvis won that first Powell Memorial. James Powell himself, former owner of the track, actually raced in the event for many years finishing 2nd 5 times. The race has seen dominant drivers such as Ivedent Lloyd, Jr. and Patrick Williams win while upsets have occurred, most recently Philipp Cobb in 2010. Even NASCAR drivers Purvis, Wayne Anderson, and David Reutimann have won the Memorial. However, in 2003 when James Powell won the 2nd leg of the race in honor of his family, there was not a dry eye in the crowd. The RaceCar Engineering Late Models get the trophy with "Powell Memorial" on it but every driver in every division wants to win there version of the Memorial. Friday night will see the Late Models go 50 laps for $5000 while the Buddy's Home Furnishings Limited Late Models, Hobby Stocks, and Rent-N-Roll Gladiators battle for the glory unmatched anywhere else.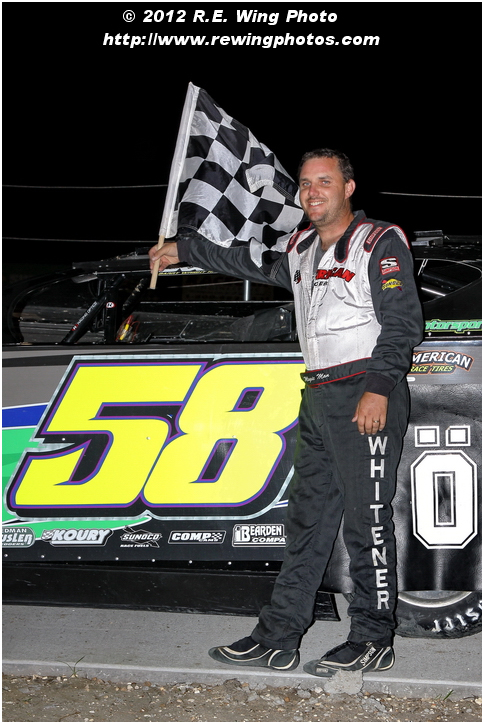 Mark Whitener has taken the points lead by 5 but points go out the window this week for many drivers. Whitener wants to put his name on that list and join 2nd place Ivedent Lloyd, Jr. Lloyd looks to become the first back-to-back champion of the Powell Memorial and join Wayne Anderson as the only other 3-time champion. Bo Allen, Richard Ferry, and Bryan Bernhardt are in the top 6 in points and look to upset the field; all are capable, however, and a win in the Powell soldifies your spot in history. Christian Augspurger is 5th and looks to become the youngest winner of this event. The Nosbisch family has been quick in 2012 and could join that prestigious list. However, a feel good story many have been watching is Rich Pratt. The team has finally gotten that 0 machine on form and Pratt could throw that monkey off of his back and win the Powell Memorial. He has won a big race recently- Pratt won the One Last One For PJ Wiggins in 2011.
JO Nobles has been quick in his Limited Late Model and is already looking for that 5th win on the season. He is chasing Eddie Gainey in the points and both are capable of winning on this special night. Adam Higginbotham is in between these 2 and how special a first win would be this week! Forrest Gough and David Showers have speed and could turn it into a victory very soon.
Rodney Wright and Trevor Gamble have been going back and forth in a very tight points battle. Gamble had built up a lead but Wright has steadily stolen the advantage from him. Both could take the win but Brian Shea is giving chase and is very hungry. "Dedicated" Mark Maresca is coming off of 2 top 5 finishes and he shows us all how important those Perfect Attendance points are- he will fly in from Minneapolis, race, then fly back the following day. He knows he needs big points to make it worth his while and to hold off Mike Stalnaker who could also take a big win.
"Terrible" Tony LaPorta and "Scooby Doo" Steve Johnson are starting to leave the rest of the field behind and wins will keep these 2 up front. Meanwhile Randy Harless is impressing in his rookie season as he runs 3rd in points and already has that win. Reid Christensen and Jordan McMillon round out the top 5. All drivers will battle and some one could surprise with a win in the Rent-N-Roll Gladiators.
Pit gates open at 4, grandstands at 5, and racing is scheduled for 7 on Friday night. The 2 day Powell Memorial will be one to remember! For more information you can check out www.bubbaracewaypark.com or call the Speedway at 352-622-9400.