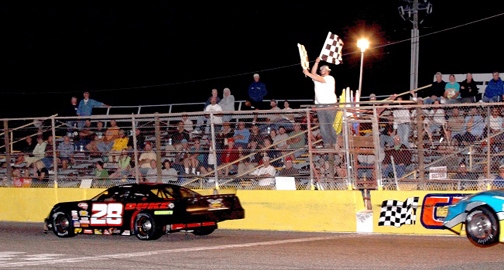 T.J. Duke started his weekend at Citrus County Speedway on Friday night. Duke scheduled a test session to shake down a brand new car his team had just purchased. This would be no ordinary car, this new ride was purchased from none other than the "King of Florida short tracks", Dick Anderson. Sliding into the same seat that has been occupied by such a racing legend, can often be a difficult task, but Duke proved to be ready for the challenge Saturday night.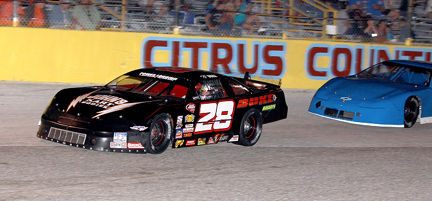 18 Super Late Models registered for their 35 lap feature event, all hoping to take home the checkered flag. After the fan determined 2 row invert, Todd Brown (23) would find himself on the pole position, with Duke (28) along side for the start. Duke would jump out the early lead, and leave the others to battle for the 2nd position. Brown would settle into 2nd, but Randy Anderson (4) would soon apply some pressure, and move to the 2nd position. The race would be slowed by caution for a few mid race spins, but no cars received any significant damage. Duke would looked like an old veteran behind the wheel of his new racer, pulling away on each restart. Behind him, 6th place starter Scott Grossenbacher (09) had moved his way to the 3rd spot, but now faced pressure from multi-time division champion Herb Neumann Jr (98). Neumann would find the traction he needed, and moved by Grossenbacher for 3rd with only 10 laps remaining. Neumann would then set his sights on the 2nd running Anderson. Neumann would take to the inside lane off of turn 2 to attempt the pass, but contact between the two drivers would send Anderson spinning. Neumann would take blame for the incident, and tag the rear of the field for the restart. Duke would now have to survive one more late race restart, with Dick Andersons' grandson Randy, lurking just behind. Duke would again shoot away on the restart, and Anderson would now face heavy pressure from the now 3rd running Grossenbacher. Duke would go on to take his 1st victory of the 2012 season, but things got exciting behind him for 2nd. Grossenbacher would attempt and inside pass on Anderson for 2nd on the final lap. As the two cars exited turn 4 coming to the checkers, contact sent Grossenbachers' bright blue racer over the hood of Andersons' car. Both cars would slide across the line with Grossenbacher taking the 2nd position, while on top of Andersons' hood. Both cars would slide to the infield and come to a rest, both drivers were uninjured. Duke in now 1 for 1 in his new ride, and will be one to keep an eye on in the future. Todd Brown would come home 4th at the checkered flag, which now moves him to the top of the season long points championship chase, just 6 points ahead of Anderson. Anderson and Brannen Hester (77) were your heat race winners.
11 Street Stocks had a rough time getting their 20 lap feature off and running. After 3 failed attempts to get in a lap of racing before caution, the field was lined up for a single file race start. After the cars were repositioned, Curtis Flanagan (3) would move quickly from his 4th starting position to take the lead. Flanagan would go on to take his 4th feature victory of the year followed by Kenny May (10) in 2nd, and last race winner Bubba Martone (98) in 3rd. Flanagan and Joey Bifaro (121) were your heat race winners.
9 Modified Mini Stocks saw Chris Allen (33) make a daring 3 wide move on the first lap to take the top spot early on. Allen would move out to a comfortable lead before a lap 8 caution would slow the field. On the restart Clint Foley (7) would waste little time moving by Allen to take away the lead. Foley would go to take his 4th feature win of the season followed by Allen in 2nd. Mark Powers (69), driving Shaun Caters' racer, would benefit from Jessica Robbins (09) late race spin, to come home in the 3rd position. Foley was also your heat race winner.
11 Mini Stocks treated the fans to one of the most exciting incidents of the evening. Early on in the event, the leaders would get crossed up heading into turn 3. As everyone checked up to avoid the incident, Bo Denny (18) ran out of racing room. Denny would contact an infield dirt mound, which sent his car barrel rolling into turn 3. Denny was uninjured, and racing quickly resumed. Once back to green, it was a familiar face of Jeremy Sharrone (32) moving to the lead on lap 8, and going on to take his 4th victory of the season. Behind Sharrone, pole sitter and early race leader Jessey Mallory would come home a strong 2nd place. Shannon Kennedy (46) was headed for a top three finish, but a last lap, last corner spin would see Jerry Daniels (11) slip by to take home the 3rd position. Sharrone and Kennedy were your heat race winners.
Kane Dixon would make his return to victory lane in the 15 lap hornet feature. Dixon was easily the class of the field on Saturday night, going unchallenged for the win. Behind him however was a bitter husband and wife battle for the 2nd position. Ron and Jennifer Dillon were behind the wheels of the speedways Hornet rental cars. Ron and Jennifer are the owners and operators of Dillons Irish Pub in downtown Inverness, as well as Cinnamon Sticks Bakery and Restaurant located south of downtown Inverness at the Central Motel. Ron would get the early jump on Jennifer, but soon would feel the pressure of a determined wife. Jennifer would make an inside pass attempt on Husband Ron, but run out of racing room entering the corner. Ron would then pull away over the final few laps, to secure his sleeping arrangements on the couch, after besting his wife on the speedway.
This week sees one of the best racing nights of the month at the Citrus County Speedway. On the race program will be the Open Wheel Modifieds, Sportsman, Street Stock, Pure Stock, Mini stock, Outlaw Mod Mini, and the crazy Pro Figure 8's! Grandstand gates open at 4pm, and racing starts at 6:30pm. Visit the track website at www.citruscountyspeedway.com or call the speedway office at 352-726-9339 for complete details. Don't forget to check out the speedway facebook page for special offers and the latest up to date information!
| | | | |
| --- | --- | --- | --- |
| | Super Late Models | | Feature |
| Car-# | Drivers Name | Home Town | Finish |
| 28 | TJ Duke | S.W. Ranches | 1 |
| 09 | Scott Grossenbacher | San Antonio | 2 |
| 4 | Randy Anderson | Wildwood | 3 |
| 23 | Todd Brown | Lake Panasoffkee | 4 |
| 77 | Brannen Hester | Lakeland | 5 |
| 82 | Drew Brannon | Tampa | 6 |
| 1 | Dale Sanders | Lecanto | 7 |
| 38 | Eric Stokes | South Carolina | 8 |
| 47 | Keith Zavrel | Brooksville | 9 |
| 21 | Gene Anderson | Lakeland | 10 |
| 98 | Herb Neumann Jr. | Inverness | 11 |
| 62 | John Gerstner | Wesley Chapel | 12 |
| 177 | Ray Hester | Lakeland | 13 |
| 97 | Andy Anderson | Port Richey | 14 |
| 94 | William Fuller | Lecanto | 15 |
| 44 | Tony Altiere | Inverness | 16 |
| 5 | Don Altier | Lecanto | 17 |
| 27 | Cody Lane | Port Richey | 18 |
| | | | |
| | | | |
| | Street Stocks | | Feature |
| Car-# | Drivers Name | Home Town | Finish |
| 3 | Curtis Flanagan | Inverness | 1 |
| 10 | Kenny May | Spring Hill | 2 |
| 98 | Bubba Martone | Floral City | 3 |
| 121 | Joey Bifaro | Inverness | 4 |
| 48 | Dora Thorne | Floral City | 5 |
| 88 | Craig Cuzzone | Lakeland | 6 |
| 5 | James Peters | Winter Garden | 7 |
| 68 | Austin Hughes | Hernando | 8 |
| 60 | Leonard Arnold | Mt. Dora | 9 |
| 92 | Robert Kuhn Jr. | Dunnellon | 10 |
| 73 | David Kingsbury | Brooksville | 11 |
| | | | |
| | | | |
| | Mini Stocks | | Feature |
| Car-# | Drivers Name | Home Town | Finish |
| 32 | Jeremy Sharrone | Floral City | 1 |
| 50 | Jessey Mallory | Summerfield | 2 |
| 11 | Jerry Daniels | Weirsdale | 3 |
| 3 | Jay Curry | Homosassa | 4 |
| 98 | Kevin Stone | Dade City | 5 |
| 46 | Shannon Kennedy | Summerfield | 6 |
| 88 | Lenard Fussell | Dade City | 7 |
| 24 | Tim Scalise | Lutz | 8 |
| 22 | Mark Patterson | Webster | 9 |
| 18 | Bo Denney | Dade City | 10 |
| 71 | Wayne Heater | Homosassa | 11 |
| | | | |
| | | | |
| | | | |
| | Mod. Mini Stocks | | Feature |
| Car-# | Drivers Name | Home Town | Finish |
| 7 | Clint Foley | Dunnellon | 1 |
| 33 | Chris Allen | Bushnell | 2 |
| 69 | Mark Powers | Hernando | 3 |
| 06 | Ray Miller | Tampa | 4 |
| 24 | Phil Edwards | Crystal River | 5 |
| 29 | Chris Snow | Inverness | 6 |
| 09 | Jessica Robbins | Plant City | 7 |
| 47 | Richard Kuhn | Ocala | 8 |
| 20 | Robbie Yoakam | Hernando | 9 |
| | | | |
| | | | |
| | Hornet Division | | Feature |
| Car-# | Drivers Name | Home Town | Finish |
| 15 | Kane Dixion | Inverness | 1 |
| 6 | Ron Dillon | Inverness | 2 |
| 1 | Jennifer Dillon | Inverness | 3 |
| 32 | Chris Hennessy | Beverly Hills | 4 |