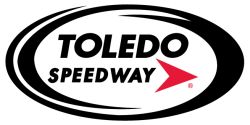 (TOLEDO, Ohio) – For the 23 years of competition in the Glass City 200 invitational, there always seems to be a few entries to arrive that weren't expected, and that's one of the things that makes this race one of the most prestigious season-ending events in the Midwest.
In the mailbox this morning came entries from Maine and one from Michigan that are new names for this event, as well as several entries from drivers who continue to search for victory in the 24th running of the Great Lakes Helicopter Glass City 200, set for Saturday, September 29 at Toledo Speedway
Falmouth, Maine driver Scott Mulkern will make the long, long trip from the eastern seaboard state to Toledo for this year's 200 lap classic. Mulkern has purchased a chassis from Canadian legend Jr. Hanley, who is the 2001 Glass City 200 champion and the 1980 Toledo track champion.
Dennis Rederstorf of Commerce, MI has also entered the event, but Dennis is no stranger to Toledo. Rederstorf ran at Toledo several years ago on a regular basis in the Late Model division.
Another long-distance trip to Toledo is in store for Mooresville, NC driver Brad Rogers, who will be at the wheel of the Toledo-based PB Fabrication #0. This will be Brad's third 200 race, where he finished 3rd in 2010, but met with mechanical problems last year and finished 26th.
2008 and 2010 Glass City 200 champion Harold Fair Jr. will be shooting for a record-tying 3rd victory, which would put him in the company of Bob Senneker (1970, 1971 and 1977) and Steve Sauve (2002, 2003, 2004).
Recently-crowned Flat Rock Speedway Moran Chevrolet Late Model champ Paul Pelletier is also entered. Paul powered his way to 6 wins at the ¼ mile asphalt oval this year in 10 races, notching his 3rd track title in the process.
Veteran Jack Varney Jr. will be looking to score the big win and his initial Toledo checkered flag in the Great Lakes Helicopter Glass City 200. Varney has been strong in 2012 and should be a contender for the win. Former Flat Rock, Toledo and Gold Cup champ Dennis Strickland is also entered, at the wheel of Jack Burnette's #86 for the 200.
A trio of youngsters in Mike Young, Jake Francis and Steve Cronenwett Jr. will join early entries Johnny Belott and Mike Root for the event, which carries a purse of over $50,000 in cash and another $5,000 plus in contingency awards.
A 40 lap Sportsman invitational and a 30 lap X car invitational (on the ¼ mile) are also part of the final race of the season at Toledo. Woodville Auto Finance of Northwood, OH and First Choice Auto Finance of Toledo have signed on to sponsor the X Car race. All 3 entry forms/rules may be downloaded from the track's webpage. They are located under forms.
Allegiant Travel has 2 round-trip tickets set for the winner of the Great Lakes Helicopter Glass City 200 and a lucky race fan will also walk away with a pair of airline tickets, courtesy of Allegiant.
PASSTIME will award $500 to the Fast Qualifier for the 200, and Port City Racecars has posted a $500 bonus to the winner if using a Port city chassis. The Most Improved Position $250 bonus is courtesy of Burge Wrecking of Toledo. Penske Shocks will award the winner a $250 gift certificate. Lane Automotive will provide $100 certificates to the 5th and 12th place finishers, while All Star Performance will give $100 awards to the 6th and 10th place drivers.
Francis Engineering of Leroy, OH has posted bonus money for the 1st through 10th place drivers, as well as the 15th and 20th place finishers. In addition, Dale Francis has posted a $200 bonus to the leader of lap 100 and will sponsor free dinners to anyone purchasing a pit pass at Friday's practice session.
DTS Drive Train Specialists of Warren, MI will serve as sponsor of the B Main event
Moran Chevrolet, title sponsor of the ARCA Late Models at Flat Rock, will award a set of four (4) tires in a random draw for drivers that have pre-paid entries for the 200 lap event.
In addition to Great Lakes Helicopter, associate sponsors include Francis Engineering, DTS Drive Train Specialists, R & M Recycling, First Care Ambulance, Port City Racecars, Burge Wrecking, Penske Shocks, All Star Performance, Lane Automotive, Moran Chevrolet, Allegiant Travel, Bazell Race Fuels, Sunoco Race Fuels, PASSTIME, Woodville Auto Finance and First Choice Auto Finance.  Additional sponsors will be announced as they are secured.
Lap money is available at $10 per lap. To date, 98 laps remain for sponsorship. Please call the track at 419-727-1100 to join the list!
Danny Byrd, who won numerous races throughout the Midwest and Canada in the 1960's, 70's and early 80's, will serve as Grand Marshall of the 200. Danny led every lap of the 1972 Glass City 200, piloting the Bill Hill-owned #08 Chevelle. To this day, Danny is the only driver to lead every lap in a Glass City 200 event.
Previous winners of the Glass City 200 include the late Joy Fair, 1968; Joe Ruttman, 1969, 1973; Bob Senneker, 1970, 1971, 1977; Byrd, 1972; the late John Anderson, 1974; the late Jim Bickerstaff, 1975; Ed Cooper, 1976; Tim Felver, 1999; Tim Ice, 2000; Jr. Hanley, 2001; Steve Sauve, 2002, 2003, 2004; John Doering Jr., 2005; Jack Landis, 2006; Brian Campbell, 2007; Harold Fair Jr., 2008, 2010; Dave Kuhlman, 2009, and Augie Grill, 2011.
Friday, September 28 the pit area opens at 2 p.m. for rig parking, tech and tire sales for all 3 classes. An optional practice session will take place from 5 p.m. to 7 p.m. Anyone that purchases a pit pass on Friday will receive a FREE dinner, courtesy of Francis Engineering.
The Saturday, September 29 race day schedule has the pits open at 9:30 a.m., driver's meeting at 11:30, practice at 12:15, time trials at 3 and racing at 5 p.m. A rain date of Sunday, September 30 has been established.
Log onto www.toledospeedway.com for the current entry lists for all 3 classes and for the lap money sponsor list as the Great Lakes Helicopter Glass City 200 nears! Tickets are now on sale by calling the track office at 419-727-1100. Like us on Facebook at www.facebook.com/toledoflatrock or follow us on Twitter @toledospeedway.