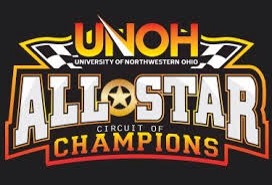 PORT ROYAL, PA (Friday, Sept. 5, 2014) – Stevie Smith held off charges from Danny Holtgraver to win the $5,000 Night Before the Tuscarora 50 at Port Royal Speedway Friday Night. The win was Smith's 16th career University of Northwestern Ohio All Star Circuit of Champions victory, as he has tied his dad, Steve Smith's career series total.
Piloting the Fred Rahmer/Dave Prichard-owned #51, Smith took the lead from pole-sitter Doug Esh early in the non-stop 30-lapper. Pittsburgh, Pennsylvania driver Danny Holtgraver, who started in the outside front row, challenged Smith several times late in the race, but his car faded in the final laps as Danny Dietrich took second on the last lap.
"I was thinking it was 25 laps," Smith said with a chuckle beside his Miller Chevrolet/Aran Trading/Tru-Line Contractors/Don Ott Engines/Ken's Tire/Durr Enterprises/Engler backed machine.
"It didn't seem that long, but I guess when you are up front and having fun, it doesn't seem like much," continued the New Oxford, Pa. native who now calls Broken Arrow, Ok. home.
Car-owner Fred Rahmer may make the rest of the competition nervous for the 50 lap event Saturday at the Juniata County oval. A $12,000 – or more as there's lap money involved as well – check awaits the winner.
"Stevie did a great job. He did what he had to do, and we hope we can get the car even better tomorrow," said Rahmer.
It was Smith's first UNOH All Star win since 2012 and he became the 16th different series winner out of 32 events in 2014.
Esh took the early lead over Holtgraver and Smith. The top three ran within three car-lengths of each other at times before entering traffic by lap 7. Smith drove under Holtgraver on lap 8 and worked lapped traffic to perfection to take the lead from Esh on lap 11. Holtgraver would move into second two laps later.
Smith ran the middle and low line with Holtgraver blasting away along the outside fence which propelled him to close rapidly on Smith by lap 17. Holtgraver raced to Smith's outside with five to go.
"I didn't know who it was but I saw someone running the very top," said Smith. "That is where I love to be, but I knew it was time to move down."
Smith stayed glued to the bottom which got faster as the race wore on. Holtgraver made a great run, but he didn't challenge over the final four circuits.
"I just slowed down some more," Smith said. "I hated to do it, but I think we were faster. I could run the top early, but it's a decision I had to make. It could have cost us the race, but we won anyway."
Dietrich, who took a UNOH All Star win at Lincoln Speedway in June, might have been the fastest car at the finish. He passed Esh for third on lap 16 and drove around Holtgraver for the runner-up spot exiting turn two on the last lap.
"We were pretty good," Dietrich said beside his Gary Kauffman Racing/Sandoe's Fruit Market/Mark Bell Trucking/Racers Used Parts Warehouse/Bear Mountain Orchards/Drop of Ink Tattoo and Body Piercing backed #48. "I didn't think it would go 30 laps. A caution would have been nice. I don't know if we would have had anything for Stevie, but we sure as hell would have given it everything we had." Holtgraver fell to third.
"The car just got worse and worse and worse. It faded bad at the end. I was running as hard as I could but I was hanging it off the turn two fence. I went to the bottom the last lap so I wouldn't wreck and Danny got around me. The tires wore off and I couldn't get the wing back fast enough. I can't wait till tomorrow," said Holtgraver of his Rob Hunter owned, Seneca Energy Corp./DKW Transport/Bonnell's Rod Shop backed machine.
UNOH All Star point leader Dale Blaney came from 10th to fourth, and Blane Heimbach completed the top five.
Port Royal Speedway – 9/5/2014
All Star Circuit of Champions (41 Cars)
[#]-Starting Position
Qualifying – Kistler Engines
1. 1Z-Lucas Wolfe, 16.258; 2. 12-Blane Heimbach, 16.372; 3. 29-Danny Dietrich, 16.381; 4. 11-Mike Erdley, 16.403; 5. 8H-Doug Esh, 16.424; 6. 27-Greg Hodnett, 16.496; 7. 5-Justin Barger, 16.502; 8. 51-Stevie Smith, 16.510; 9. 10H-Danny Holtgraver, 16.524; 10. 19M-Brent Marks, 16.588; 11. 20-Ryan Taylor, 16.607; 12. 56-Nate Snyder, 16.609; 13. 21-Brian Montieth, 16.626; 14. 14K-Dale Blaney, 16.664; 15. 747-Davey Sammons, 16.673; 16. 94-Ryan Smith, 16.755; 17. 5G-Curt Michael, 16.757; 18. 5C-Dylan Cisney, 16.775; 19. 12J-Lynton Jeffrey, 16.781; 20. 14-Lance Dewease, 16.812; 21. 33-Curt Stroup, 16.830; 22. O-Rick Lafferty, 16.830; 23. 29W-Ryan Wilson, 16.892; 24. 7-Chad Layton, 16.901; 25. 3Z-Brock Zearfoss, 16.902; 26. 25B-Tyler Bear, 16.918; 27. O7-Justin Henderson, 16.929; 28. RG3-Logan Wagner, 16.981; 29. 99M-Kyle Moody, 16.983; 30. 9W-Jac Haudenschild, 17.000; 31. 8S-Trenton Sheaffer, 17.047; 32. 44H-Joey Hershey, 17.066; 33. 65-Dave Ely, 17.253; 34. 36D-Wayne Dadetto, 17.264; 35. 44-Rodney Westhafer, 17.389; 36. 21K-Kyle Pruitt, 17.404; 37. 15S-Vince Snyder, 17.418; 38. 75-Nicole Bower, 17.531; 39. 12W-Troy Fraker, 17.779; 40. 15R-Jay Reichard, 18.231; 41. 98H-Dave Blaney, 99.999
Heat 1 – Kears Speed Shop (8 Laps – Top 5 finishers transfer to the A-feature)
1. 33-Curt Stroup[1] ; 2. 10H-Danny Holtgraver[4] ; 3. 8H-Doug Esh[5] ; 4. 5G-Curt Michael[2] ; 5. 21-Brian Montieth[3] ; 6. 1Z-Lucas Wolfe[6] ; 7. 65-Dave Ely[9] ; 8. 99M-Kyle Moody[8] ; 9. 3Z-Brock Zearfoss[7] ; 10. 98H-Dave Blaney[11] ; 11. 15S-Vince Snyder[10]
Heat 2 – All Pro Aluminum Heads (8 Laps – Top 5 finishers transfer to the A-feature)
1. 19M-Brent Marks[4] ; 2. 5C-Dylan Cisney[2] ; 3. O-Rick Lafferty[1] ; 4. 14K-Dale Blaney[3] ; 5. 12-Blane Heimbach[6] ; 6. 27-Greg Hodnett[5] ; 7. 9W-Jac Haudenschild[8] ; 8. 25B-Tyler Bear[7] ; 9. 75-Nicole Bower[10] ; 10. 36D-Wayne Dadetto[9]
Heat 3 – Dragon Racing Fuels (8 Laps – Top 5 finishers transfer to the A-feature)
1. 12J-Lynton Jeffrey[2] ; 2. 747-Davey Sammons[3] ; 3. 29-Danny Dietrich[6] ; 4. O7-Justin Henderson[7] ; 5. 5-Justin Barger[5] ; 6. 44-Rodney Westhafer[9] ; 7. 8S-Trenton Sheaffer[8] ; 8. 29W-Ryan Wilson[1] ; 9. 20-Ryan Taylor[4] ; 10. 12W-Troy Fraker[10]
Heat 4 – Kinsler Fuel Injection (8 Laps – Top 5 finishers transfer to the A-feature)
1. 7-Chad Layton[1] ; 2. 14-Lance Dewease[2] ; 3. 94-Ryan Smith[3] ; 4. 51-Stevie Smith[5] ; 5. 56-Nate Snyder[4] ; 6. 11-Mike Erdley[6] ; 7. RG3-Logan Wagner[7] ; 8. 44H-Joey Hershey[8] ; 9. 21K-Kyle Pruitt[9] ; 10. 15R-Jay Reichard[10]
Dash – Howard Johnson Hotel – Lima, OH (6 Laps, finishing order determined first 6 starting positions of A-feature
1. 8H-Doug Esh[2] ; 2. 10H-Danny Holtgraver[3] ; 3. 51-Stevie Smith[6] ; 4. 12-Blane Heimbach[1] ; 5. 29-Danny Dietrich[5] ; 6. 5-Justin Barger[4]
B-Main – MSD Ignition (12 Laps – Top 4 finishers transfer to the A-feature)
1. 27-Greg Hodnett[3] ; 2. 1Z-Lucas Wolfe[1] ; 3. 11-Mike Erdley[2] ; 4. 3Z-Brock Zearfoss[6] ; 5. 9W-Jac Haudenschild[10] ; 6. RG3-Logan Wagner[8] ; 7. 65-Dave Ely[13] ; 8. 99M-Kyle Moody[9] ; 9. 44-Rodney Westhafer[15] ; 10. 44H-Joey Hershey[12] ; 11. 98H-Dave Blaney[21] ; 12. 25B-Tyler Bear[7] ; 13. 36D-Wayne Dadetto[14] ; 14. 75-Nicole Bower[18] ; 15. 12W-Troy Fraker[19] ; 16. 8S-Trenton Sheaffer[11] ; 17. 15S-Vince Snyder[17] ; 18. 21K-Kyle Pruitt[16] ; 19. 20-Ryan Taylor[4] ; 20. 29W-Ryan Wilson[5] ; 21. 15R-Jay Reichard[20]
A-Main – University of Northwestern Ohio (30 Laps)
1. 51-Stevie Smith[3]; 2. 29-Danny Dietrich[5]; 3. 10H-Danny Holtgraver[2]; 4. 14K-Dale Blaney[10]; 5. 12-Blane Heimbach[4]; 6. 27-Greg Hodnett[13]; 7. 14-Lance Dewease[19]; 8. 19M-Brent Marks[7]; 9. 11-Mike Erdley[12]; 10. 8H-Doug Esh[1]; 11. 56-Nate Snyder[8]; 12. 5-Justin Barger[6]; 13. 94-Ryan Smith[15]; 14. 1Z-Lucas Wolfe[11]; 15. 12J-Lynton Jeffrey[18]; 16. O-Rick Lafferty[21]; 17. 5G-Curt Michael[16]; 18. 21-Brian Montieth[9]; 19. 33-Curt Stroup[20]; 20. O7-Justin Henderson[24]; 21. 747-Davey Sammons[14]; 22. 7-Chad Layton[22]; 23. 5C-Dylan Cisney[17]; 24. 3Z-Brock Zearfoss[23]
Hard Charger: 14-Lance Dewease[+12]