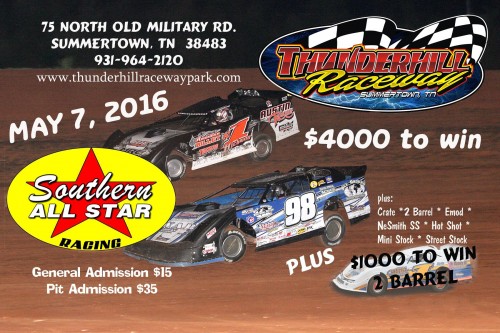 FAYETTEVILLE, TN–The Southern All Stars Dirt Racing Series has raced at 86 racetracks across the southeast in the 33 year history of the series, and Saturday night May 7th the series visit one of those tracks it has been gone from for a long time and that is the Thunderhill Raceway on Summertown, TN. The event will be 40 lap $4,000 to win and mark the first time the series has been back to Thunderhill Raceway since 2001 when Byron Michael of Florence, AL., scored the win and the first every visit to the high banked ¼ mile oval was in 1992 when Johnny Williams of Lexington, TN..
Track promoter Ricky Spurgeon was looking for something different to bring the race fans of west Tennessee to the track and since the super late model series had not been to the track since 2001 he thought it would be a good idea to bring the series back. The Southern All Stars will be holding their third series event at the track and look to crown a third different winner in three races there and also look to have a great show for the west Tennessee fans.
Drivers that are expected to be in action include the current points leader and Cruise with the Champions/Dirtondirt.com rookie of the year leader Brad Skinner of Spring Hill, TN. Skinner took over the lead after last week's race at Talladega Short Track. Three time series champion Riley Hickman of Cleveland, TN., has moved into the second spot and is looking for that fourth title, Jim Rogers of Statesboro, GA., who is second in the rookie of the year battle is third in points and will be making his first visit to the west Tennessee oval, Todd Morrow of east ridge, TN., will be in action after his 9th place run last week in Talladega and currently is 7th in points, 2015 Cruise with the Champions/Dirtondirt.com rookie of the year Dillon Tidmore from Glencoe, Al., will also be in action as well as Josh Putnam of Florence, AL., David Seibers of Chapel Hill, TN., Cale Finley of Athens, AL., Ray McElhaney of Pulaski, TN., Eric Hickerson of Linden, TN., Tommy Taylor of Lascassas, TN., David Breazeale of Starkville, MS., as well as many other drivers from across the area.
The Southern All Star portion of the program will consist of group qualifying, B mains and feature event.
For more information concerning the Southern All Star contact Lynn Acklin – General Manager: 256-924-4546 www.sasdirt.com or www.thunderhillracewaypark.com
SOUTHERN ALL STAR POINTS STANDINGS: 1.Brad Skinner 378; 2.Riley Hickman 374; 3.Casey Roberts 348; 4.Jim Rogers 344; 5.Brandon Overton 286; 6.Dale McDowell 256; 7.Todd Morrow 242; 8.Jordy Nipper 184; 9.Chris Ferguson 182; 10.Ahnna Parkhurst 158.
CRUISE WITH THE CHAMPIONS/DIRTONDIRT.COM ROOKIE OF THE YEAR: 1.Brad Skinner 374; 2.Jay Rogers 344
SPECIAL PRODUCTS AWARDS
White Performance Group Qualifying:
PPM Racing Products B Main:
AR Bodies Last Car Lead Lap:
COR Suspensions 10th Place Finisher:
36 Racing & Fabrication Hard Charger:
Race Car Engineering Hard Luck Award:
AR Bodies Challenge: 1.Brad Skinner 124; 2.Dillon Tidmore 78; 3.Dennis Franklin 46; 4.Shannon Buckingham 26; 4.James Kelso 24; 6.Robby Moses 23, 7.Billy Ogle Jr 22 8.Jim Rasey 21 9.Tim Allen 19.
UPCOMING SOUTHERN ALL STAR DIRT RACING SERIES EVENT:
May 7-Thunderhill Raceway-Summertown, TN-$4,000 May 14-Senoia Raceway-Senoia, GA-$5,025 May 21-Volunteer Speedway-Bulls Gap, TN-$5,200
2016 Southern All Star Dirt Racing Series Sponsors:
*Hoosier Racing Tire "The Official Race Tire" of the Southern All Star Dirt Racing Series *Patriot Sports "The Official Merchandise Vendor" of the Southern All Star Dirt Racing Series *Sunoco Race Fuel "The Official Racing Fuel" of the Southern All Star Dirt Racing Series
2016 Southern All Star Dirt Racing Series Marketing Partners Include: AR Bodies, Brodix Cylinder Heads, Butlerbuilt Racing Seats, COR Suspensions, Cruise with the Champions, DirtonDirt.com, H3 Performance Graphics, Integra Racing Shocks, , MSR Mafia Web Design and Service, PPM Racing Products, RockAuto.com, The Joie of Seating, WhitePerformance.com, 36 Racing & Fabrication, Racecar Engineering