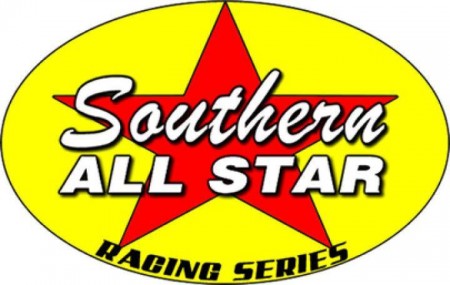 FAYETTEVILLE, TN—The Southern All Star Dirt Racing Series will open up season #33 in South Georgia as Chris Martin and his staff welcome the series to his 3/8ths mile oval for a pair of 50 lap $5,000 to win event on Saturday & Sunday February 27th & 28th with a practice session slated for Friday night February 26th.
The series is no stranger to opening in south Georgia as Golden Isle Speedway in Brunswick, GA., has held the opening round of the series 8 times with Cleveland Speedway in Cleveland, TN., 7 series openings, Green Valley Speedway in Glencoe, AL., 6, Cherokee Speedway in Gaffney, SC., has hosted the series opener 4 times and Volusia County Speedway 2 times. Other tracks that have hosted the series opener include Gulf Coast Speedway in Biloxi, MS., Spencer Speedway in Tupelo, MS., Crossville Raceway Crossville, TN., Talladega Short Track Eastaboga, AL., Boyd's Speedway Ringgold, GA., all have hosted series opening events throughout the year.
Cochran Motor Speedway will put its name into the Southern All Star record books as hosting the opening weekend for the series and this will be the first trip back to Cochran since 2010 when 2 time Southern All Star champion Ivedent Lloyd Jr of took home the win, other previous winners at Cochran include 4 time Southern All Star champion Clint Smith of Senoia, GA in 2002 and 3 time Southern All Star champion Chris Madden gray Court, SC., in 2001.
Three time Southern All Star champion Riley Hickman of Ooltewah, TN., will be back to defend his title as well as the 2015 Cruise with the Champions/Dirt On Dirt Rookie of the Year Dillon Tidmore of Glencoe, AL., will also be in action as well as other drivers expected include Randy Weaver of Crossville, TN., Chris Madden of Gray Court, SC., Ivedent Lloyd Jr of Ocala, FL., Bo Shirley Gadsden, AL., Todd Morrow of East Ridge, TN., Casey Roberts of Toccoa, GA., plus many more to be named.
For more information concerning this event contact Cochran Motor Speedway at www.cochranspeedway.com
For more information concerning the Southern All Star contact Lynn Acklin – General Manager: 256-924-4546
www.sasdirt.com
SPECIAL PRODUCTS AWARDS
White Performance Group Qualifying:
PPM Racing Products B Mains:
AR Bodies Last Car Lead Lap:
COR Suspensions 10th Place Finisher:
36 Racing & Fabrication Hard Charger:
UPCOMING SOUTHERN ALL STAR DIRT RACING SERIES EVENT:
February 27-Cochran Motor Speedway-Cochran, GA $5,000
February 28-Cochran Motor Speedway-Cochran, GA-$5,000
March 5-Cherokee Speedway-Gaffney, SC $3,000
March 6-Cherokee Speedway-Gaffney, SC-$10,000
2016 Southern All Star Dirt Racing Series Sponsors:
*Hoosier Racing Tire "The Official Race Tire" of the Southern All Star Dirt Racing Series *Patriot Sports "The Official Merchandise Vendor" of the Southern All Star Dirt Racing Series *Sunoco Race Fuel "The Official Racing Fuel" of the Southern All Star Dirt Racing Series
2016 Southern All Star Dirt Racing Series Marketing Partners Include: AR Bodies, Brodix Cylinder Heads, Butlerbuilt Racing Seats, COR Suspensions, Cruise with the Champions, DirtonDirt.com, H3 Performance Graphics, Integra Racing Shocks, , MSR Mafia Web Design and Service, PPM Racing Products, RockAuto.com, The Joie of Seating, WhitePerformance.com, 36 Racing & Fabrication
-Southern All Star Dirt Racing Series -P.O. Box 189-Fayetteville, Tennessee 37334-
SOUTHERN ALL STAR DIRT RACING SERIES SCHEDULE—WORKING SCHEDULE
1. Fri-February 27-Cochran Motor Speedway-Cochran, GA-$5,000
2. Sat-February 28-Cochran Motor Speedway-Cochran, GA-$5,000
3. Sat-March 5-Cherokee Speedway-Gaffney, SC-$3,000
4. Sun-March 6-Cherokee Speedway-Gaffney, SC-$10,000
5. Sat-April 23-Smoky Mt Speedway-Maryville, TN-$5,000
6. Sat-April 30-Talladega Short Track-Eastaboga, AL-$4,000
7. Sat-May 14-Senoia Raceway-Senoia, GA-$4,000
8. Sat-May 21-Volunteer Speedway-Bulls Gap, TN-$5,200
9. Sat-May 28-Tennessee National Raceway-Hohenwald, TN-$4,000
10. Sat-June 11-Talladega Short Track-Eastaboga, AL-$4,200
11. Sat-July 2-Senoia Raceway-Senoia, GA-$5,025
12. Sun-July 3-Cochran Motor Speedway-Cochran, GA-$4,000
13. Fri-Sat-July 15 -16-Magnolia Motor Speedway-Columbus, MS-$10,000
14. Sat-Aug 6-Talladega Short Track-Eastaboga, AL-$4,000
15. Sat-September 17-Smoky Mt Speedway-Maryville, TN-$5,000
16. Sat-September 24-East Alabama Motor Speedway-Phenix City, AL-$4,000
17. Sun-September 25 -East Alabama Motor Speedway-Phenix City, AL-$4,000
18. Sat-October 22-Talladega Short Track-Eastaboga, AL-$4,000
TENTATIVE SCHEDULE- MORE DATES TO BE ADDED