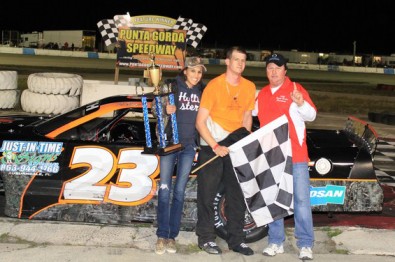 The Legends cars were the first class up at the Punta Gorda Speedway that had a packed house that came to see a full night of great racing action. Tony Steinbuck sat on the pole and led start to finish challenged by second place finisher Mike Verhaagh. David Patterson of Port Charlotte came in third.
Rookie Trucks came out for twenty five laps and from the drop of the green, you could not tell they were young rookie drivers. Travis Miller jumped out front to lead and was chased by James Dellea III until Chad Chastain got into the mix. Miller and Chastain side by side rubbing and racing and giving it all they had. When the checkers came out, Chad Chastain muscled his way to cross the finish line in first place with Randy Anderson coming home second and Travis Miller was third.
Cowboy Cadillacs saw John Pummell Jr lead most of the twenty five lap feature race. John Garrett challenged Pummell racing side by side for several laps being scored for three of the twenty laps but in the end it was Pummell that crossed the line first. John Garrett came in second and Jeff Deeble was third.
Dwarf Cars had their Tommy Bowles Cup Winter-nationals by qualifying first and fast time went to the 14 of Bo Bass with 15.601. Bo Bass took the lead from Andy Pryor on lap five and never looked back, while Pryor challenged him and came in second. John Bailey would bring it home in the third spot.
Super Late Models took to the track for 100 laps with Daryl Shellnut on the pole and Mike Smith outside. Shelnut took the early lead while smith was right there challenging him to take over the lead. Lap ten, Smith was able to get up to Shelnuts door and try to make the pass when Smith was spun right in front of the pack. Shelnut was sent to the rear and all cars were able to continue which gave the lead over to Smith. Joe Boyd was able to get by Anderson for second and had his sights on Smith till almost the halfway mark. Boyd was trying to pass Smith on the inside when it appeared the breaks locked up and Boyd slid up into Smith causing them both to spin and collecting Wayne Anderson who had nowhere to go. Boyd was sent to the rear and the green came out again and it was Steve gill that was charging through the field up into third and trying to make the pass on Anderson for second. Drivers were battling through the field, some moving forward like Eddie King While others started to slip backward like Bobby Shelton. Gill made the move on Anderson to take over second on lap 71 and with the five to go sign Anderson had a little left and moved back around Gill to take back the second spot. Mike Smith came home in first with Wayne Anderson second and Steve Gill third.
Road Warriors are always a fan favorite as they get after it doing what they need to do to get to the front. Shane Leonard was the one that got the jump and started out as the leader but had Chris Scott racing him hard for the lead. Scott had the outside of Leonard for several laps as they ran side by side and it was sometimes to close to call who crossed first but Scott had the lead once as they crossed on lap 21. When the checkers came out it was Shane Leonard that was first but Chris Loney put the moves on Scott to cross the line second and Scott was third.
Pro Trucks had double points night and besides an early caution on the first lap they were racing caution free till two laps to go when the 14 of Michael Burns blew up and also set fast time. Steve Darvalics was on the pole and jumped out to an early lead and never looked back while the real battles were going on behind him. The 25 of Darrin McCury ran in the second spot for a few laps till Travis Gossard passed in on lap twelve and then the caution with two to go. After the track was cleaned from all the oil put down by Burns, it was a two lap dash to the finish line. On the restart Kelli Burns passed Gossard for second and with one to go it was Whitney Poole that pass Gossard to finish third.
Pro 4 class was the last race of the night and young Alex Teston took off and was racing the wheels off the car. Ryan Collver was chasing Teston and got by him on lap eight and then Teston was racing to stay in the second spot when on lap ten there was contact and Teston went hard into the outside wall. Alex was ok and the car not so much and with the track curfew in play it was green white checker when the race continued. Ryan Colver was the winner with Jessica Ostrovskis coming in second and young Skyler Null third.
FEB 9TH – LATE MODEL SPORTSMAN, STREET STOCK,
ROAD WARRIOR, PRO 4, T.Q, MIDGETS,
LEGENDS (NO POINTS FOR LEGENDS)
FINAL POINTS NIGHT FOR 2ND HALF POINTS CHAMPION
AND 2012 OVERALL CHAMPION
FEB 16TH CLOSED FOR SPEED WEEKS
FEB 23RD CLOSED FOR SPEED WEEKS
PUNTA GORDA SPEEDWAY RESULTS
2/02/2013
Super Late Model
1. 23 Mike Smith Aburndale
2. 84 Wayne Anderson Wildwood
3. 5x Steve Gill Bradenton
4. 28 Billy Bigley Jr. Naples
5. 17 Eddie King Bartow
6. 7 Daryl Shellnut Lake City
7. 28b Dylan Bigley Naples
8. 5 Joe boyd Riverview
9. 51 Richie Anderson N.Ft. Myers
10. 4 Randy Anderson Wildwood
11. 97 Brian Dorer Winterhaven
12. 55 Zack Rudd
13. 13 Mike Knotek La Belle
14. 36 Gary Padula Pampano Beach
15. 42 Troy McNabb Naples
16. 22 David King Alturas
17. 34 Bobby Shelton Del Ray Baech
18. 14 Kraig Hall Owensboro,Ky.
19. 71 L.B.Skaggs N. Ft. Myers
Pro Trucks
Pro Trucks
1. Steve Darvalics Venice
2. 4 Kelli Burns Port Charlotte
3.00 Whitney Pooles Vero Beach
4. 47 Travis Gossard Naples 47 Travis Gossard Naples
5. 25. Darin McCurdy Port Charlotte
6. 99x Rick Penton Palm Beach
7. 80 Richard Nelson Port Charlotte
8. 42 Eric Borges Naples
9. 36m Travis Miller N. Ft. Myers
10. 28 Ricky Anderson
11. 14 Michael Burns Port Charlotte
12. 36Chad Chastain Alva
13. 32 Dylan Bigley Naples
14.47 Travis Gossard Naples
Road Warriors
1. 8 Shane Leonard Cape Coral
2. 33 Chris Loney Naples
3. 97 Chris Scott Nokomis
4. 5 Jeremy Daring Lehigh Acres
5. 18 Logan Leonard Cape Coeal
6. 1 Rick Reed Punta Gorda
7. 11
8. 17 James Stokes Lehigh
9. 77 James Dellea 3 rd . Port Charlotte
10. 57 Ben Kelley Venice
11. 10 Jason Miller Lehigh Acres
12. 31 Brandon Kolz Ft. Myers
13. 44 Rick Hess Englewood
14. 13 Juston Teston Lehigh D.N.S.
Cowboy Cadillac's
1. 96 John Pummel jr. Arcadia
2. 26 John Garrett
3. 8 Jeff Deeble Port Charlotte
4. 92 Mike Bialecki Arcadia
5. 5 Ed Snyder Port Charlotte
6. 63 James Wright Naples
7. 22 Ric Mills Arcadia
Legends
1. 54 Tony Steinbuck Tamarac
2. 7 Mike Verhaagh Fort Myers
3. 2 David Patterson Port Charlotte
4. 15 David Flail Bradenton
Pro 4
1. 04 Ryan Collver Ft. Myers
2. 91 Jessica Ostrovskis St. Pete
3. 87 Skyler Null Fort Myers
4. 99 JohnnyMarra Cape Coral
5. 13 Alex Teston Lehigh
6. 61 Paul Richards Jr. Naples
Dwarf Cars
1.14 Bo Bass Eustis
2.4 Andy Pryor Bonita Springs
3. 17 John Bailey Sarasota
4. 25 Darren Bass
5. 56 Larry Hubbard Jr. Cape Coral
6. 9 Daniel Warick West Liberty,Ohio
7. 77 Larry Hubbard 3 Rd . Cape Coral
8. 33 Roger Richmond Port Charlotte
9. 21 Sammy Mancuso Naples
10. 28 David Kellogg Edgewater
Rookie Trucks
1. 36 Chad Chastain Alva
2. 28 Ricky Anderson Wildwood
3. 36m Travis Miller N.Ft. Myers
4. 00 Corey Bigley Naples
5. 47 Tyler Gossard Naples
6. 32 Justin Bond Vero
7. 77 James Dellea 3 rd . Port Charlotte