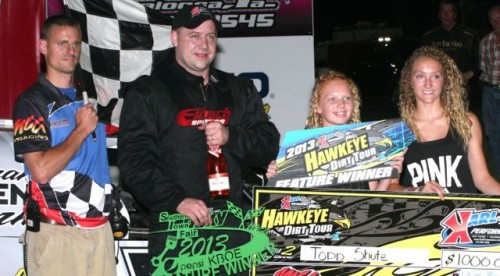 OSKALOOSA, Iowa (July 16) – And then there were seven.
Todd Shute became the seventh different winner in as many Karl Performance Hawkeye Dirt Tour presented by XSAN events this season, with a commanding run Tuesdaynight at Southern Iowa Speedway.
The IMCA Xtreme Motor Sports Modified victory paid $1,000 and put Shute on the ballot for the Fast Shafts All-Star Invitational this September.
Runner-up Scott Hogan led the first eight of 25 circuits after starting outside pole and avoiding the mishaps that brought out two early cautions. Shute had his hands full with Mike Van Genderen and Nebraskan Dylan Smith before gaining second and going to the high side to challenge Hogan.
Shute had the lead when the ninth lap was scored. He'd race to a comfortable advantage over Hogan while Van Genderen was firmly in third and Smith in fourth. "B" qualifier and hard charger Steve Stewart had a lengthy duel with Mark Elliott before securing fifth.
Stewart cracked the top five after starting 18th. Cayden Carter, just two days removed from his Hogan Memorial victory at Benton County Speedway, was a plus 11 on the night and finished sixth.
Point leader Ronn Lauritzen was 11th.
The eighth of 11 HDT series events this season is Monday, Aug. 5 at Independence Motor Speedway.
Feature results – 1. Todd Shute, Des Moines; 2. Scott Hogan, Vinton; 3. Mike Van Genderen, Newton; 4. Dylan Smith, Osceola, Neb.; 5. Steve Stewart, Burlington; 6. Cayden Carter, Oskaloosa; 7. Mark Elliott, Webster City; 8. Mark Schulte, Delhi; 9. Nate Caruth, Ames;10. Kyle Brown, Kellogg; 11. Ronn Lauritzen, Jesup; 12. Hunter Marriott, Brookfield, Mo.; 13. Greg Cox, Newton; 14. Brandon Banks, Washington; 15. Andrew Schroeder, Keswick; 16. Kevin Larkins, Greenwood, Neb.; 17. Casey Greubel, Lacona; 18. Scott Dickey, Packwood; 19. Richie Gustin, Gilman; 20. Jimmy Gustin, Marshalltown; 21. Colt Mather, Webster; 22. Tyler Groenendyk, Oskaloosa; 23. Jacob Murray, Hartford; 24. Zach Less, Hopkinton.
1st heat (top four) – 1. Shute; 2. Smith; 3. Greubel; 4. Schroeder; 5. Greg Cox; 6. Carter; 7. Jim Lynch, Bloomfield; 8. Bill Gibson, Knoxville.
2nd heat – 1. Jimmy Gustin; 2. Murray; 3. Van Genderen; 4. Elliott; 5. Banks; 6. Tony Cox, Boone; 7. Kyle Strickler, Mooresville, N.C.
3rd heat – 1. Groenendyk; 2. Larkins; 3. Hogan; 4. Less; 5. Stewart; 6. Brown; 7. Matt Waugh, Altoona.
4th heat – 1. Dickey; 2. Richie Gustin; 3. Mather; 4. Lauritzen; 5. Schulte; 6. Caruth; 7. Marriott.
"B" feature (top six) – 1. Carter; 2. Stewart; 3. Banks; 4. Schulte; 5. Caruth; 6. Greg Cox; 7. Gibson; 8. Lynch; 9. Tony Cox; 10. Marriott; 11. Brown; 12. Waugh; 13. Strickler.
Series provisionals – Brown and Marriott.