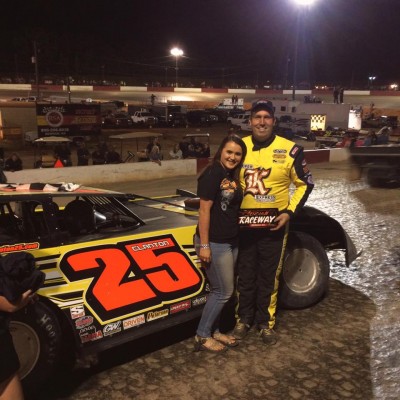 SENOIA, GA–The Southern All Star Dirt racing Series returned to the Senoia Raceway Saturday night for the first time since 1987 and before a standing room only crowd Shane Clanton of Zebulon, GA., took the win worth $5.125.
Clanton made it two for two in the race that honored his late father Billy, who also competed with the Southern All Stars back in the day. Clanton worked his way past three time and current Southern All Star points champion riley Hickman of Cleveland, TN., with 10 laps to go as late race cautions hurt Hickman and allowed Clanton to run him down.
Hickman moved into the lead at the start over Mason Massey of Douglasville, GA., for the 50 lap feature and built a huge lead while the rest of the drivers battled three and four wide, with four time Southern All Star champion Clint Smith stepping up and looking to be the man as he went to the high side and work the top groove and took the lead from Hickman on lap 14, but Hickman did not let that last long as he took it back on lap 15 as Smith's tires started to fade.
Then Chase Junghans from Manhattan, KS. was next to make the challenge to Hickman as he did like Smith and use the top groove to run down Hickman, but he then got into a battle with Frank Heckenast Jr of Frankfort, IL., and the two were slowed by cautions that cooled down their tires and took them out of contention.
Clanton then used the cautions at the end to his advantage as his moved to the top side a got by Junghans and Heckenast Jr., and then started to concentrate on Hickman. Lap 39 Clanton was on the top and Hickman then slid up the track in turn tree trying to slow the momentum of Clanton. Clanton then moved to the bottom and took the lead as they went into turn one with 10 laps remaining and then Clanton went on to get his 13th Southern All Star career win, second place came down to the wire and Hickman and Junghans battled with Junghans taking second, Hickman third, Richie Stephens of Smith Station, AL., driving a crate motored 604 came in fourth and Frank Heckenast Jr fifth.
Dylan Ames of Harvest, AL., came in 6th place, 7th place to Austin Smith of Rome, GA., who started 11th, 8th place to Jason Hiett of Oxford, AL., who started 16th. 9th to Clint Smith of Senoia, GA., and 10th to Ashton Winger of Senoia, GA who started 22nd
Overall a great night of racing for drivers, fans and everybody involved, would like to thank the all the drivers who showed up and thank Mayes Massey & Bill Massey for inviting the Southern All Star to be a part of the Billy Clanton Classic and looked forward to working with Senoia Raceway on the July 2nd race that will be a doubleheader with Cochran Motor Speedway on July 3rd.
Next event for the Southern All Stars will be on Saturday night May 21st at the Volunteer Speedway in Bulls Gap, TN., the 4th Annual Scott Sexton Memorial a 52 lap event paying $5,200 to win. For more information go to www.volunteerspeedway.com
For more information concerning the Southern All Star contact Lynn Acklin – General Manager: 256-924-4546 www.sasdirt.com
FINISH SENOAI RACEWAY: 1.Shane Clanton; 2.Chase Junghans; 3.Riley Hickman; 4.Richie Stephens; 5.Frank Heckenast Jr; 6.Dylan Ames; 7.Austin Smith; 8.Jason Hiett; 9.Clint Smith; 10.Ashton Winger; 11.T J Reaid; 12.Mason Massey; 13.Jim Rogers; 14.Cody King; 15.Austin Horton; 16.Joe Armistead; 17.Brad Skinner; 18.Joey Armistead; 19.Michael Page; 20.Laddie Fulcher; 21.Tod Darda; 22.Lamar Haygood; 23.Dusty Jones; 24.Matt Dooley
DNS: Jody Knowles; Zach Leonhardi; Ricky Williams; Brian Reese; Scott Groves
SOUTHERN ALL STAR POINTS STANDINGS: 1.Riley Hickman 564; 2.Brad Skinner 536; 3.Jim Rogers 504; 4.Casey Roberts 348; 5.Brandon Overton 286; 6.Dylan Ames 258; 7.Dale McDowell 256; 8.Todd Morrow 242; 9.Cody King 218; 10.Jordy Nipper 184
CRUISE WITH THE CHAMPIONS/DIRTONDIRT.COM ROOKIE OF THE YEAR: 1.Brad Skinner 536; 2.Jay Rogers 504
SPECIAL PRODUCTS AWARDS
Group Qualifying: Group A Mason Massey 16.362 Group B Riley Hickman 16.137
PPM Racing Products B Main: Austin Smith-Cody King
AR Bodies Last Car Lead Lap: Joe Armistead
COR Suspensions 10th Place Finisher: Ashton Winger
36 Racing & Fabrication Hard Charger: Ashton Winger
Race Car Engineering Hard Luck Award: Brian Reese
BrakeOMeter 4th Place Finisher Award: Richie Stephens
AR Bodies Challenge: 1.Brad Skinner 153; 2.Dillon Tidmore 78; 3.Dennis Franklin 46; 4. Todd Morrow 35; 5. Terry Smith 33; 6.Brandon McCollum 31; 7.Ricky Williams 28; 8.Buckingham 26; 9.James Kelso 24; 10.Robby Moses 23, 11.Billy Ogle Jr 22 12.Jim Rasey 21 13.Tim Allen 19, 14.Mark Fields 16; 15.Eric Hickerson 15; 16.Josh Putnam 13
UPCOMING SOUTHERN ALL STAR DIRT RACING SERIES EVENT:
May 21-Volunteer Speedway-Bulls Gap, TN-$5,200
June 11-Talladega Short Track-Eastaboga, AL-$4,200
2016 Southern All Star Dirt Racing Series Sponsors:
*Hoosier Racing Tire "The Official Race Tire" of the Southern All Star Dirt Racing Series *Patriot Sports "The Official Merchandise Vendor" of the Southern All Star Dirt Racing Series *Sunoco Race Fuel "The Official Racing Fuel" of the Southern All Star Dirt Racing Series
2016 Southern All Star Dirt Racing Series Marketing Partners Include: AR Bodies, Brodix Cylinder Heads, Butlerbuilt Racing Seats, COR Suspensions, Cruise with the Champions, DirtonDirt.com, H3 Performance Graphics, Integra Racing Shocks, , MSR Mafia Web Design and Service, PPM Racing Products, RockAuto.com, The Joie of Seating, WhitePerformance.com, 36 Racing & Fabrication, Racecar Engineering, BrakeOMeter