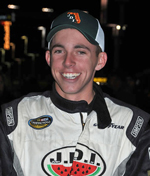 Nineteen year-old Ross Chastain began his racing career at age twelve running in the Fast kids trucks in his native state and accumulated over 50 feature wins as he advanced through the ranks to late models. The Alva, FL native was the late model champion at the prestigious World Series of Asphalt Stock Car Racing at New Smyrna Raceway in 2011.
A fifth generation farmer, Ross has learned while working on the family farm that small seeds can blossom into succulent fruit in just a few months time and the young driver knows those same small seeds in racing can blossom into career of his dreams. "I'm very excited to work together with Bobby Dotter and I want to help grow with the team and improve myself throughout the year. I think we have set realistic goals and I'm excited to get to North Carolina and begin preparing for the season."
Ross ran five NCWTS races in 2011 finishing 10th in his first ever start at Lucas Oil Raceway and completed an impressive 98.5% of the laps in the five races with an average finish of 18.8. Last month, Chastain participated in an open ARCA test at the "World Center of Speed" in preparation for this February's race posting lap times in the top quarter of the 79 drivers that attended.
SS Green Light Racing and Chastain plan to run the full NCWTS schedule and compete for Rookie of the Year honors. His first race Friday 2-24 at Daytona