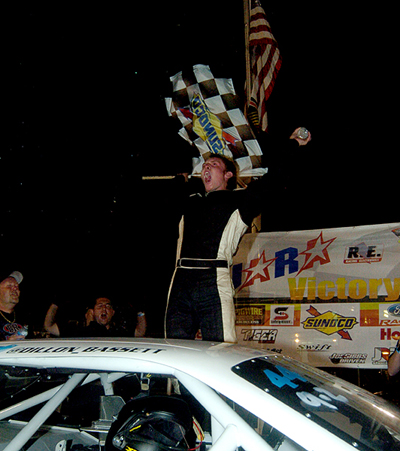 KINGSPORT, TN (Sept. 17, 2012) — Sean Rayhall dominated every aspect of the UARA-STARS 150 event at Kingsport Speedway this past Friday night, but it was Dillon Bassett who captured the checkered flag after Rayhall's late-race misfortune. Bassett was followed to the line by Lee Tissot, Jake Morris, Ben Rhodes and Rayhall.
Rayhall topped the charts all day long with the fastest times for practice sessions and would captured his first career Sunoco Pole at 15.259 followed by fellow rookie contender Devin Jones at 15.289. Devin Jones would drop to the back of the field due to having to work on his car after qualifying relenquishing the outside starting position to Kingsport regular Zeke Shell. .   Shell would take the early race lead for the first 20 laps. After riding behind Shell, Rayhall passed the No. 97 and never looked back for the majority of the event.
The biggest incident of the night occurred one third of the way through the 150 lap contest when Devin Jones, Lee Tissot and Scott Turlington all came together in turn three. Tissot was able to continue on the lead lap, while Turlington battled damage from the incident most of the evening and never was a factor. Jones day would finish 3 laps down to the leaders.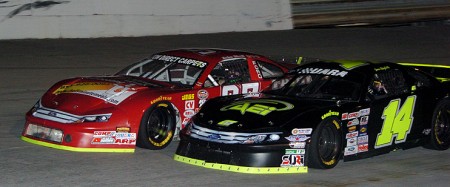 A late yellow flag for the spinning car of Will Burns stacked the field up for a pivotal restart with 20 laps to go. Rayhall led the field into turn one but soon found himself broadside to traffic after his Pistone Racing teammate, Jake Morris, got into him entering the corner. Through the entire incident, Dillon Bassett was able to sneak through with the top spot while Rayhall was relegated to the end of the lead lap. One of the big losers in the scuffle included Brandon Jones who was awarded the ARBodies Hard Luck Award after running in the top five.
"I'm really sorry for hitting him, I feel terrible about it," said Morris in his post-race interview. "I went into the corner and had no brakes. There wasn't anything I really could do, I just hate it because he should've won the race."
"Jake said his pedal went to the floor," said Rayhall in a very dejected tone after the event. "He's my teammate, and he has no reason to wreck me, so I believe him. I just hate it for all of my guys, they busted their butts all weekend and we had the car to beat tonight. Next time, we'll be just as good but hopefully be able to end up in victory lane."
A small consolation, Rayhall was awarded the Pigwire Electrifying Move of the Race Award for the spin and subsequent recovery to fifth.
On the final restart of the event, Bassett had to hold off Morris, Tissot and points leader Travis Swaim. Tissot made quick work of the No. 99 of Morris but was unable to chase down Bassett in the waning laps, finishing three car lengths behind the No. 44 Ford of Bassett, the Circle Wheels/Xtreme Trophies & More Rookie of the Race.
"I can't believe this, this is unbelievable," said a surprised Bassett in victory lane. "My guys work so hard and this car was a rocketship. I hate what happened to Sean. I felt something bump into me and move me up the track, but I just kept after it and ended up with the lead. I didn't realize until later it was him. I've been racing since I was eight years old, so holding off Tissot and Jake wasn't even on my mind. I just drove as hard as I could and we're here."
"We were trying, and we almost did it again," said Holley Performer of the Race and defending race winner Lee Tissot following his runner-up performance. "We got tangled up over there in three, and I know whoever it was didn't mean to do it, but it set us back a little bit, otherwise we probably would've won this thing again. I really have to thank my guys though for working so hard and getting this car to where it was. Maybe Dalton Direct Carpets will still pay me some of the bonus tonight since we ran second."
Bassett's win was his second career triumph after he won the Banjo Matthews Memorial 150 earlier this season at Hickory. He joined his brother, Ronnie, as the only multi-time winners on the 2012 UARA-STARS tour. The victory also secured another Comp Cams Engine Builder of the Race Award for Charlie Long.
The UARA-STARS will be in action again on Saturday night for tour stop No. 13 at Lonesome Pine Raceway in Coeburn, Va., just about an hour north of Kingsport. Qualifying for the Courtesy Chevrolet 150 is tentatively scheduled for 5pm with racing action scheduled to begin at 7pm.  If you missed out on all the action this weekend at Kingsport this will be an excellent opportunity to see it first hand at Lonesome Pine.   Racing with the STARS will be the Pure 4s, Renegades and Iron Warriors to make a full night of action.
The Lonesome Pine event is of one of the TBAs on the schedule earlier in the season and the other TBA has been determined.  The second TBA will be at Tri County Motor Speedway on October 14, 2012. The addition of these two events will complete the 2012 sixteen race schedule for the UARA. With the 2012 season winding down, the drivers are bringing their A-game and not skipping a beat.  Could Rookie Dillon Bassett take the Championship lead? Could Travis Swaim get his first career UARA win? Find out September 22, 2012 at Lonesome Pine Speedway.
For more information on the UARA-STARS, visit them online at www.uara-stars.com or call (828) 692-3833. Fans are encouraged to follow the UARA on Facebook (United Auto Racing Association) or Twitter (@uarastarsseries) for the latest updates and breaking news.
Kingsport Finish
1.  Dillon BAssett
2.  Lee Tissot
3.  Jake Morris
4.  Ben Rhodes
5.  Sean Rayhall
6.  Brandon Jones
7.  Zeke Shell
8.  Ryan Stiltner
9.  Travis Swaim
10. C.J. Julsey
11. Will Burns
12. Kres VanDyke
13. Julia Dawson
14. David Garbo Jr.
15. Hayden Woods
16. Devin Jones
17. Scott Turlington
18. Hal Martin
19. Garrett Campbell
20. Sammy Jasper
21. Jeremy Burns
22. Cory Joyce
23. Daniel Pope II