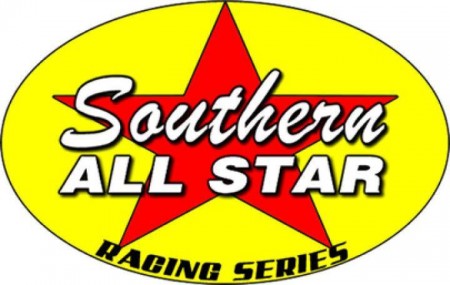 Eastaboga, AL – The Southern All Star Racing Series would roll into Talladega Short Track on Saturday evening for its first official visit of the 2013 racing season and Randy Weaver would score the victory in the B.J. Parker Memorial event that honors the founder of the Southern All Star Racing Series behind the wheel of the Outlaw Race Parts sponsored #116 GRT Race Car powered by a Cornett Race Engine.
For Weaver, the defending Southern All Star Racing Series champion, the win was his second with the series in 2013 and marked the 22nd series win of his career, which ranks him sixth on the series all-time win list.
Pole sitter and top qualifier Chris Wilson would take the lead at the drop of the green flag and lead the first seven laps of the 42 lap, $4,200 to win B.J. Parker Memorial event before Randy Weaver would take the lead on lap 8 and only be slowed by one caution in the event and that would be for a slowed Dylan Ames on lap 15.  Weaver would hold off a hard-charging fourth place starting Jason Hiett of Oxford, AL in the waning laps of the contest to secure his second series victory of the 2013 racing campaign. Hiett would roll home second in the event, while Tim Roszell of Anniston, AL would start sixth and finish third.  Tim Busha of Boaz, AL would start ninth and roll to the fourth position in the final rundown, while William Thomas of Phenix City, AL would start fifth and finish fifth in the contest.
The remainder of the top ten in the 2nd Annual B.J. Parker Memorial would be 3rd Annual Big Daddy 500 presented by Tennessee RV Sales and Service would be Jason Wilson of Gadsden, AL (started 2nd), Chris Wilson of Crossville, TN, series points leader Riley Hickman of Chattanooga, TN (started 10th), Bret Holmes of Munford, AL (started 8th), and Todd Morrow of East Ridge, TN (started 12th).
The next Southern All Stars Dirt Racing Series event is on Wednesday July 3 and will take place at Tazewell Speedway in Tazewell, TN and will be the Summer Sizzler, paying $4,000 to the winner.  Come celebrate America's birthday with the Southern All Star Racing Series at Tazewell Speedway.
Further information on the Southern All Stars Dirt Racing Series can be obtained by calling General Manager Lynn Acklin at (256) 924-4546, Race Director Chris Tilley at (606) 219-1723 or you can log on to the official series website at www.sasdirt.com . Also, LIKE the Southern All Stars Dirt Racing Series on Facebook or be a FOLLOWER on Twitter @SASDIRT.
Southern All Star Racing Series Official Summary of Results
Talladega Short Track/Eastaboga, Alabama
Round 9 of 2013 Season (June 22, 2013)
Southern All Star Racing Series Late Models
2nd Annual B.J. Parker Memorial A-Main Finish:
1.      Randy Weaver (Crossville, TN)
2.      Jason Hiett (Oxford, AL)
3.      Tim Roszell (Anniston, AL)
4.      Tim Busha (Boaz, AL)
5.      William Thomas (Phenix City, AL)
6.      Jason Wilson (Gadsden, AL)
7.      Chris Wilson (Crossville, TN)
8.      Riley Hickman (Chattanooga, TN)
9.      Bret Holmes (Munford, AL)
10.     Todd Morrow (East Ridge, TN)
11.     Ronnie Johnson (Chattanooga, TN)
12.     Adam Martin (Talladega, AL)
13.     Danny Peoples (Margaret, AL)
14.     Brandon Kinzer (Allen, KY)
15.     Mike Weeks (Friendsville, TN)
16.     Mark Rosner (Rockford, TN)
17.     Chris Thomas (Waco, GA)
18.     T.J. Alford (Piedmont, AL)
19.     Jake Knowles (Tyrone, GA)
20.     Terry Smith (Oxford, AL)
21.     Dylan Ames (Harvest, AL)
22.     Matt Dooley (Brooks, GA)
23.     Doug King (Talladega, AL)
24.     Buddy George (Ragland, AL)-DNS
Yellow Flags: 1 (Lap 15)
Red Flags: None
Lap Leaders: 2 (Chris Wilson 1-7, Randy Weaver 8-42)
Time of Race: 13 minutes/18 seconds
White Performance.com Overall Top Qualifier: Chris Wilson 13.384
Series Provisionals:  Mark Rosner, Danny Peoples
Entries: 27
JT Kerr Racing Equipment Hard Charger of the Race: Danny Peoples (started 24th- finished 13th: advanced 11 positions)
AR Bodies Last Man on the Lead Lap: Mike Weeks (finished 15th)
PPM Racing Products Last Chance Showdown #1 Finish (top 7 transfer):  Tim Busha, Dylan Ames, Ronnie Johnson, Adam Martin, Jake Knowles, Buddy George, Matt Dooley, Danny Peoples, Mark Rosner, Chris Jones (DNS)
PPM Racing Products Last Chance Showdown #2 Finish (top 7 transfer):  Riley Hickman, Todd Morrow, Terry Smith, Mike Weeks, Brandon Kinzer, Chris Thomas, Doug King, Carlton Freeman, Tom Maddox
Current Southern All Star Racing Series Top Ten Point Standings (after 6/22/2013)
1. Riley Hickman (Chattanooga, TN)-720
2. Mike Weeks (Friendsville, TN)-698
3. Mark Rosner (Rockford, TN)-644
4. Bret Holmes (Munford, AL)- 608
5. Billy Ogle, Jr. (Knoxville, TN)- 562
6. Jason Hiett (Oxford, AL)-558
7. Steve Casebolt (Richmond, IN)-432
8. Randy Weaver (Crossville, TN)- 406
9. Jonathan Davenport (Blairsville, GA)- 372
10. Mark Vineyard (Powell, TN)- 366
Current Cruise With The Champions/DirtonDirt.com Rookie of the Year Point Standings (after 6/22/2013)
1. Mark Rosner (Rockford, TN)-226
2. Bret Holmes (Munford, AL)-222
3. Jason Hiett (Oxford, AL)-179
Southern All Star Racing Series 2013 Event Winners:
#1-Jared Landers-Batesville, AR (Cherokee Speedway) March 3
#2-Randy Weaver-Crossville, TN (Cleveland Speedway) March 9
#3-Jonathan Davenport-Blairsville, GA (East AL Motor Speedway) March 16
#4-Jonathan Davenport-Blairsville, GA (Smoky Mountain Speedway) March 23
#5-Billy Ogle Jr.-Knoxville, TN (Tazewell Speedway) April 6
#6-Steve Casebolt-Richmond, IN (Cleveland Speedway) May 18
#7- Chris Madden-Gray Court, SC (Volunteer Speedway) June 14
#8- Chris Madden-Gray Court, SC (Smoky Mountain Speedway) June 15
#9- Randy Weaver-Crossville, TN (Talladega Short Track)- June 22
Upcoming Southern All Star Racing Series Events:
July 3 Wednesday Tazewell Speedway/Tazewell, TN $4,000 to win 40 laps (Summer Sizzler)
July 13 Saturday Cleveland Speedway/Cleveland, TN $4,000 to win 40 laps (Stars and Stripes 40)
2013 Southern All Stars Dirt Racing Series Sponsors:
*Hoosier Racing Tire "The Official Race Tire" of the Southern All Star Racing Series
*Patriot Sports "The Official Merchandise Vendor" of the Southern All Star Racing Series
*Sunoco Race Fuel "The Official Racing Fuel" of the Southern All Star Racing Series
2013 Southern All Star Racing Series Supporters Include: AR Bodies, Brodix Cylinder Heads, Cruise with the Champions, DirtonDirt.com, H3 Performance Graphics, Integra Racing Shocks, Intercomp Racing Systems, JT Kerr Racing Equipment, MSR Mafia Web Design and Service, PPM Racing Products, RockAuto.com, Schaeffer's Racing Oil by Ed Lowe, The Joie of Seating, WhitePerformance.com