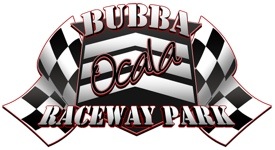 Jim Rouse, Ocala, FL- After the Mike Peters Open was postponed for the "R-word," we hope to get back to action at Bubba Raceway Park. The NeSmith Crate Late Models are on tap as well as the Scorpion Racing Products UMP DirtCar Modifieds, Bubba Army Hobby Stocks, and the Rent-N-Roll Gladiators. Those 4 divisions will bring the heat but may be overshadowed by the Bigwheel Race for the fans.
Bryan Bernhardt is incredible. The driver out of Versailles, IN, has all 3 cars he has driven in the top 5 in points and that includes the Bubba Raceway Park Crate Late Models points lead. As he tries to keep his Bubba Army Performance Engines #B69 up front it'll be Dover, Florida's Jeff Mathews chasing him in the Gator Core Recycling #33. Mathews owns Bernhardt's Modified ride so that just adds to the tight battle between the two. Tyler Clem is in an outstanding third place and sits just nineteen points behind the leader.
The St. Petersburg driver born in 2002 hopes to earn a trophy and show it to his fellow 5th-graders. Lakeland's Kenny Monohan is fourth in his #311 but must hold off fifth placed Shan Smith. The Dade City, Florida driver hopes to take his Outlaw Race Parts #17SS back to Coors Light Winner's Circle and right to the front of the standings.
Seventy-one year-old Buzzie Reutimann has his UNOH #00 at the front (no surprise) of the points leaderboard. The Zephyrhills driver is chased by Belleview's Charlie O'Neill, no spring chicken himself. O'Neill must work hard to keep the Aerotech Aluminum #75 in position as four-time champion Jeff Mathews chases in the Gator Core Recycling #33. The driver slotted in fourth is Ocala's Ronnie Soltis, driver of the Team GRT #61. Soltis has had some rough luck to start the season but there's strength in 'The Little Engine That Could.' Rounding out the top-five is Versailles, Indiana's own Bryan Bernhardt. Bernhardt is in the Mathews Motorsports second car and hopes to take the Night Hawk Towing machine right to the top with his team-mate.
The Thunder Stocks get a lot of credit for a tight points battle but our Bubba Army Hobby Stocks are pretty close as well. Mayo, Florida's Devin Walker has the JD Criswell #55JR on top by just ONE finishing position over the Howey-In-The-Hills driver Hunter Gustafson. Right behind them is Dunnellon's Matt Kramer who sits just thirty-five points out of P1. Sitting pretty in fourth is the Ocala, FL driver Brian Shea. Shea won the 2011 Thunder Stock title but has yet to win a feature in his BP Electric #19- could it be time for Shea? William Edwards rounds out the top-five. The Gainesville driver has a win this year and wouldn't mind doubling his total in the Cantley Roofing #14.
Josh Fincher leads the standings in his A-Action Air #88 but has Shade Tree Racing's #31 of Jerry Taylor breathing down his neck. Driver #31 went to Coors Light Winner's Circle earlier and hopes to return to familiar territory. The driver slotted third- Stephen Frankland- is one of the few drivers to win three-consecutive features and hopes to keep it up. The Barnsley, England driver could be looking at history in his Night & Day Cleaning #7UK! Bill Southard of Ocala is fourth in his CrossFit Training #83S and hopes to stay towards the front. Tom Sheehan is fifth in his Sheehan Racing #75 and "The Ultimate Race Fan" continues to improve.
Pits open at 4, grandstands at 5, and racing is scheduled for 7. Don't miss a spectacular night of racing at Bubba Raceway Park! For more info please visit www.bubbaracewaypark.com or call us at 352-622-9400!