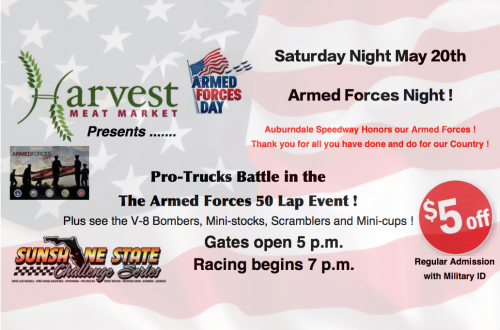 Some great racing is on tap for this Saturday night as Harvest Meat Markets and owners Ed and Anita Kirkland are sponsoring Armed Forces Night at Auburndale Speedway. Members of the Armed Forces, both past and present, in attendance will be recognized and all current military members as well as veterans will receive $5 off their general admission simply by showing their ID card.
The big race of the night will be for the Sunshine State Challenge Series
(SSCS) Pro Trucks who will duke it out for 50 laps. Also on tap are the V-8 Bombers, Mini Stocks, Scramblers and Mini Cup Cars.
Tommy Kelly of Myakka City has two wins at Auburndale this year and has a comfortable lead in the SSCS Pro Truck point standings. Leading the charge to unseat Kelly will be Lakeland's Cody McDuffie, Cody Martell of Arcadia, Jason "Scooby" Lester of Palmetto, Plant City driver Kristen Clements, Chris Narramore, Sr. of Lakeland, Bradenton's Danny Anderson, Corey Bigley of Naples, young Lakeland drivers Dakota Hunt and Tyler Davis along with veteran driver William Kerns of Winter Haven who will be making just his third Pro Truck start. The new Greenbriar Landscape team of Nick Haag and Big Donnie Burkhalter will also be in the line-up.
The point standings for the local racing classes are pretty much run-aways for the leaders. James Wright III is looking for yet another track title as he leads the V-8 Bomber points by 78 over Danny Burchfield. In the Mini Stocks Chris Narramore, Sr. has a healthy 66 point edge over both Colt Cecil and Jonh Cummins, Jr. who are tied for second place. Seven-time winner Dustin Wilson has increased his point lead in the Scrambler division to 63 over William Kerns while Russell Bush has a huge 98 point advantage in the Mini Cups over second place Douglas Herrin, Jr.
Pit gates open Saturday afternoon at 2:30 pm with practice for the Pro Trucks from 3:30-4:30 pm followed by practice for all of the other divisions competing. Grandstand gates open at 5 pm with qualifying for the SSCS Pro Trucks at 6:15 pm.
Racing begins at 7 pm with 8-lap heat races for the Mini Cups, Mini Stocks,
V-8 Bombers and Scramblers. Feature racing follows with the 15-lap contest for the Mini Cups and the 20-lap Mini Stock feature taking place before intermission when the Pro Truck drivers will come out for a special autograph and photo op session. The Pro Truck drivers will then mount up and run their 50-lap feature event. Following the Pro Truck 50 it will be 25 laps for the V-8 Bombers and then 20 laps of Scrambler racing to end the evening.
Adult admission is $15 with seniors 55+ $13, but remember that all current military members and veterans with ID get $5 off the admission price.
Children ages 5-12 are only $5 and all kids 4 and under get in free. The family 4-pack is just $32 for two adult and two children's admissions (a $40 value). Pit passes are $30 per person and all parking is free.