23 Year Old Amateur Race Car Driver is Awarded the Opportunity to
Compete in a Sanctioned Race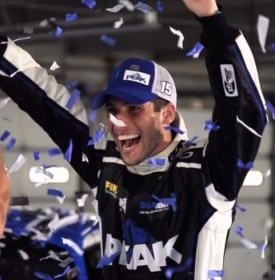 CHICAGO (August 12, 2013) – PEAK® Motor Oil & Antifreeze and Michael Waltrip Racing (MWR) are proud to announce Patrick Staropoli as the winner of the PEAK Stock Car Dream Challenge.  Staropoli was unveiled as the ultimate winner on an exclusive segment that premiered on the cable television network SPEED on August 11.  The PEAK Stock Car Dream Challenge started with over 700 entrants all vying to become the next PEAK/Michael Waltrip Racing stock car star.
Staropoli, 23 years old of Plantation, Florida, graduated from Harvard University in 2012 and currently attends medical school at the University of Miami.  His life is always in high gear; when he isn't studying for a medical exam you can find him charging around an asphalt oval at 160 miles per hour.  He started racing go-karts when he was 13 and worked his way up into late models, recording 33 wins in 138 races over the past 10 years.
On June 3, Staropoli received a phone call from Michael Waltrip telling him that he had been selected as one of nine top finalists to compete in a three-day racing competition.  Staropoli
and the other competitors were brought to Charlotte from July 9th – 11th where they participated in various challenges designed to assess each finalists' racing ability.  Michael Waltrip Racing team drivers Clint Bowyer, Michael Waltrip, Mark Martin, Martin Truex Jr., and Brian Vickers, as well as PEAK spokesperson Danica Patrick,were on-site throughout the competition to coach the amateur drivers through short-track, road course, speedway, car control, and endurance racing competitions, as well as share instruction in public relations and marketing training and exercises.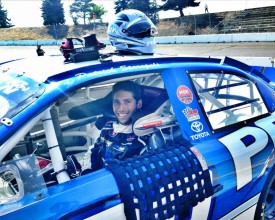 "I've been chasing this dream my entire life – fighting for every position, hunting down every sponsor, and sacrificing to get to each race. You just pray you're at the right place at the right time to get noticed and thanks to PEAK and Michael Waltrip Racing I finally got that opportunity," said Staropoli. "A 90 second video entry and 3 days in North Carolina have completely changed my life. I never thought I would get the chance to race at Charlotte Motor Speedway and now I can say I stood in victory lane there as a winner. This whole experience has been incredible but I'm already dreaming about what comes next."
As the winner of the PEAK Stock Car Dream Challenge, Staropoli is faced with the challenge of obtaining his competition license.  Once he reaches this goal, PEAK will equip him with a sponsored stock car to compete in a sanctioned stock car race.
"PEAK is thrilled to name Staropoli as the winner of the PEAK Stock Car Dream Challenge," said Bryan Emrich, Senior Vice President of marketing at PEAK.  "After learning more about him and seeing how talented he is on the track, we are proud to give him this well-deserved opportunity."
Michael Waltrip, founder and co-owner of MWR added, "Each of the competitors had outstanding racing skills and a real passion for the sport, but Staropoli really rose to the top over the course of the event, especially on the road course and pit stop challenges.  He also really did well in both spokesperson modules, setting him apart from the other eight finalists.  We are excited about his potential and are proud to work with a company like PEAK that is willing to give him a shot."
PEAK will continue to partner with Michael Waltrip Racing as a primary sponsor on Clint Bowyer's No. 15 Toyota for three races in each of the next three NASCAR Sprint Cup seasons.  PEAK is also featured as an associate sponsor on the No. 55 and No. 56 cars with MWR.  The company has a rich history in motorsports, with over 30 years of involvement in NASCAR, NHRA, IndyCar and the TORC short course off-road series.
The PEAK Stock Car Dream Challenge exclusive segment will air again on SPEED on August 12 at 1AM ET and August 16th at 6:30 PM ET.Follow @PEAKAuto on Twitter and check out Facebook.com/PEAKAutoto follow Staropoli's journey and to catch the latest PEAK updates.
About Old World Industries
Old World Industries, LLC is among the largest privately-held companies competing in the automotive aftermarket. The Northbrook, Illinois-based company enjoys a presence in various consumer product markets in more than 30 countries worldwide. Old World's brands include a full line of PEAK® Performance Products including Antifreeze, Motor Oil, Washer Fluid, Electronics and Wiper Blades; SIERRA® Antifreeze; Fleet Charge® Fully Formulated Coolant; Final Charge® Heavy Duty Global Extended Life Antifreeze/Coolant; SmartBLADE™ Premium Wiper Blades; HERCULINER® Truck Bed Liner Kits; and BlueDEF® Diesel Exhaust Fluid. For more information, please visit www.peakauto.com.