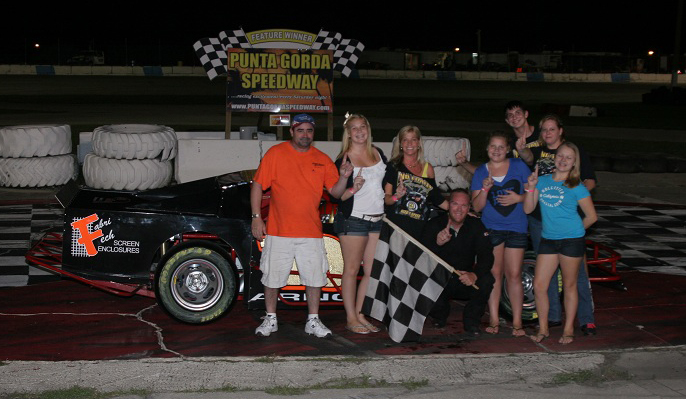 The first feature of the night was the T. Q Midgets were Naples driver Cowboy Rob Kohler ran start to finish as the leader. Hard Challenge from the 7 of Jamie Barnum second and Mike Belusar who passed Chris Gimmler on the last lap for third while David Patterson from Port Charlotte drove on three wheels for most of the race.
Outlaw Modifieds had twin twenty five lap features for the Dan Curl Memorial, were all drivers lined up on the front stretch before the first race and through Frisbees to the fans. Ric Mills led the first six laps till Doug Hopper got by and went on to win the first feature. Mike Endee was on Hoppers bumper while Tom Meyer and Mills were battling for that third spot. Endee finished second while Meyer was third and Mills fourth and Paul Richards Sr, rounded out the top five.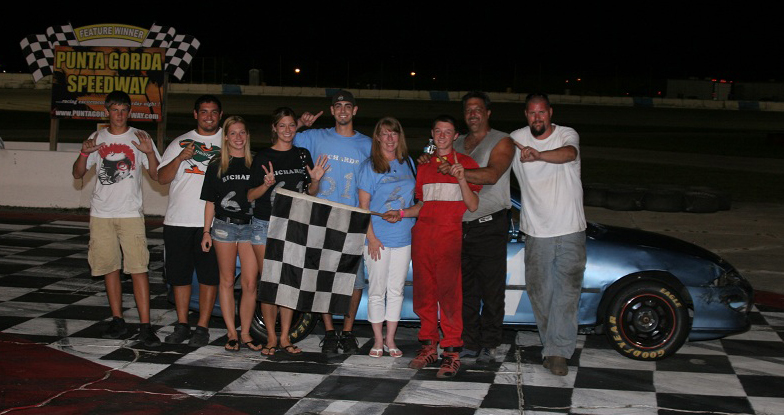 Street Stock feature was one exciting battle to the end as Ryan Pancoast of N. Ft. Myers held on to his winning streak but it was not an easy win. Jim Brenner was first across the line for the first ten laps as the other drivers were battling and making their way through the field side by side bumper to bumper. The cars behind Brenner were so close it was anyone's race as they switched positioned at the line lap after lap. After some good hard racing by all the drivers, Pancoast made his way up to the first place spot on lap ten while he and Brenner rode side by side but it was Pancoast that was scored first at the line for the remainder of the race. It would be Pancoast winning his fifth race while Jim Brenner was second, Shane Leonard third and James Dellea forth.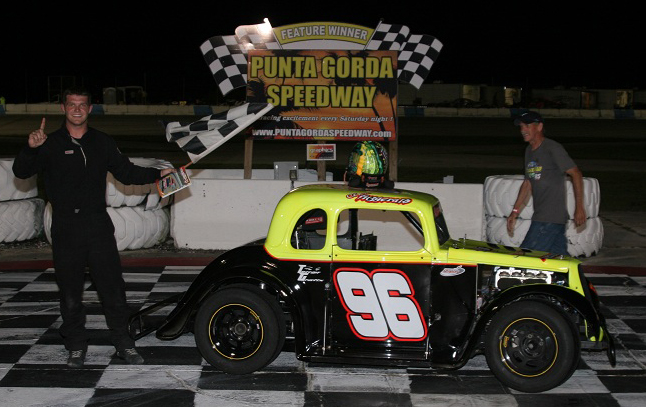 Legend cars also put on an exciting race that had the front runners so close it could have been anyone race. The 21 car of Devin McLeod set fast time but it was the 5 car of Seth Adams that dominated the first half of the race. Lap seventeen it was the 96 of Chase Fitzgerald that took over the lead while Mcleod was in second Adams third and Matt Blankenship fourth and was coming on strong. Blankenship would have to retire on lap 26 with mechanical problems while the top four cars were nose to tail till the end. As the checkers flew it was Fitzgerald bringing home the win with Seth Adams second, Mcleod third and Brady Marshall fourth. The fans and kids were excited to see Devin Mcleod and Seth Adams making their way through the stands signing autographs while Mcleod signed hero cards and gave away t-shirts.
Open Wheel modifieds saw the 19 of Steve Arnold of Cape Coral run start to finish as the leader but not an easy job as Doug Moff was fighting him for that spot. Eric Rudd of Naples had his sights on that spot also and gave Moff a fight for that second spot and it was Rudd that came out with the second spot. It was not long till a shuffle in positions put Roger Blevins in the mix and it was lap twenty one that Arnold saw Blevins in the mirror running in second and Rudd third. As the Checkers came it, Arnold held on for the win as Blevins crossed close behind him in second while Rudd was third and Moff was able to pull off a fourth.`
The second outlaw race was as exciting as the first one but it was Cody Allen of Lehigh a regular driver at the speedway who can be found driving in several classes that was in the lead. Allen led the first eighteen laps while being challenged by Doug Hopper who won the first feature and Allen did everything he could to stay in the lead. Hopper got by Allen and brought Mike Endee and Tom Myer with him shuffling Allen back to fourth. Doug Hopper would go on to win the second feature also with Mike Endee second and Cody Allen was able to make the pass to finish in the third spot.
The last race of the night would be the Perfect Pest control Pro 4 were it looked to be like Dan Collver could break the winning streak of Paul Richards Jr as Collver led till half way. Paul Richards Jr got by Collver and the brothers Dan and Ryan Collver battling for position touched and both had to pit with flat tires. Richards went on to put another win in the books while Skyler Null and Jessica Ostrovskis were side by side racing a good race for the second spot. Null had the spot for a few laps but it was Jessica Ostrovskis t from St. Pete that made a clean pass with five to go to bring home the pink and black "Blink" in second. Good run by Skyler Null to have a strong third place finish while James Dellea II was fourth.
Next week June 9 th the Punta Gorda Speedway will be closed, but will return June 16 th with Late Model Sportsman 50, Pro Truck 50, Rookie Trucks, Street Stock, road Warrior and T. Q. Midgets.
PUNTA GORDA SPEEDWAY RESULTS
6 /02/12
Open Wheel Modified
1. 19 Steve Arnold Cape Coral
2. 1 Roger Blevins
3. 12 Eric Rudd Naples
4. 46 Doug Moff
5. 8 Johnny Allen Lehigh
6. 19x Scott McDaniels Cape coral
Outlaw Modified #1 Feature
1. 15 Doug Hopper
2. 26 Mike Endee
3. 04 Tom Meyer
4. 22 Ric Mills
5. 61 Paul Richards
6. 5 Craig Sherar
7. 24 Tommy Styer
8. 7 Mel-Mel Braden
9. 9 Antonio Gonzalex
10. 28 Raymond Jones
11. 6 Cody Allen
Outlaw Modified 2 nd Feature
1. 15 Doug Hopper
2. 26 Mike Endee
3. 6 Cody Allen
4. 04 Tom Meyer
5. 9 Antonio Gonzalez
6. 61 Paul Richards
7. 22 Ric Mills
8. 24 Tommy Styer
9. 7 Mel-Mel Braden
10. 5 Craig Sherer
11. 28 Raymond Jones
Street Stock
1. 47 Ryan Pancoast N. Ft. Myers
2. 57 Jim Brenner Sarasota
3. 18 Shane Leonard Cape Coral
4. 77 James Dellea Port Charlotte
5. 2 Bobby Fischer Naples
6. 85 Randy Sober Punta Gorda
7. 80 Richard Nelson Port Charlotte
8. 98 A. J. Mott Lehigh
9. 88 Jim Meiser Lehigh
10. 3 Jeff Dufrense Bradenton
11. 38 Jeff Gustafson D.N.S.
Legends
1. 96 Chase Fitchgerald
2. 5 Seth Adams
3. 21 Devin McLeod Zephyrhills
4. 14 Brady Marshall Sarasota
5. 19 Keith Sinkula Palm City
6. 7 Mike Verhaggh Fort Myers
7. 54 Tony Steinbuck Tamarac
8. 17 Willie Wilson
9. 00 Darin Coker West Palm Beach
10. 94 Matt Blakenship Lake Placid
11. 55 Conrad Molter Naples
12. 26 Joey Langis Coral Springs
13. 99 Leroy Moore Brooksville D.N.S.
Pro 4
1. 61 Paul Richards Jr. Naples
2. 91 Jessica Ostrovskis St. Pete
3. 87 Skyler Null N. Ft Myers
4. 7 James Dellea 3 rd . Port charlotte
5. 21 Jeremy Perkins N. Ft Myers
6. 97 Mark Davis Bonita Springs
7. 13 Alex Teston Lehigh
8. 00 Dan Collver N. Ft. Myers
9. 04 Ryan Collver Ft. Myers
T.Q.Midgets
1. 30 Rob Kohler Naples
2. 7 Jamie Barnam Brooksville
3. 63 Mike Belusar Punta Gorda
4. 51 Chris Gimmler Palm Beach Gardens
5. 5 David Patterson Port Charlotte