By- Jim Rouse, Bubba Raceway Park Media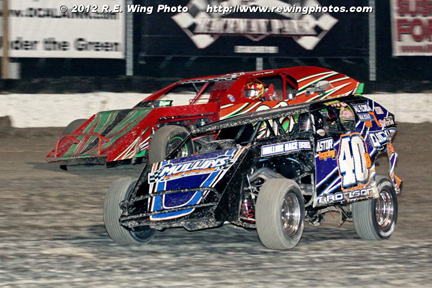 4-28-12  The Scorpion Racing Products Modifieds, Buddy's Home Furnishings Limited Late Models, Hobby Stocks, 1-800-ASK GARY Thunderstocks, and the Barfield Law Group Mini Stocks put on 5 of the best shows of 2012 in 5 different ways.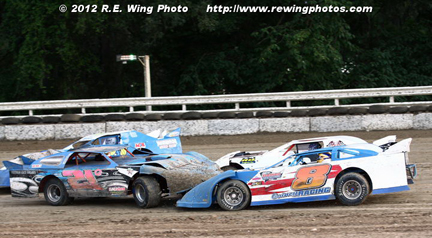 Adam Higginbotham took the early lead in the Limited Late Model feature but Bubba Clem snatched it away after a restart. After a lap 9 caution the race restarted but on lap 14 Bubba spun his #14 as JO Nobles was barreling down on him. Nobles dodged 4 more restarts in which Higginbotham and Forrest Gough assaulted the 18 but couldn't make a pass. As the white flag was near display David Showers put his #18 machine in the turn 3 wall to bring out the 9th and final yellow. Nobles won the feature with Higginbotham, Gough, Late Model driver Shan Smith, and Eddie Gainey chasing him.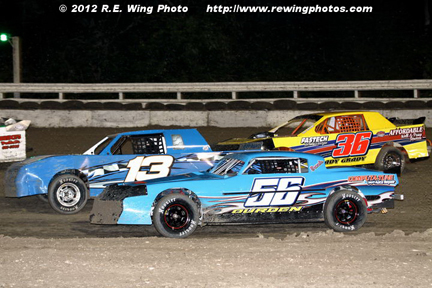 Hobby Stock action started with Howard O'Steen pulling away but on lap 4 Don Woosley's 81 found the wall and most of the pack had to take to the infield to avoid the spinning cars. Just after the restart Kevin Durden, Chad Scranton, Trey Cameron III, David Tyrrell, and Tim Gay wrecked in turn 4. Trevor Gamble made a pass on leader O'Steen after the restart and held on to it through a couple more cautions. "Shady" Grady Christian finished 2nd. Kevin Durden rebounded to a 3rd place finish just in front of Josh Bedenbaugh and Mike Stalnaker who barely made the feature through his B Main.
The start of the Modified feature saw Kyle Bronson rip the right side of his 40B off and with it his hopes of 4-for-4. Or so we thought. On lap 4 Bronson passed Dalton Lanich and began to pull away. Some minor yellows plagued the event that Bronson dominated. Lanich finished a strong 2nd with Garret Stewart, Jason Davis, and Jim Passino completing the top 5.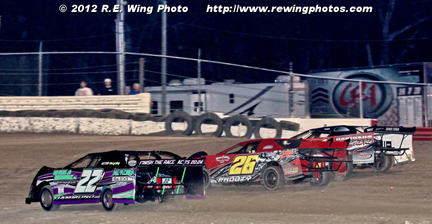 A few cautions kept the Mini Stocks close but on lap 10 Nick Hebrank flipped his #9H and stopped the action. What had been a great race for Kyle Kruse went sour during the red flag which left Travis Staats with the lead. The restart would signal 5 to go and Shirlene Hammond wasted no time disposing of the 1AR. Shirlene showed the boys how to do it while Staats was 2nd, Stephen Halbaugh 3rd, Nick Kerr 4th, and Charlie Staats completed the top 5. Travis Staats was disquailifed in tech, however, moving the field up and putting Kruse back into the top 5.
Thunderstock drivers couldn't hide their smiles after the race with a winner who they've all been waiting to see in victory lane for a while now. Brandon Elwood grabbed the early lead and fought with Mike Tovet until Tovet's wheel launched off the #30 and ended his night. Elwood fought through cautions and made it to turn 4 and he could see the flagman holding the checkers. All he had between him and the line was a lapped car but they made contact and wrecked the fence. At the line Justin Durbin beat out Mark Trexler by an inch; however, that did not count as the yellow light came on before the lap was completed. Elwood was given his spot back with Trexler 2nd, Jonathan Appleby 3rd, Durbin 4th, and James Sullivan III in 5th. The race was deemed unsafe to be finished and ended under yellow in the order above. However, in tech, Elwood's 28 was found illegal giving the win to Journeyman driver Mark Trexler who started his career in 1990. It marks Trexler's 1st career win and every man from every crew congratulated the driver. Elwood was disappointed but had no bitter feelings towards Trexler who couldn't stop smiling.
Six divisions will battle next week just like they did on Night Of A Thousands. The Top Gun Sprints return and they're going wingless. Scorpion Racing Products Modifieds, Hobby Stocks, 1-800-ASK GARY Thunderstocks, Barfield Law Group Mini Stocks, and the Rent-N-Roll Gladiators will also battle. For more information you can go to www.bubbaracewaypark.com or call the Speedway hotline at 352-622-9400!
Bubba Raceway Park Results (4/28)
Scorpion Racing Products UMP DirtCar Open Wheel Modifieds
1- 40B Kyle Bronson
2- 77 Dalton Lanich
3- 2 Garret Stewart
4- 145 Jason Davis
5- 34 Jim Passino
6- 78 Rich Pratt
7- 10 Scott Mooers
8- 14 Tyler Clem
9- Z06 Larry Mott
10- 95 Matt McGillivray
11- 10C Jeff Bagent
12- 7J Gene Dipple
13- 1K Scott Kurtzner
DNS- 40 Wayne Hammond
Buddy's Home Furnishings Limited Late Models
1- 18JO JO Nobles
2- 20 Adam Higginbotham
3- 21 Forrest Gough
4- 4 Shan Smith
5- 8 Eddie Gainey
6- 66 Ricky Land
7- 27 Scotty Williams
8- 102 Jason Pope
9- 25 Amber Williams
10- 5C Christian McGillivray
11- 18 David Showers
12- 14 Bubba Clem
13- 2X Caleb McGillivray
14- 20C Cheyenne Cox
15- 7 David Denson
16- 00 Chris Freeman
DNS- 21Q Don Fugent
DNS- 21S David Showers, Jr.
Hobby Stocks
1- 12 Trevor Gamble
2- 36 Grady Christian
3- 56 Kevin Durden
4- 63 Josh Bedenbaugh
5- 9 Mike Stalnaker
6- 19 Brian Shea
7- 7 Chad Scranton
8- 88H Howard O'Steen
9- 99 Rodney Wright
10- 13M Randy Moody
11- B1 Sammy Hatcher
12- 15 Hunter Gustafson
13- 2S Mick Kulak
14- 89 Trey Cameron III
15- 94 Robert Sirmons
16- 42 Josh Byrd
17- 77M Mark Maresca
18- 90 Tim Gay
19- 88 Darran Jackson
20- 81 Don Woosley
21- 69 David Tyrrell
22- 21M Sean Monaghan
23- 82 Kyle Morse
24- 13 Phil Brown
1-800-ASK GARY Thunderstock
1- 34 Mark Trexler
2- 69A Jonathan Appleby
3- 12 Justin Durbin
4- 14S James Sullivan III
5- 21M David Miller, Jr.
6- 72 Terry Dunbar
7- 28 Brian Mullins
8- 73 Brandon Tillander
9- 1 Danny Lucero
10- 09 William Edwards
11- 21 Jason Gamble
12- 23 Glenn Baum
13- 3W Vaughn Woodall
14- 33 Donnie Dobbins
15- 2H Jimmy Holley
16- 25 Ron Kinsey
17- 15 Mike Valdez
18- 65 Shane Nichols
19- 12S Luke Sadler
20- 96L Eddie Lake
21- 44B Daniel Baldwin
22- 30 Mike Tovet
23- 114 John Thorpe
24- X Justin Dean
25- 83 Joe Boyd
DQ- 28E Brandon Elwood
Barfield Law Group Mini Stocks
1- 22 Shirlene Hammond
2- 75H Stephen Hahlbaugh
3- 75 Nick Kerr
4- 9AR Charlie Staats
5- 1K Kyle Kruse
6- 30 Reid Christensen
7- 81 Buddy Pope
8- 9 Nick Hebrank
9- 7JR Jesse Brown
DQ- 1AR Travis Staats
DQ- 11 Dean Kinsey
DQ- 39 Cecil Martin
DNS- 17 William Killinger
DNS- 26 Kris Prouty
DNS- 63 Mike Doan