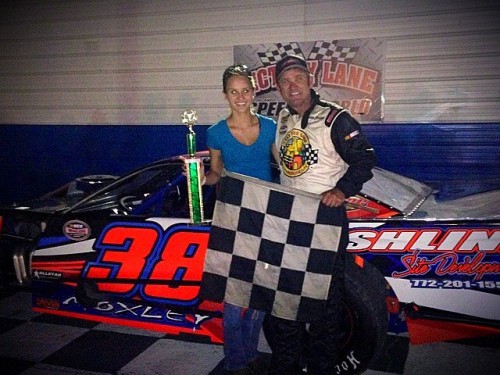 Orlando SpeedWorld was back in action Friday night with six classes putting on some great racing for the fans.  Headlining the show were the Open Wheel Modifieds and it was veteran driver Ricky Moxley of Hobe Sound taking his first win of the year in fine fashion by leading every circuit of the 25-lap feature.  Mosley breezed to the front on
the opening lap trailed by heat winner Zach Harris who stayed close for awhile before Moxley steadily began to pull away.  The race ran the full distance under green and Moxley took the checker in front of Harris and Travis Roland.  Earl Beckner was fourth ahead of Alan Bruns, Matt Wheeler and Austin Howell.
Becca Monopoli of Lakeland won her second straight Pro Truck feature leading all but the opening lap.  The only slow-down of the race came on lap seven when the engine expired in Whitney Poole's truck while she was running second.  Eddie Lichtenberger would end up finishing in the runner-up spot ahead of Kelly Ross and Poole.  Monopoli also won the heat race.
Young Charles King, Jr. passed Shane Sutorus on lap four of the Four Cylinder Stock main event and never looked back in winning  the first-ever feature race of his brief career.  Driving a Chevy Cavalier, King easily outdistance the Saturn station wagon of Sutorus to take the victory.  Zachary Curtis, also in a Saturn, was third ahead of Paul Cornelius and John Gross.  Damien Kwaak, Jeff Gross, Red Ryder and Kendra Reynolds rounded out the finishers.  King was also the heat race winner.
Neil Kirby picked up his third Strictly Stock win of the year in his Ford Probe, holding off the hard-charging William Hindman who was later set-down in tech for having improper air pressure in one of his tires.  That moved Ricky Solomon up to second in the final order ahead of Bomber Bill Loomis, Keith Wylie and Hindman.  Kirby also won the heat.
Bandolero action saw Colton Bramlett take his second win of 2014 ahead of heat winner Sam Cornman, Steven Hollinger and Brandi Bibeau while Donovan Ponder won the Legend Car feature over Jason Vail.