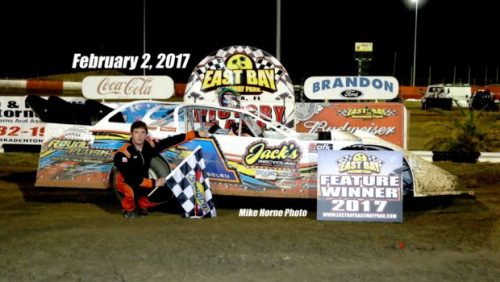 Tampa, FL – The 41st Annual East Bay Raceway Park Winternationals for Crate Late Models got underway on Thursday night with 37 cars registered for Crate Late Model Event.
It was Walker Arthur from Forest, Va and Devin Dixon from Apollo Beach on the front row the the 30-lap Feature. On the green Mike Pegher, Jr. and Dixon got out front early and battled side by side for the first 10 laps until lap traffic became a factor.
Pegher, Jr. was able to pull away from Dixon mid race as Dixon slide back with Logan Roberson sliding into the second position and Horton moving up to third.
When the checkered waved it was Pegher, Jr. picking up his first win at East Bay Raceway Park traveling 16 hours from Cranberry Township, PA. Mike thanked his sponsors for making it possible for him with Royal Flush, Schaeffer's Oil by Doug Smith, Ingram Racing Engines and his XR1 Rocket Chassis.
Rounding out the top five was Logan Roberson, Doug Horton, Hudson O'Neal, and Devin Dixon. Rounding out the top ten was Keith Nosbisch, Travis Varnadore, Max Blair, Walker Arthur and Kenny Monahan.
Thanks, East Bay Raceway Park
Crate Late Models – A-Main
Finish Car No Driver Hometown
1 1RJ Mike Pegher Jr Cranberry Township, PA
2 17 Logan Roberson Waynesboro, VA
3 11H Doug Horton Wimuma, FL
4 71 Hudson O Neal Martinsville, IN
5 58 Devin Dixon Apollo Beach, FL
6 2 Keith Nosbisch Valrico, FL
7 95V Travis Varnadore Dover, FL
8 111 Max Blair Centerville, PA
9 87 Walker Arthur Forest, VA
10 311 Ken Monahan Lakeland, FL
11 9 Will Thomas Sharpsville, PA
12 7 Doug Watson Plant City, FL
13 11J Jamie Slatton Thonoatasso, FL
14 21P Josh Peacock Dover, FL
15 42 Cla Knight North Augusta, SC
16 95 Steven Mathis Jr Plant City, FL
17 22 Austin Burns Morgantown, IN
18 10C Ronnie Cooper McKenzie, TN
19 3 Phillip Cobb Dover, FL
20 33 Jeff Matthews Apollo Beach, FL
21 21 Todd Frank Montrose, IA
22 75G Remington Gill Mitchell, IN
23 4 Joe Mike Mayfield, KY
24 98 Johnny Allen Alva, FL
Crate Late Models – B-Main 1
Finish Car No Driver Hometown
1 21P Josh Peacock Dover, FL
2 3 Phillip Cobb Dover, FL
3 98 Johnny Allen Alva, FL
4 7 Jeremy Knoll Hobe Sound, FL
5 141 Steve Brendle Tampa, FL
6 13 Thomas Burnside Tampa, FL
7 11M Megan Rae Meyer Tampa, FL
8 0 Bronson Berry Huntington, TN
9 16 Clinton Hersh Somerset, PA
10 23 Derek Rogers Meadowbrook, WV
Crate Late Models – B-Main 2
Finish Car No Driver Hometown
1 21 Todd Frank Montrose, IA
2 95 Steven Mathis Jr Plant City, FL
3 10C Ronnie Cooper McKenzie, TN
4 21F Gunner Frank Montrose, IA
5 6H Jimmy Halford Atwood, TN
6 45 Noah Cornman Mt Dora, FL
7 00X Ben Garner Greenfield, TN
8 12S Brian Swank Morgantown, WV
9 6 Adam Boyd Wimauma, FL
Crate Late Models – Heat Race 1
Finish Car No Driver Hometown
1 311 Ken Monahan Lakeland, FL
2 111 Max Blair Centerville, PA
3 95V Travis Varnadore Dover, FL
4 16 Clinton Hersh Somerset, PA
5 11M Megan Rae Meyer Tampa, FL
6 23 Derek Rogers Meadowbrook, WV
7 7 Jeremy Knoll Hobe Sound, FL
Crate Late Models – Heat Race 2
Finish Car No Driver Hometown
1 11H Doug Horton Wimuma, FL
2 75G Remington Gill Mitchell, IN
3 2 Keith Nosbisch Valrico, FL
4 21F Gunner Frank Montrose, IA
5 21 Todd Frank Montrose, IA
6 45 Noah Cornman Mt Dora, FL
Crate Late Models – Heat Race 3
Finish Car No Driver Hometown
1 87 Walker Arthur Forest, VA
2 22 Austin Burns Morgantown, IN
3 4 Joe Mike Mayfield, KY
4 0 Bronson Berry Huntington, TN
5 141 Steve Brendle Tampa, FL
6 98 Johnny Allen Alva, FL
Crate Late Models – Heat Race 4
Finish Car No Driver Hometown
1 17 Logan Roberson Waynesboro, VA
2 11J Jamie Slatton Thonoatasso, FL
3 7 Doug Watson Plant City, FL
4 10C Ronnie Cooper McKenzie, TN
5 00X Ben Garner Greenfield, TN
6 12S Brian Swank Morgantown, WV
Crate Late Models – Heat Race 5
Finish Car No Driver Hometown
1 58 Devin Dixon Apollo Beach, FL
2 71 Hudson O Neal Martinsville, IN
3 33 Jeff Matthews Apollo Beach, FL
4 21P Josh Peacock Dover, FL
5 3 Phillip Cobb Dover, FL
6 13 Thomas Burnside Tampa, FL
Crate Late Models – Heat Race 6
Finish Car No Driver Hometown
1 1RJ Mike Pegher Jr Cranberry Township, PA
2 9 Will Thomas Sharpsville, PA
3 42 Cla Knight North Augusta, SC
4 95 Steven Mathis Jr Plant City, FL
5 6H Jimmy Halford Atwood, TN
6 6 Adam Boyd Wimauma, FL
Crate Late Models – Qualifying 1
Finish Car No Driver Hometown
1 111 Max Blair Centerville, PA
2 311 Ken Monahan Lakeland, FL
3 95V Travis Varnadore Dover, FL
4 23 Derek Rogers Meadowbrook, WV
5 16 Clinton Hersh Somerset, PA
6 7 Jeremy Knoll Hobe Sound, FL
7 11M Megan Rae Meyer Tampa, FL
Crate Late Models – Qualifying 2
Finish Car No Driver Hometown
1 11H Doug Horton Wimuma, FL
2 75G Remington Gill Mitchell, IN
3 2 Keith Nosbisch Valrico, FL
4 21F Gunner Frank Montrose, IA
5 21 Todd Frank Montrose, IA
6 45 Noah Cornman Mt Dora, FL
Crate Late Models – Qualifying 3
Finish Car No Driver Hometown
1 87 Walker Arthur Forest, VA
2 22 Austin Burns Morgantown, IN
3 4 Joe Mike Mayfield, KY
4 0 Bronson Berry Huntington, TN
5 98 Johnny Allen Alva, FL
6 141 Steve Brendle Tampa, FL
Crate Late Models – Qualifying 4
Finish Car No Driver Hometown
1 17 Logan Roberson Waynesboro, VA
2 7 Doug Watson Plant City, FL
3 11J Jamie Slatton Thonoatasso, FL
4 10C Ronnie Cooper McKenzie, TN
5 00X Ben Garner Greenfield, TN
6 12S Brian Swank Morgantown, WV
Crate Late Models – Qualifying 5
Finish Car No Driver Hometown
1 58 Devin Dixon Apollo Beach, FL
2 3 Phillip Cobb Dover, FL
3 71 Hudson O Neal Martinsville, IN
4 21P Josh Peacock Dover, FL
5 33 Jeff Matthews Apollo Beach, FL
6 13 Thomas Burnside Tampa, FL
Crate Late Models – Qualifying 6
Finish Car No Driver Hometown
1 9 Will Thomas Sharpsville, PA
2 1RJ Mike Pegher Jr Cranberry Township, PA
3 95 Steven Mathis Jr Plant City, FL
4 42 Cla Knight North Augusta, SC
5 6H Jimmy Halford Atwood, TN
6 6 Adam Boyd Wimauma, FL