Local and Cable Affiliates, AmericanSportsNet.com to Carry Inaugural Broadcast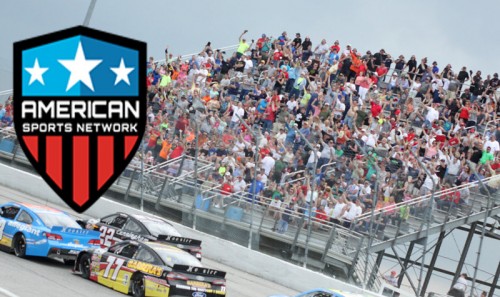 TOLEDO, Ohio (May 18, 2016) – The first ever Live ARCA Racing Series presented by Menards telecast on the American Sports Network is scheduled for Sunday afternoon, May 22 at 2:00 p.m. Eastern Time. The broadcast, from Toledo Speedway, will mark the historic inaugural airing of motorsports on the start-up 24-hour sports network owned by Sinclair Broadcasting Group.
The live telecast will be available to more than 40 Million US homes, and will also be streamed on-line at the ASN website, AmericanSportsNet.com.
ARCA Members seeking to find local ASN affiliates can do so by visiting: AmericanSportsNet.com and clicking on the schedule button at the top of the home page. Click on the ARCA Racing Series Menards 200 in the schedule, insert your zip code under "Find your station," and submit. The available channels will appear in the box to the right of the submit button. Fans can also access the "channel finder" at arcaracing.com, by clicking on the "Menards 200 from Toledo ASN Broadcast Information" in the right hand column on the homepage, including a complete list of affiliates carrying the Menards 200.
Visitors receiving a message stating that the program is not available in their area can watch the stream live at 2:00 p.m. Eastern time on ASN's website.
ARCA Members who are logged onto arcaracing.com on raceday will be able to access the live stream from the timing and scoring page, by clicking on the "View Live Stream" button on the timing and scoring page.
ASN is the sports division of Sinclair Networks Group, a subsidiary of Sinclair Broadcast Group, Inc. (Nasdaq: SBGI). Sinclair is the largest televsion station operator in the United State, owning or operating a 171 television stations in 81 markets. Through relationships with over the air broadcasters and other regional sports networks, ASN looks to expand the reach and exposure of the ARCA Racing Series.
ASN is scheduled to air five ARCA Racing Series events live, beginning with the May 22 Menards 200 from Toledo (Ohio) Speedway. ASN will also televise live races from Madison (Wis.) International Speedway June 19; Winchester (Ind.) Speedway Sunday June 26; Berlin Raceway (just west of Grand Rapids, Mich.) August 6; and the Illinois State Fairgrounds in Springfield August 21.
In addition, the ASN network is in the planning stages to air a series of motorsports events in a consistent mid-week prime-time slot. Plans call for the five live ARCA events to be re-aired during this motorsports block, plus additional delayed coverage of events from Fairgrounds Speedway Nashville, the DuQuoin (Ill.) State Fairgrounds, and both Salem (Ind.) Speedway events.
"This is an exciting time for ARCA," said Mark Gundrum, ARCA Vice President for Business Development and Corporate Partnerships. "The ability to provide additional exposure of the ARCA Racing Series on American Sports Network, on multiple platforms is a great opportunity for the teams, sponsors and fans of the series. While the network grows, and more and more affiliates pick up the ARCA Racing series telecasts, ASN will also offer the programs on-line at AmercanSportsNet.com."
American Sports Network TV Coverage, ARCA Racing Series presented by Menards
Event Date Track Air Date Air Time Live/Tape
5/22/2016 Toledo Speedway 5/22/2016 2:00pm ET Live
4/9/2016 Fairgrounds Speedway 6/2/2016 7:00pm ET Tape
4/24/2016 Salem Speedway 6/9/2016 7:00pm ET Tape
6/19/2016 Madison Int'l Speedway 6/19/2016 3:00pm ET Live
6/26/2016 Winchester Speedway 6/26/2016 2:00pm ET Live
8/6/2016 Berlin Raceway 8/6/2016 9:00pm ET Live
8/21/2016 Illinois State Fairgrounds 8/21/2016 2:30pm ET Live
9/4/2016 DuQuoin State Fairgrounds 9/21/2016 7:00pm ET Tape
9/10/2016 Salem Speedway 9/28/2016 7:00pm ET Tape
ABOUT THE AMERICAN SPORTS NETWORK
ASN is a division of Sinclair Networks Group, a wholly-owned subsidiary of Sinclair Broadcast Group, Inc., one of the largest and most diversified television broadcasting companies in the country. For more information on ASN, please visit AmericanSportsNet.com.
ABOUT ARCA RACING
For more than 60 years the ARCA Racing Series presented Menards has offered race fans a diverse brand of stock car racing on short tracks, dirt tracks, road courses and superspeedways. Founded by John and Mildred Marcum, the ARCA Racing Series is a destination for professional race drivers and a developmental series which transitions and prepares drivers for the advancement of their careers into the highest levels of the sport.